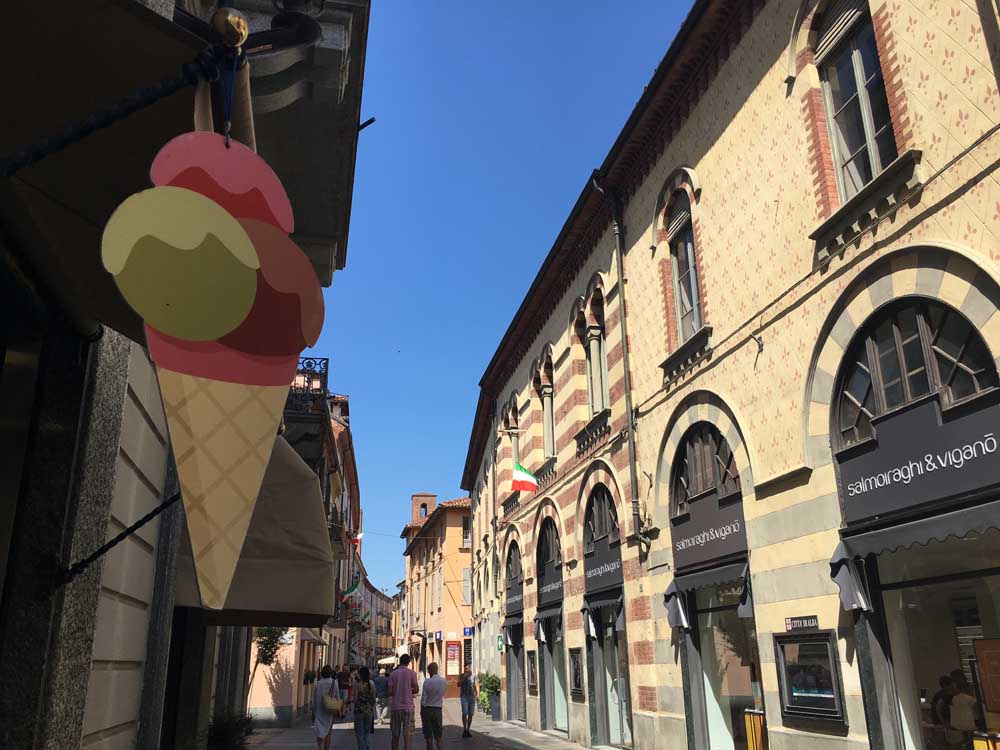 I'm not sure why it's taken me so long to put this Italy family holidays article together. I've written so many blog posts about various parts of Italy for families but it's only now that I've brought them all together here.
It goes without saying that Italy is a fabulous place for a family holiday. There are beaches galore and kid-friendly history; the country is brimming with natural wonders which will make budding geologists out of your children; and of course there's the family-friendly food – pizza, pasta, gelato.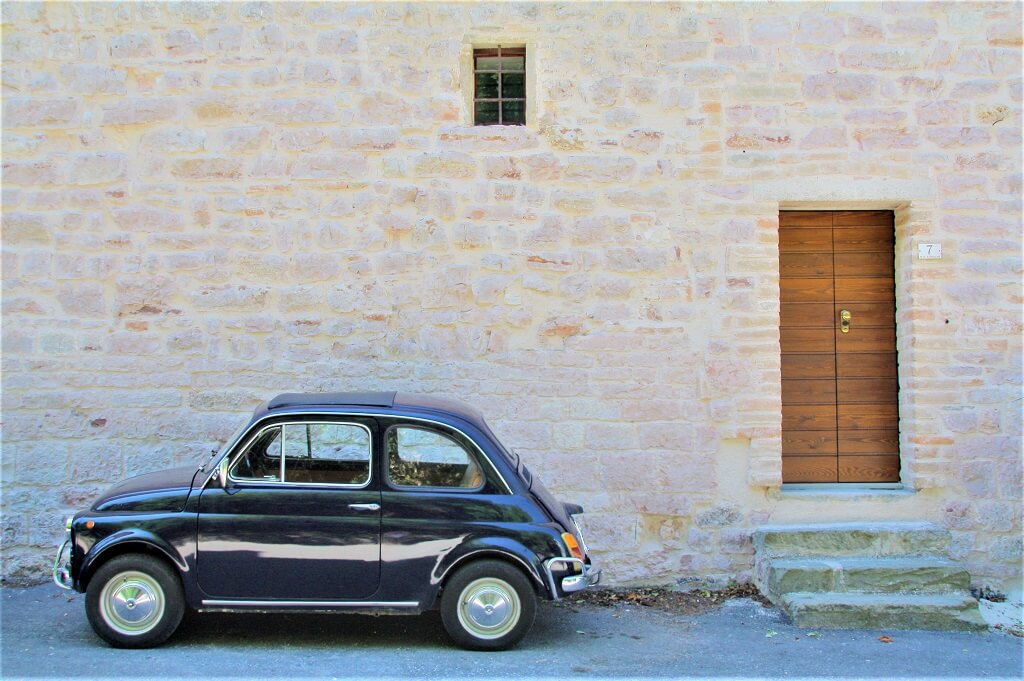 Whether it's your first family holiday in Italy or you've been several times already, I hope this guide to Italy for families will give you wanderlust for this wonderful country.
I lived in Pisa when I was a student and I've travelled to Italy countless times for work – I used to research hotels and villas there. Now, I regularly take Italy family holidays – my children love the country too.
This page contains affiliate links which means if you click and make a purchase, I will receive a small commission. This does not affect the price you pay.
When to visit Italy with kids
Italy is a great destination year-round. Obviously, beach holidays in Italy work best in the summer but late spring and early autumn are good too – the sea stays warm well into October and I've swum in the sea at Easter in both Tuscany and Sicily (admittedly the water was a bit chilly).
I'm a really big fan of Easter holidays abroad – there are interesting Easter traditions to witness in many of the towns and cities in Italy. The weather is pleasant for sightseeing in places such as Rome, Venice and Pompeii and accommodation prices tend to be cheaper. Late spring is a lovely time to visit Italy with kids if you're not tied to the school terms – the weather is warm enough for a seaside holiday and the countryside is awash with colour from wildflowers.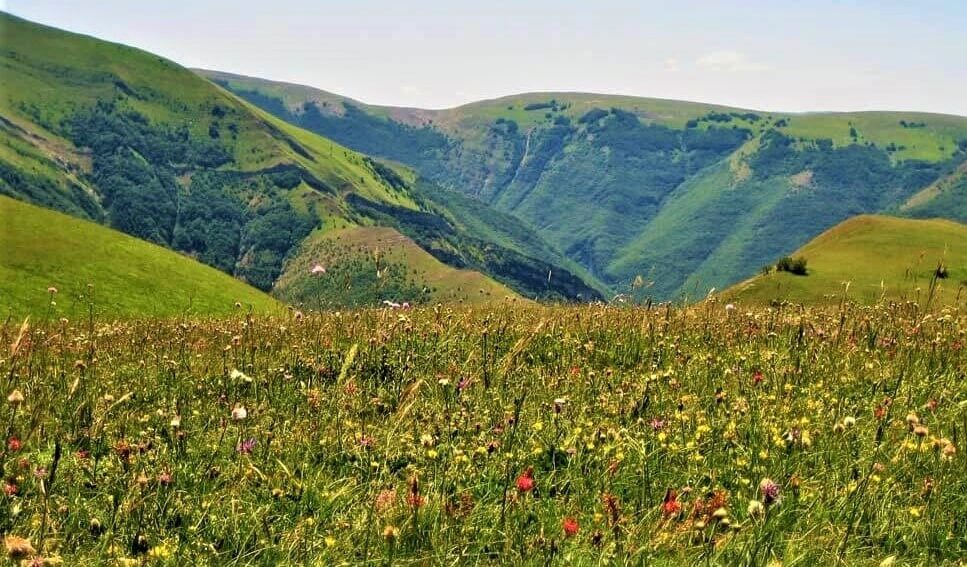 Summer beach holidays in Italy are a brilliant experience – particularly if you head to where the Italians go. But there are a few rules to follow at the beach – those inviting sunbeds right next to the sea tend to be booked out all summer by Italian families so be prepared to sit at the back or settle for a stretch of sand to throw your towel on.
Autumn is a brilliant season for sightseeing in Italy – when the weather is cooler – but also for gastronomic themed holidays. There's grapes, olives, nuts, truffles and other delicious products all being harvested throughout the autumn months with accompanying celebrations in many towns and villages across the country. Southern Italy and Sicily are still very mild making a late summer sun holiday a good option.
Big old stone villas look incredibly romantic but can cost a fortune to heat in winter so they might not be the ideal place for a Christmas break. But Christmas is a lovely time of year to visit Italy with family. The Italian approach to the festive season is far more restrained commercially than the celebrations we have in the UK – there's more emphasis on tradition than consumerism. City breaks in Italy with children in winter are brilliant – you'll share the experience with fewer tourists and if you head to Sicily you should still experience mild weather.
February half term is a brilliant time of year to visit many parts of Italy if you're after sightseeing and culture. Cities such as Venice, Viareggio and Acireale in Sicily have epic carnivals which often fall in line with half term.
Sightseeing in Italy with children
If you're keen to sightsee in Italy with kids – highlights of Rome, Pompeii, Venice, and so forth, I'd strongly recommend doing this outside of the summer months of July and August. 40 degree temperatures are not unusual, particularly in southern Italy and it really isn't fun dragging kids round ancient dusty ruins in the heat. Also, these places are packed with tourists in high season making the experience even more challenging for families.
I've found that combining sightseeing in the morning with a more kid-friendly activity in the afternoon tends to keep everyone happy. So, exploring an historic village or ancient ruin for half a day followed by several hours at the beach or in the pool is a good combination. Our children loved our road trip across Sicily which we undertook when they were aged five and three. As well as lots of sightseeing, we included plenty of fun highlights for the kids including a puppet show and a guided tour of Mount Etna – they still talk about it now.
I've visited Venice in all seasons and it's always lovely – try October half term for a slightly quieter and cooler visit – and check the website Avoid Crowds for cruise ship arrivals so you can avoid the days when the little city is swamped with daytrippers.
Consider hiring a guide if you're sightseeing in Italy with kids. Instead of having your nose in a guidebook as you trudge around the site, a guided tour with an expert picking out the more interesting moments in history for kids to appreciate should mean that you all enjoy the experience a lot more.
Highlights of Italy for kids
If you're planning a family holiday to Italy but you've no idea where to start, here are a few child-friendly ideas to consider.
Stay on a farm
In my opinion, a visit to Italy is not complete without a stay at an agriturismo. Authentic local food, lots of space and insider knowledge are some of the perks of this type of accommodation.
Become a Gladiator for the day!
Enrol the kids in Gladiator school in Rome – a great way to bring dusty ancient history to life.
Visit a car museum in Italy
Our kids love Italian cars and so far we've ticked off the Alfa Romeo museum near Milan, both Ferrari museums and the Lamborghini museum (all near Modena). The Lamborghini museum is the most fun for children – lots of colour and a more playful feel than its competitors.
Read more about our visits to car museums here.
Hike on a volcano
Would you prefer an extinct or an active volcano – there's Vesuvius, Etna, Vulcano, Mount Amiata, to name the more well known ones – an extensive choice. We loved our private guided tour of Mount Etna – away from the tourist crowds at the cable car, there is so much history and geology to learn about.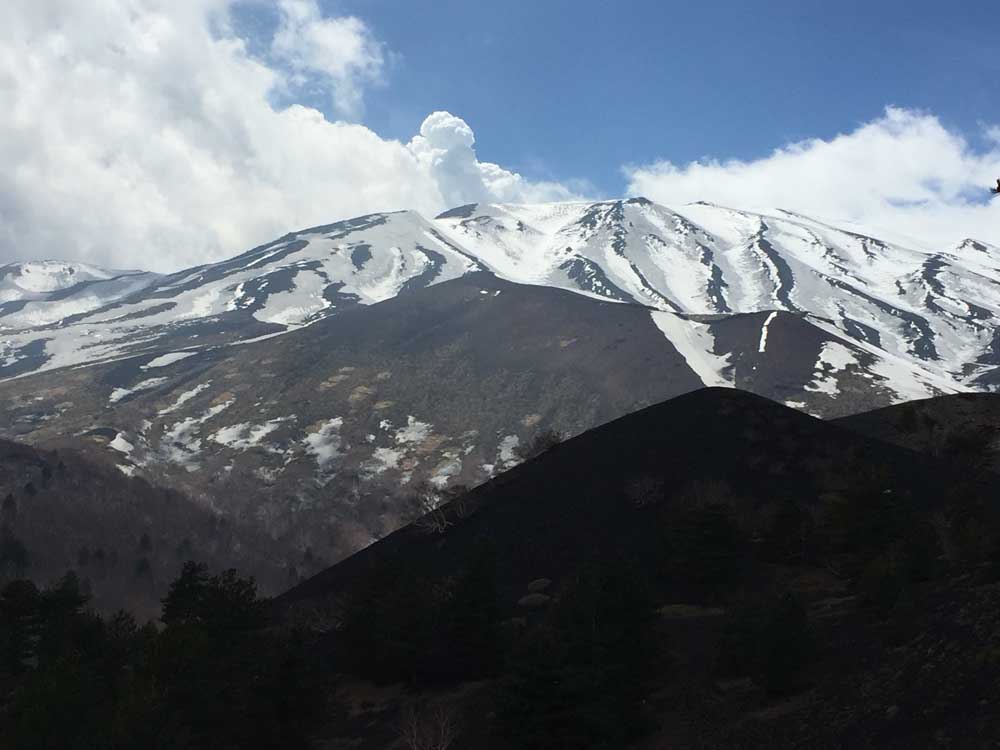 Read about our tour of Mount Etna
Experience a music festival in Italy
If you're travelling to Italy with older children, take them to an open air opera in Verona. The city's Roman amphitheatre is an incredible place to experience opera. If tickets aren't available or your children aren't keen, there are plenty of alternatives over the summer months in Italy – Umbria Jazz in Perugia offers plenty of free informal music events in the streets and squares of the city while Pistoia Blues in Tuscany attracts international artists to its annual event. Back to classical music, Macerata in Le Marche has a month of opera in its 19th century open air arena. Meanwhile, not far from Lucca in Tuscany you can enjoy the music of Puccini at a festival dedicated to the Tuscan composer.
Witness traditional Italian craftsmen as work
As well as watching traditional crafts such as glass blowing or mask making in Venice, kids can also take part in workshops to experience how these age old crafts have survived to the present day. In Sicily, puppet shows have a strong tradition dating back centuries – there's a workshop in Syracuse where visitors can see artisans at work. In the little town of Offida in Le Marche, you'll find traditional lace makers and for mosaics you should head to Ravenna in Emilia Romagna.
Enjoy kid-friendly ancient ruins
Some of Italy's ancient ruins are particularly appealing to children's imaginations – the Colosseum where gladiators once did battle; the town of Pompeii frozen in time by the eruption of Mount Vesuvius; the many Greek and Roman sites in Sicily – we loved the giant ear at the Syracuse archaeological park and the position of Taormina's ancient theatre has the most spectacular views over Mount Etna and the coastline below.
Some historical sites in Italy can feel a bit underwhelming for children. If you're keen to visit the Roman Forum for example, it's worth considering a private guide who has experience of guiding families – a good guide can really bring a place to life for children and allow them to gain so much more from their visit.
It's also worth remembering that Italy is packed with ancient ruins – you don't need to visit the most famous sites to gain an understanding of Italy's immense history. Beneath the streets of Perugia you can explore the city's Roman past, buried for hundreds of years. Meanwhile, south of Amalfi are the little visited temples of Paestum – a well preserved Greek site, not far from some lovely sandy stretches of protected coastline.
Go to a football match in Italy with kids
AC Milan, Juventus, Lazio – do your kids have a favourite? Going to a football match is a great way to really get to know a country. And if you're travelling with teens who are perhaps not as enthusiastic about your family holiday to Italy as you are, tickets to a football match are useful bait.
Visit an Italian island
There are islands everywhere in and around Italy – the Venetian isle of Murano famous for its glass-blowing, the sun-kissed islands in the Bay of Naples and the volcanic Aeolian Isles near Sicily. Many holidays in Italy can incorporate an island escape.
Visit the filming locations from the Italian Job
There are lots of great movies filmed in Italy but not all of them will appeal to your children (I don't ever want to see Don't Look Now again!). If you're visiting Turin, ensure you watch the 1969 Italian Job movie. Many of the city's most famous sights including the Lingotto test track, Piazza Castello and the River Po feature in this classic Michael Cain film.
Read my article about Turin with kids for more information
Hire a boat in Italy
Whether you take the water inland on one of Italy's lakes or you explore some of the country's fabulous coastline, enjoying a tranquil boat trip is a brilliant family experience in Italy. We hired a boat for half a day on Lake Garda – it was a great way to escape the crowds and visit lakeside destinations which took our fancy.
Watch a traditional puppet show in Sicily
Puppet shows in Sicily are great fun for kids – there's lots of knights and monsters plus plenty of sword fights. At the puppet theatre in Syracuse, the front row seats are reserved for children and there's a handy programme detailing a rough retelling of the story – convoluted to say the least!
Experience carnival in Italy
You don't need to go to Venice to experience carnival in Italy. Viareggio in Tuscany and Acireale in Sicily both put on an incredible performance. Carnivals often fall over the UK February half term so it's a great idea for a break from our long cold winter.
Climb an Italian tower
Most towns and cities in Italy have a clock tower to climb – it's a fun experience that children of all ages tend to enjoy. There are the famous ones like Pisa's leaning tower and the campanile in St Mark's Square in Venice, but you'll discover delightful towers in tiny villages which offer breath-taking views over the Italian countryside.
Read more about Italian towers to climb
Witness a traditional festival in Italy
Italy loves its festivals – food themed, historical, music. Wherever you end up spending your holiday, there's likely to be a local festival to attend. In the summer and autumn tiny villages host celebrations of their local harvest – olives, truffles, tomatoes, every food imaginable is dedicated in a festival.
Enjoy coffee and ice cream in a piazza
My all time favourite square in Italy is Piazza del Duomo in Syracuse, Sicily. The square holds a number of elegant palazzi but the showstopper is the cathedral which consolidates thousands of years of Sicilian history into a single structure. Look carefully and you'll spot Ancient Greek columns amalgamated into the walls.
Learn more about Italy's best piazzas
Take a cookery course
Pizzas in Naples, pasta is Tuscany, sweet treats in Sicily, you're bound to find a cookery course to suit your taste buds in Italy – and it's a great way to encourage children to try new dishes.
Explore Italian castles
Like any country in Europe, Italy has its fair share of castles. For romance, Castello di Sirmione or Scaligero castle on the shores of Lake Garda takes some beating. Meanwhile, in Sicily, budding knights and pirates will enjoy exploring Castello Maniace lapped by the waves on the tip of Ortigia in Syracuse. We really loved scaling the tower of Castello di Lombardia in hilltop Enna – also in Sicily – the views from the top were incredible.
Hit the beach
The great thing about Italy holidays for families is being able to enjoy an amazing beach as well as taking in plenty of history and culture. Puglia and Sicily are two of my favourite destinations for combining beaches with all of the other things I love about Italy.
Take a road trip across Italy with kids
There's so much to see in Italy in between the famous historic cities. Some of the most rewarding experiences we've had on our family holidays to Italy are when we've stopped somewhere by chance when we're driving across the country. Small villages that aren't in the guide books, authentic rural restaurants and fabulous vistas often pop up when you take a road trip in Italy.
Getting to Italy
In the summer, flights to the main hubs such as Rome, Pisa and Milan can be pricey. However if you're creative with your planning, or with your holiday destination in Italy, you can find some good deals. For example, you could fly into Turin and tack on a few nights in this underrated city before heading down to Tuscany by train to continue your holiday.
Alternatively, check if one of the hub cities is cheaper on a week day – some accommodation providers will be flexible on your arrival day, or you could stay in a city for a couple of nights first. There are lots of incredible small cities which are perfect for a night or two's exploration – Perugia in Umbria, for example, or Syracuse in Sicily. These cities feel wonderful on a summer evening – feed the kids a pizza and then take a passeggiata with the locals and stop to refuel on gelato when the kids start to flag.
If you're fortunate enough to have more than two weeks of annual leave over the summer, I can seriously recommend driving to Italy from the UK – there are so many incredible places to break the journey on route. Take a look at my article all about travelling to Italy by car. And you can read the review of our European road trip here.
Driving in Italy
There are rules for driving in Italy – those set out by the government and enforced by the polizia, and then there are the unofficial rules of the road which visitors to Italy have to get to grips with rather swiftly. The problem I have always had is adhering to the extremely slow speed limit in some rural areas whilst being beeped at and overtaken by impatient locals. Although local motorists may be intimidating at times, don't be tempted to follow their lead – speed cameras aren't as visible in Italy as they are in the UK.
There are various parking rules in Italy which it's worth reading up on before your trip. Parking spaces are coloured to denote who can park in them. There are also special parking rules to follow at lunchtimes.
If you're hiring a car in Italy and you're travelling with small children, I think it's a good idea to bring your own car seats with you. This is a real pain when you're travelling through the airport but it pays dividends when you know how to fit your car seat into the car and you don't have to worry about the quality or cleanliness of the car seat you're borrowing. Also, car seat hire is quite expensive – if you have a seat at home which is relatively portable, you'll save yourselves quite a bit of money.
The RAC has a useful guide on driving in Italy including speed limits, parking rules and border crossings.
Train travel in Italy
The Italian rail network is excellent and it's a brilliant way of exploring Italy if you don't fancy hiring a car. Intercity rail routes are fast and regular – you can travel from Rome to Milan in just under three hours and Rome to Naples in a little over an hour.
The person to turn to for all things rail-related is the Man in Seat 61 – a brilliant resource.
To check rail schedules, go to Trenitalia.
Accommodation in Italy for families
There's a great deal of choice in Italy when it comes to choosing what type of accommodation to stay in. Your decision will likely be swayed by your budget and whether you're planning a city break, a beach holiday or looking to stay somewhere rural.
Agriturismo accommodation
Farm stays in Italy come in all shapes and sizes, with wild variations in quality so it definitely pays to do a bit of homework. Some agriturismo properties are very simple affairs – a room or apartment tacked on to the family farmhouse perhaps, or a converted barn. Others are more professional outfits with an on-site restaurant, cookery classes and a swimming pool.
For a full rundown of what to expect, have a read of my article about farm holidays in Italy. And I've also put together, with the help of other travel bloggers, a collection of tried and tested agriturismo properties.
I have stayed in agriturismo accommodation both with and without children. It is without doubt my favourite option. And it's the food on offer at these usually family-run operations which wins me over.
Holiday villages and campsites in Italy
These are real crowd-pleasers – particularly for children. Holiday parks and holiday villages generally consist of simple lodges or chalets in a resort – often within walking distance of the sea. There's generally one or more swimming pools, a shop and restaurant and entertainment for children – a kids club, disco, play area, and so forth.
A step down in terms of comfort and price from holiday villages, is the humble campsite. Although in Italy, unlike here in the UK, you are rewarded with reliable weather – just make sure you choose your pitch carefully. It's generally roasting hot in Italy in the summer so look for campsites with plenty of shade.
Italian villa holidays
If your budget will stretch a bit further, the dream holiday for many is one of those characterful stone properties with far-reaching views over olive groves and vine-covered hillsides. Throw in a swimming pool and an outdoor kitchen plus a charming village nearby and your holiday snaps will match the front cover of the Sunday Times travel supplement.
A word of warning – villa holidays are pricey and the best properties get snapped up very quickly. Unlike Greece, villas in Italy don't tend to be within walking distance of a beach (or anything for that matter), they're often rather remote so you have to compromise when it comes to your wishlist. Decide which takes priority – a stunning view or the proximity of a restaurant so you don't have to drive when you head out for dinner in the evening.
Villas in Italy tend to be rather large – suited both in size and price to more than one family. If you club together with friends or extended family (choose your travelling companions carefully!), this can be a great way to economise and tick more of those boxes on your wishlist. Also, consider which region of Italy you'd like to visit. If Tuscany and Umbria are too pricey, consider Le Marche – you still get the pretty hilltop towns, beautiful views (and some good beaches) for much less. Have a read of this article about our villa holiday in Le Marche.
Will kids enjoy an Italy villa holiday in a remote location? This very much comes down to whether your kids need a beach or not. If you have a villa with a pool, this might do the job. Another consideration is whether they need other children around – if they do, consider staying at an agriturismo or a holiday park.
Hotels in Italy
If you're visiting Italy with kids, you'll find plenty of hotels offer family rooms – and some which have interconnecting rooms if you need a bit more space. However, from my personal experience I've found the less formal experience of an agriturismo and the easier and more spacious option of a rented apartment tend to be more practical solutions for families.
Apartments in Italy
If you're after a cheap beach break or a practical base when you're staying in an Italian city, it's hard to beat a rented apartment. When you're travelling with kids, particularly young children, it's so much easier to have your own space and a little kitchen to rustle up a simple meal.
Beach holidays in Italy for families
Italy has a long coastline so that means there's plenty of beaches but it's worth understanding where the best beaches in Italy are for a family holiday.
One of my favourite places for an authentic family beach holiday is Le Marche. Although the seaside towns of the Adriatic coast of eastern Italy lack some of the charm you'll find in Liguria on the west or some of those found in Puglia, the beaches of Le Marche are really safe and well set up for families.
In the south of the country, Calabria and Puglia are both wonderful for a family holiday with lots of sandy beaches to choose from. The coastal towns of Scilla and Tropea in Calabria are charming and there's a range of good value places to stay at close by. Puglia meanwhile has a real Greek feel to it with white-washed towns and an arid landscape punctuated by expansive olive groves. There are highlights all along the coast of Puglia – the Gargano Peninsula in the north, the beaches around pretty Otranto further south and then the stretch of coast west of Santa Maria di Leuca; it's a truly fabulous destination for a family beach holiday in Italy.
Tuscany has some great beaches to choose from – there's chic seaside at the Versilia resorts of Forte di Marmi and Viareggio – perfect if you're holidaying in a villa at nearby Lucca. Further south you'll find less developed areas to explore such as the beaches of the Baratti Gulf and the coast of the Maremma further south. There's also a host of great beaches on the island of Elba.
The islands of Sardinia and Sicily are great destinations for a family beach holiday in Italy. Sardinia is more geared to tourism and is extremely popular with Italians. Sicily is a cheaper option and a bit rough around the edges – but incredible rewarding to explore. Both islands have plenty of sandy beaches and Sicily is ideal if you're looking for late or early summer sun. However, as with most places in Italy, some beaches can feel a bit "closed for the season" by September.
For more information on beach holidays in Sicily, read my guide on the best beaches in Sicily.
Liguria attracts a great deal of attention for its Cinque Terre – five lands – which cling to the cliffs west of La Spezia. They're best avoided in summertime – I visited at Easter some 25 years ago and that was busy enough for me! The beaches are mostly pebbly so they're not ideal for families. Instead, consider heading a little further west – we loved the little seaside town of Noli which sits midway between Genoa and the border with France.
If you fancy a city and beach combo, Venice has plenty of sandy stretches within daytrip distance. Meanwhile, heading south to Naples, don't be fooled into thinking that the Amalfi Coast is the perfect destination for a beach holiday in Italy – most of the coast is rocky and pebbly and beaches are often access by long flights of steps. If you're looking for a sandy haven to counterbalance the heritage of Campania, head a little further south to the coast in the Cilento region – there are some lovely beaches around Santa Maria di Castellabate and San Marco.
Italy road trip ideas
Eastern Sicily
Sicily is a big isle – when we visited with our children a few years ago we just concentrated on the eastern side of island – Syracuse, Val di Noto, Enna, Etna and Taormina. There's so much to see and do which grown ups and kids will love – beaches, ancient history, incredible architecture and a smouldering volcano.
Find out more about our road trip in Sicily
Tuscany to Le Marche
Central Italy has some of the most famous sights in Italy – Pisa's leaning tower, that amazing Tuscan landscape, the medieval art and architecture of Assisi. While Tuscany and Umbria attract many visitors, the neighbouring region of Le Marche pulls far fewer tourists but has some real gems – Urbino (birthplace of Raphael), Ascoli Piceno (home to one of Italy's most beautiful piazzas), and a long coastline of sandy beaches.
Find out more about driving across central Italy
South Italy road trip
A road trip I used to frequently book for my clients when I specialised in Italy was a journey from coastal Basilicata to Puglia. This trip takes in the glorious rocky coastline around pretty medieval Maratea before heading into the mountainous Pollino National Park and on to the cave-dwellings of hilltop Matera (of Bond's No Time to Die fame). From Matera, you drop down into Italy's heel where the whitewashed towns and sandy beaches of Puglia await your exploration.
UK to Italy by car
If you have plenty of time, consider driving from the UK to Italy – it's such a brilliant adventure and there are so many different ways of getting there (and back). The drive is long but you don't have to rush it – it's a great way to tick off a few places on route – a European city you've always fancied visiting, or a wine region you have your eye on, or maybe a theme park you'd like to explore with your children.
I've written a really detailed article about driving to Italy with lots of tips and ideas to make it an adventure the whole family will cherish.
Two centre family holidays in Italy
If you don't fancy packing and unpacking your suitcase every couple of days – as a road trip requires – another way to get the most from a holiday to Italy is to focus on just two areas. I go into more detail about all of these areas of Italy further into this article.
A few days exploring Rome or Naples (along with Pompeii and Herculaneum) can easily be combined with a week on the peaceful Cilento coast which sits south of the Amalfi in Campania.
After soaking up the culture of Tuscany, a great compliment to all that art and history in Florence and Siena, is the island of Elba, a brilliant destination for a relaxing family beach holiday.
If you're considering a villa holiday in Umbria (or Tuscany) and you fancy a more off the beaten track second week, head to Le Marche where you'll find endless family-friendly sandy beaches and traditional hilltop towns which international tourism has failed reach.
City breaks in Milan or Venice can be combined with holidays in the Italian Lakes or in the stunning Dolomites – perfect if you're keen to avoid the extreme heat of the summer.
For a short Easter or half term holiday (when you might be able to pick up one of those great value deals on certain airlines), combine a few days in Pisa with a walking holiday in the Cinque Terre of Liguria.
Cities breaks in Italy for families
Most cities in Italy are naturally good destinations for children – there are car-free piazzas, awe-inspiring buildings, towers to climb and always an ice cream shop just around the corner.
Rome and Venice are two of the most visited cities in Europe – and for good reason. However, I'd recommend planning your visit carefully. Italian cities are scorching in the summer so consider a city break during one of our other school holidays.
Don't underestimate the joys of some of Italy's smaller and less visited cities. Perugia in Umbria is a delightful city for families, particularly if you visit in early July when the annual jazz festival is held. Syracuse in Sicily is one of my favourite Italian cities. Although the historic centre is small, it's packed with fun attractions for families such as the puppet theatre and 13th century seafront castle Maniace.
If you're flying into Pisa, I recommend staying for at least one night rather than making a quick day trip to the famous tower. Pisa is a lovely city which straddles the Arno river and it's wonderful to explore on a summer's evening when the daytrippers have departed. Grab an ice cream from the gelateria near Ponte di Mezzo bridge and enjoy a passeggiata with the locals.
Turin is one of my favourite Italian cities and our children loved it too when we took them there several years ago. Its porticoed walkways make it cool even in the height of summer and there are huge piazzas for kids to run around in.
Carnivals in Italy with kids
Although Venice is the most well known of Italy's carnivals, there are many other cities which celebrate Mardi Gras. Carnivals generally last for a couple of weeks with multiple parades – check dates and see if your February half term coincides with any of the festivities.
Viareggio, near Pisa, has a fantastic display with huge floats and processions along the seafront. Combined with Pisa and Lucca, this would make a great half term adventure!
In Sicily, you can combine a trip to the carnival at the southern coastal town of Sciacca with a visit to the Greek temple complex at Agrigento. On Sicily's east coast, the island's most famous carnival is Acireale, just north of Catania. This lovely Baroque town would work well in combination with a stay in pretty Taormina.
Italian car museums
This might be a rather niche area but since my family have visited rather a lot of car museums in Italy, I thought I'd add a quick paragraph about our experiences.
The car museums in Italy are found in two areas of the country – around Turin and Milan in the north, the home of Fiat and Alfa Romeo. And then a little further south there's a dense concentration of motorsports attractions in Emilia Romagna. Not far from Bologna you'll find museums dedicated to Lamborghini, Maserati and of course Ferrari (which gets two museums, one for the car and one dedicated to the man himself). Lamborghini, with its vivid colours, is the most fun for children to visit.
If you have any petrolhead fanatics in your family, you can easily incorporate the motor highlights around Milan and Turin with a trip to one of the Italian lakes. The motoring attractions around Bologna meanwhile, can be combined with one of those quintessential villa holidays in one of the central Italian regions of Emilia Romagna, Tuscany, Umbria or Le Marche.
Visiting Rome with kids
Rome is a brilliant city to visit with children but (as we found to our cost) it's a good idea to do a bit of planning before your visit. Avoid visiting in the summer if you can – Rome is a wonderful city to wander through but in the heat of summer it's really hard work sightseeing.
The Colosseum, the Spanish Steps, the Trevi Fountain and the Borghese Gardens are great for families – our kids loved watching the police turf people off the marble fountain (it's always the unexpected things which are a highlight). We all enjoyed the relative coolness of the treelined Borghese parklands – you can hire a golf buggy (ensure you have your passports handy) or a pedal buggy. There's also a kids playground in the Borghese Gardens.
Hiring a guide is well worth considering during a stay in Rome – a good guide who engages with kids can make a visit to the Roman Forum and other historic sites a far more interesting experience for young visitors. Alternatively, enrol the kids in Gladiator School for an action-packed experience of Rome. Older children might enjoy exploring Rome's catacombs – a collection of subterranean tunnels packed with the skeletons of early Christians. Not one for little kids!
It's also worth booking tickets to attractions in advance – skipping the queue on a hot summer's day is well worth it when you have impatient little people to entertain.
When we visited Rome with our children, we decided to stay out of the centre as the kids were young and it was August. We based ourselves in Frascati which is a short train ride away from the capital. This lovely town is perfect for escaping to at the end of a busy day of sightseeing.
Read about our Rome family day trip
Search for somewhere to stay in Rome
Northern Italy for families
Cinque Terre with kids
These five little towns, clinging to the crumbling coastline of Liguria, have become a must-visit attraction on many visitors' Italy itineraries. However, with this popularity comes the issue of overcrowding so I would recommend visiting Cinque Terre in the spring or the autumn. I visited in spring and it was truly delightful – full of colour and with far fewer visitors than summertime. The UK Easter holidays or the October half term would be perfect times to visit this gorgeous part of Northern Italy.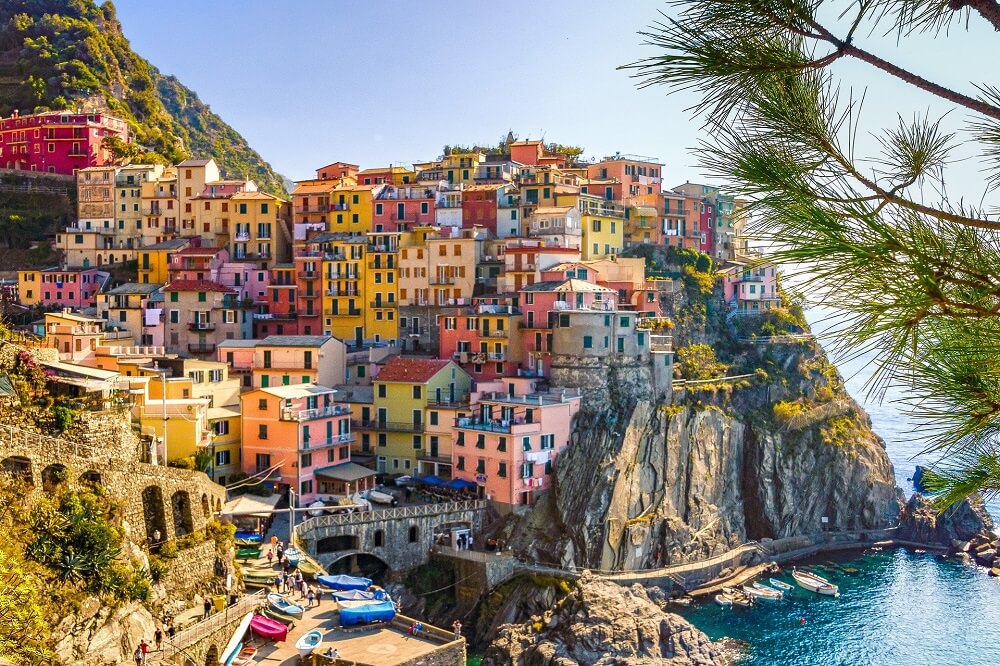 What are the Cinque Terre? These five villages – Monterosso al Mare, Vernazza, Corniglia, Manarola and Riomaggiore – are linked via a coastal footpath and a railway line (and, less directly, by very slow little mountain hairpin roads). Walking between the towns is really good fun and can be done in one day (approximately six hours) or over several. If you're travelling with very little children you can also walk some sections and take the train for others.
If you fancy introducing your children to multi-day hikes, this is a brilliant and easy initiation. The distances between each town are not great and the views are continuously beautiful. The towns are colourfully painted and packed with cafes and restaurants. Some of the paths are very uneven so if you're visiting with toddlers or a baby, a carrier will be much easier than a buggy for negotiating the bumpy paths.
Cinque Terre can be easily reached from Pisa in just over an hour by train (with a quick change at La Spezia) so you can do a really interesting two centre Italy family holiday by combining a few days in Pisa with a few days strolling along the Ligurian coastline. As this is such a popular destination in Italy, advanced booking for accommodation is essential.
Search for somewhere to stay in Cinque Terre
Piedmont
This region – although not an obvious choice for families – has a wealth of attractions in both summer and winter. There's a string of ski resorts, excellent summer mountain hideaways and a regional capital which kids will love. Then there's all the incredible little villages which many international tourists never reach – we loved Barolo for its wine heritage and enjoyed exploring the streets of pretty Alba.
Although Piedmont is landlocked you can still enjoy a trip to the beach – but it'll be a lakeside one. For peaceful picture perfect views head to lovely little Lake Orta complete with its island San Giulio. The lake is perfect for bike rides and hiking and it's a good alternative to some of the more well known Italian lakes further east. Piedmont shares the much larger Lake Maggiore with neighbouring Lombardy and Switzerland.
Turin is a brilliant city to visit with kids. We took an Italian Job themed tour of Turin a couple of summers ago – our children loved visiting the filming locations. Many of Turin's streets are pedestrianised and have porticoed walkways making them cool even in the heat of summer. For a view of the city, take the rickety elevator to the top of the Cinema Museum and to cool off head over to Piazza Castello where children love running through the water fountains.
Find out more about visiting Turin with kids
Where to stay in Piedmont with kids
We stayed at Cascina Papa Mora during our visit to Piedmont. Positioned on a hill not far from Alba, this farm stay has excellent facilities for families including an outdoor pool (we were often the only people using it), family rooms and a restaurant which has themed evenings in the summer months. During our stay, they had an Alice in Wonderland theme with staff in fancy dress and food marked "mangiami" ("eat me" – in case we needed any encouragement).
Check availability at Cascina Papa Mora
Milan for families
Milan has some rather specific attractions for older children. If you have kids with a keen interest in fashion, Milan is a great place for window shopping (or actual shopping if you don't mind parting with a bit of dosh). And people-watching – Piazza del Duomo is a good place for this pastime. Football fans meanwhile will no doubt be keen to visit the San Siro stadium which both Inter and AC Milan call home. I can't imagine my local teams of Spurs and Arsenal sharing a stadium – I'm tempted to visit Milan just to check out this sporting anomaly.
And of course Milan has a particularly spectacular Gothic cathedral – and you can wander around on its roof terrace. The roof is reached by climbing the many steps (250) or zipping up in the lift – the choice is yours. From the top are predictably impressive views across the city – on a clear day you can glimpse the Alps.
If you don't fancy dragging your kids around a traditional museum in Milan but you're keen to instil a little bit of culture into them, try the MUBA, a children's museum featuring interactive exhibits and workshops.
Search for somewhere to stay in Milan
The Italian Lakes with kids
Why visit the Italian Lakes with kids? You can expect fresh water swimming with a backdrop off forested hills and mountains, lots of pretty lakeside villages and plenty of outdoor pursuits – cycling, water sports and hiking. Several significant Italian cities lie close to the lakes so you can combine a city break (where you're flying into perhaps) with time relaxing by one of the lakes. The most well known cities close by are Milan, Verona and Venice but if you fancy getting off the beaten track a little, it's worth considering a visit to Turin, Treviso, Vicenza or Bergamo.
It's tricky to choose which Italian lake to visit with children. Como certainly feels like the most romantic but which is most practical with kids? If you'd like to escape the crowds, Lake Orta (north west of Milan) or Lake Iseo (between Bergamo and Brescia) are both quieter alternatives to Como or Garda. Fancy combining two countries into your holiday? Lakes Maggiore and Lugano both straddle the border between Italy and Switzerland. Maggiore is well known for its islands – the three Borromeo isles, which each have a distinct character. I rather like the sound of Isola dei Pescatori which is famed for its restaurants.
Heading back to Lake Garda – because that's the island I've visited most recently – this is the obvious choice for families looking for plenty of entertainment. The towns dotted along the lakeshore are packed with visitors enjoying the cafes and restaurants and the beaches are crammed with families taking in the sunshine. There are plenty of water sports on offer from pedalos to stand up paddle boarding.
There are several theme parks around Lake Garda. Gardaland is the most well known with plenty of rides to appeal to all ages. Movieland is also popular – although I've heard mixed reviews about it being a rather poor man's universal studios. If it's too hot for theme park rides, Movieland's water-based sister park Caneva can provide all the slides and splashes your children might need. Personally, I would avoid these attractions in the height of summer when crowds, queues and a lack of shade may eclipse the highlights of this type of day out. If you're not tied to the school terms and you can visit in June or September, days out at Garda's main attractions are far more appealing.
On our family trip to Lake Garda, we stayed slightly away from the lakeside, basing ourselves at a lovely agriturismo, Corte Patrizia. Our nearest lakeside town was Lazise on the western shore. Our position was perfect for days out along the lake and it meant we had a peaceful base to escape to at the end of a busy day. We hired a motorboat for an afternoon which was money well spent – we zoomed along the lake taking in all the amazing scenery from the water, it was brilliant fun.
Another option is to head a little further north to the smaller Lake Ledro, the temperatures are a little cooler and it's popular with Italian families. Ledro is about 15 kilometres from the northern shores of Garda (such as Riva del Garda) so it's a possible day trip option too.
Aside from water sports, the Italian Lakes are great for cycling and hiking holidays. But it's not all about active pursuits. There are plenty of vineyards around the lakes – we enjoyed the local Bardolino red wine but the region is also well known for its sparkling wine.
Where to stay near Lake Garda with kids
We loved our stay at Corte Patrizia. In fact, we probably saw less of Lake Garda than planned because of how lovely our accommodation was. Surrounded by vines (they produce their own delicious wine – light, cheap and perfect for summer evenings) and away from the bustle of the lakeside, Corte Patrizia has a collection of apartments which share two swimming pools and a large grassy play area with a sandpit.
The apartments are furnished to a high standard with stylish touches reflecting the taste of the young owners. Guests collect a breakfast hamper each morning and there's the option to buy tasting platters for the evening. We enjoyed cooking fish on the large communal BBQ in the garden and eating out at the recommended restaurants – one of which was a real highlight of our holiday. The farm's detailed online guest handbook was a really useful addition to the stay, packed with tips which only a local would know.
Check availability at Corte Patrizia
Venice with kids
I've been to Venice several times but I've yet to go there with my children. I think they'd love it – travelling everywhere by boat and getting lost down narrow lanes; exploring the fish markets; shopping for masks and visiting the brilliant art museums.
However, Venice isn't great with little children – there are lots of steps, and there's a lot of walking if you want to get away from the crowds. I wouldn't fancy visiting with a buggy or an unsteady toddler – I don't think it would be very relaxing.
If you do visit with young children, Venice is filled with statues of lions – some with wings – a great theme with which to explore the city and distract little ones from their tired legs. In St Mark's Square, older children might enjoy the Doge's Palace which has dark tunnels and stone prison cells to explore beneath all that majestic finery. Back above ground, the Campanile di San Marco (bell tower) can be climbed for great views over the city.
If your children are fans of Venetian masks, there are mask-making workshops where you can recreate some of the fabulous faces which light up the narrow streets of Venice during the carnival season. The island of Murano with its traditional glassblowers is a good place to head to in Venice for families.
Ensure you check whether your proposed stay coincides with a cruise ship visit – try to avoid these days as the city becomes swamped with daytrippers. If you are unlucky enough to clash with a cruise ship visit, consider a day out from the city – Padova and Treviso are both under an hour by train and Verona and Lake Garda are both under two hours. Alternatively, if you hop on a vaparetto to the nearby beaches, there are bikes to hire for a cycle ride along the seafront.
Search for somewhere to stay in Venice
Visiting Verona with children
If you have older children who can tolerate a bit of classical music, the opera in Verona is quite a spectacle. Even the most grumpy teen cannot fail to be moved by the setting. Just get Alexa to play a few of the pieces of music from the opera you have tickets for and your children will hopefully enjoy the experience a lot more. Otherwise, the Roman amphitheatre is worth a visit anyway – it's been well preserved and maintained over the centuries.
Verona is a lovely city for wandering – it has some good shopping streets which teens will enjoy exploring and of course there's the famous Giulietta balcony and statue which you'll need to jostle your way to, it's a popular spot for a selfie (parts of her body have more of a shine than others).
As with any other city in Italy, Verona has its tower to climb – something which always keeps my children happy when they do a city break. In Verona it's Torre dei Lamberti, a 12th century bell tower on Piazza delle Erbe, the main city square.
Search for somewhere to stay in Verona
Mountain holidays in Italy for families
Many of the ski resorts across the Italian Alps convert into appealing destinations for an active summer holiday. We had a lovely few days in the Dolomites several years ago – there are some fantastic walks which even the youngest of children will enjoy. Our kids tried rock climbing and via ferrata as well as doing a fairly long mountain bike trail.
I had always thought time at the beach was essential to a summer holiday but our stay in the Dolomites converted me to the idea of mountain holidays. There are plenty of hotels and self catering options with access to a swimming pool – many children of a certain age actually prefer a pool to the sea once the allure of sandcastles has waned.
Read more about our stay in the Dolomites.
Central Italy for families
Depending on the style of holiday you prefer, it can be great fun to explore the highlights of central Italy by car or stay in one base and just visit local areas – there's a huge range of villas, apartments and cottages for all budgets in Tuscany, Umbria and Le Marche. Although I really recommend you spend at least some of your time at a traditional agriturismo – great food is guaranteed.
Tuscany for kids
With so many flights into Pisa, this city is the perfect place to start a family trip to Tuscany. But please do stay at least one night – day trips to Pisa really don't do it justice. If you're planning to visit in June try to tie in your visit with the light festival La Luminara di San Ranieri when every window of every palazzo along the River Arno is lit up with a candle – it's beautiful. Otherwise, if you visit during the main summer season, ensure you make it to the Leaning Tower at the start or end of the day so that you avoid the day trippers.
Find somewhere to stay in Pisa

For a February half tern with a difference, stay in Pisa and hop on the train to neighbouring Viareggio to witness the brilliant carnival – they really know how to throw a party. Huge floats travel along the seafront road with crowds lining the streets. It helps if you know a bit about Italian politics and famous Italian folk – as many of the floats are there to make fun of the villain of the day. But even if your knowledge of Italian scoundrels is limited to Berlusconi, it's still a brilliant experience.
One of the most enjoyable towns in Tuscany for families is Lucca – it has thick stone walls which you can walk or cycle along and the central piazza is perfect for lunch (and for little ones to run around in). Torre Guinigi is fun to climb – kids can marvel at the trees growing out of the top as well as taking in the views of Lucca below. If you're keen to rent a family villa in Tuscany, staying near Lucca is a good location – it's well placed for day trips to the sea and mountains as well as forays into nearby Pisa and Florence.
Find somewhere to stay in Lucca
Just east of Lucca is the town of Pistoia which holds an annual music festival. If you're travelling with semi-adult children you could drop them off at the festival (with a very small tent if you're arriving by plane) and then pick them up a few days later. Or all enjoy the festival together! I have vague memories of this festival from my time in Tuscany as a student – I recall the young Italian men lining their mirrors up along the wall outside the wash block to have a wet shave – not quite the same as a UK festival…
Florence is a brilliant place for an outdoor art history lesson. In Piazza Signoria alone you'll find sculptures of Cosimo de Medici – the first of the powerful Florentine banking family – and of course the famous copy of Michelangelo's David (the original is in the nearby Academia gallery). Book tickets in advance if you plan to visit the Uffizi (or Academia) – home to famous paintings that even your children will recognise such as Botticelli's Birth of Venus, although they might prefer examining Caravaggio's terrifying Medusa with her head of snakes.
If your kids can stay up until sunset, head to the Piazzale Michelangelo on the hill above the city for lovely views. Despite the crowds, a wander across the Ponte Vecchio – a medieval bridge packed with tiny shops – is deemed an essential part of any visit to Florence. However, your children might prefer the thrill of climbing the 463 steps of the cathedral dome – there are views into the cathedral from a balconied walkway and further up you reach the small external area where you can enjoy views over the city.
Find somewhere to stay in Florence
There's a host of lovely hilltop towns in Tuscany – one of my favourites is Montepulciano which does a particularly delicious red wine called Vino Nobile (not to be confused with Montepulciano d'Abruzzo). If you prefer to be beside the seaside, choose carefully – there's plenty of pebbly spots but some lovely stretches of sand too. Head to the island of Elba or the Maremma in the south of Tuscany for sandy beaches.
The island of Elba is a great destination for a seaside family holiday in Italy – it works well as a two centre trip in conjunction with a few days in Rome or Florence. Hopefully the promise of daily seaside activities will encourage your kids around some of Italy's cultural highlights. As well as beaches, Elba offers water sports such as sailing and diving and there are some lovely walks and cycle trails across the island.
I used to get some good reports about the family friendly Hotel del Golfo which overlooks a sandy beach and has family rooms sleeping up to four. Italians tend to stay on half or full board but it's walking distance into the town of Procchio if you'd prefer to book bed and breakfast and eat out.
Look for places to stay on the island of Elba
Umbria family holidays
I worked for several years at a tour operator specialising in Umbria so I feel I know the area pretty well. In fact, I've written a whole article about things to do in Umbria with kids. A key highlight for families is Perugia – with its annual jazz festival, Perugino chocolate factory and the impressive subterranean Etruscan and Roman heritage hidden beneath the cathedral.
There are some good castles for kids to explore in Umbria – Rocca del Leone overlooking Lake Trasimeno and Rocca Maggiore in Assisi, the latter has particularly spectacular views.
Orvieto is a must visit for its glittering cathedral, beneath the city is a series of caves which you can explore on a tour – the town sits on a volcanic tufa rock which can be seen from miles around. And if your children enjoy farm visits, take them to a vineyard – there might not be animals but there's the usual farm machines which little kids love – I recommend the crisp Orvieto white and the rather delicious Montefalco red but it's a good idea to sample a variety…. We've taken our children wine tasting – or rather, they have accompanied us – and they've always been warmly welcomed.
There are several old fashioned theme parks and some decent water parks in Umbria as well as the rather unusual Marmore waterfall which looks natural but was in fact created by the Romans and can be "switched off". So, it's easy to combine a bit of history and culture – visits to hilltop towns, wine tasting – with some more typically child-pleasing pursuits.
Read more about things to do in Umbria with kids
Le Marche for children
If you'd like to get off the beaten track in Italy but you still want the art, history, wine and charming hilltop town experience which we all love the country for, my top recommendation is Le Marche. Here you have the best of both worlds for an Italy family holiday – there's hilltop towns aplenty but you also have some of the most child-friendly beaches I've visited in Italy.
Read about our villa holiday in Le Marche.
Le Marche has miles of sand backed by cafes and restaurants, play areas and promenades. It's a very authentic Italian beach holiday experience with a strong domestic following – you won't hear many British voices in this part of the country.
Read about our visit to Grottammare on the Adriatic Coast.
Le Marche is separated from Umbria by the Sibillini Mountains – the drive through the mountains between the two regions is one of my favourite road trips in Italy. If you can visit in early summer you'll witness a particularly wonderful display of wild flowers in the Piano Grande between Norcia and Casteluccio (both of which are actually in Umbria).
One of Italy's most underrated towns is found in Le Marche – Ascoli Piceno. Here you'll discover Piazza del Popolo, an incredibly beautiful square with elegant Renaissance architecture, sleek travertine stone and a famous art deco café in which to enjoy coffee or an aperitivo. Ensure you sample the local delicacy – deep-fried olives stuffed with meat – perfect with that aperitivo.
Read more about Le Marche for families
Southern Italy for families
The Amalfi Coast and the Cilento National Park
Although the Amalfi Coast is one of the most popular destinations on a trip to Italy, it's not necessarily the best place for a family holiday in Italy, particularly if you have young children. Many of the beaches are reached via lots of steps and they generally have pebbles rather than sand.
If you are keen to visit Amalfi with kids, I'd recommend heading there at Easter time or at October half term. The weather should be pleasant for sightseeing but there will be far fewer tourists than in the summer months. Most crucially, you'll find Pompeii much easier to explore when it's less hot (as well as nearby Herculaneum).
If you base yourselves in Sorrento, you can benefit from the Circumvesuviana train which runs to Naples as well as to Pompeii and Herculaneum. Alternatively, find an agriturismo slightly inland – you'll receive more authentic food than that served in a lot of the more touristic restaurants on the coast.
Look for places to stay in Sorrento
If you're heading to Campania predominantly to see Pompeii, ensure you don't miss Herculaneum. It's a much smaller site but some of the details are better preserved. And it's also worth going to the National Archaeological Museum in Naples where many of the artefacts recovered from Pompeii and Herculaneum are on display. There are audio guides in English.
Mount Vesuvius – perhaps overdue an eruption – is an essential destination when visiting the Amalfi Coast with kids. There's a carpark half way up the volcano and a rather steep but do-able climb from there to the crater. It's a very popular excursion but do come prepared. The car park is 1000m above sea level so some layers as well as water and a sun hat are a good idea. At the top you'll find the volcanic landscape rather bare and moon-like but the views on a clear day across the Bay of Naples are impressive.
If you're keen to incorporate some beach time into your trip, I'd recommend doing a two-centre holiday – combine a few days on the Amalfi Coast with time a little further south in the Cilento National Park. This protected natural area offers sandy beaches, pretty coastal towns and some wonderful unspoilt hilly landscapes in its interior. There's also the archaeological site of Paestum – a collection of well preserved Ancient Greek temples – which receives far fewer visitors than Pompeii and Herculaneum. The fishing village of Santa Maria di Castellabate is a good base for families.
Find somewhere to stay in Santa Maria di Castellabate
Basilicata
Basilicata is a small mostly inland region in southern Italy but it occupies a little stretch of Tyrrhenian coastline which is perfect for beach lovers. The tiny coves and beaches are predominantly rocky and pebbly so this isn't sandcastle territory. What is does offer though is crystal clear waters, perfect for swimming and snorkelling. There are several little fishing villages in which to base yourselves – or you can stay just inland at the very pretty medieval town of Maratea (not to be confused with Matera, a remote hilltop town famous for its cave dwellings, also in Basilicata).
Find somewhere to stay in Maratea
Calabria summer holidays
Calabria is a brilliant destination for a family beach holiday in Italy. Although this predominantly agricultural area is one of Italy's poorer regions and lacks the romantic landscapes of central Italy, it does have some pockets of loveliness and, crucially, it has some amazing beaches. I spent a week checking out all the beaches when I was a student in Italy (admittedly that was a few years ago now) – the sea was great for snorkelling and we spent hours in the water.
The seaside towns of Tropea and Scilla are the best spots to head to. Tropea has a lovely central piazza, perfect for a morning coffee or a pizza in the evening. The town overlooks a popular beach and there are lots of interesting shops and cafes to explore. Top tip: ensure you try some of Tropea's famous sweet red onions, they are truly delicious.
Scilla sits further south, facing Sicily across the narrow Messina Straits. One of my boys is studying Greek mythology at the moment and I'm sure he'd be sold on Scilla – it's the mythological home of fearsome beast Scylla who terrorised Odysseus when he was on his long journey home. A castle sits on a headland overlooking the straits and in the fishing village there's plenty of inviting restaurants if you can tear the kids away from the sandy beach.
Where to stay in Calabria with kids
During my travel agency days, I used to send lots of families to the little holiday village of La Conchiglia, in the Capo Vaticano area, not far from Tropea. La Conchiglia features simple studios and apartments and there's a restaurant plus two pools. It's a short walk to a sandy beach and more beaches are a short drive away.
Puglia with kids
I was slightly underwhelmed the first time I visited Puglia. Much of the region is very flat and arid with vast olive plantations. It feels like a very different country to the rolling green hills and mountains further north. Puglia requires a bit more effort to seek out its highlights – the old town (centro storico) of places such as Lecce are not easy to find. Many of Puglia's towns are surrounded by a modern mishmash of concrete development. However, there are gems hidden in Puglia and it feels all the more rewarding when you track them down.
One of the loveliest towns I visited on my trips to Puglia was seaside Gallipoli (not to be confused with Turkish Gallipoli, a WW1 site). This little walled town is the perfect place for a long lunch – perhaps preceded by a dip in the sea to justify the huge amounts of food you'll likely consume.
Polignano a Mare is another appealing coastal town. Its narrow stretch of beach, positioned between rocky headlands, is a popular cliff diving destination – a rather instagrammable spot. I visited the town just as an autumn storm was approaching but even then it looked pretty inviting. Further south is another attractive town – Otranto – where I had some of the most delicious seafood of my travel industry career.
Perhaps the most well known town in Puglia is Alberobello, home to the conical little stone dwellings – trulli – which you'll also spot dotted across the surrounding countryside. It's worth a visit for lunch and a wander – children will enjoy exploring the trulli.
One part of Puglia which I've not had a chance to explore yet is the Gargano Peninsula. If someone reading this could go and report back to me please I'd be very grateful, thank you. It's a protected national park with a rocky coastline backed by pine forests. There are islands to explore and appealing whitewashed towns to wander through. It's a popular spot with Italians but us Brits tend to skip this part of Puglia.
Family holidays to Sicily
Sicily is one of my favourite parts of Italy. Due to its strategic position in the Mediterranean, it has seen a constant stream of invaders over the centuries – and this is reflected in everything about the island, from its cuisine to its architecture. Sicilians have also had to contend with some rather powerful forces of nature – volcanoes and earthquakes have shaped the island and continue to do so today.
There are some brilliant beach towns in Sicily – Cefalu and Taormina are the most well known – but there's plenty more besides. Whether you're looking for people-watching beaches or empty stretches of sand, there's a beach in Sicily for everyone.
Read my guide to Sicily's beaches here.
Sicily definitely lends itself well to a road trip, there is so much packed into the island that it would take several visits to get to grips with everything Sicily has to offer. There's the dense concentration of Baroque towns in the Val di Noto; ancient Greek temples strewn along the southern coast; traditional mountain villages in the interior; vineyards galore; sandy beaches aplenty; North African-influenced towns in the west and delicious food everywhere! My favourite city is Syracuse on the east coast, it's perfect for a city break or as part of a longer itinerary – and its tiny historic centre is packed with fun things for kids to see and do.
Read about our road trip across eastern Sicily.
I've put together a compilation of 50 things to do in Sicily with kids – take a look and tell me you're not tempted to visit!
Sardinia for families
Sardinia is home to several stretches of sand which claim the title for best beach in Italy but really, it doesn't matter where you go in Sardinia – you're never far from a fabulous beach. In fact, I would steer clear of the famous Instagram beaches – they tend to be packed in the summer. It's worth seeking out some of the less well known beaches – ask locally where you're staying for a good under the radar beach or do as we did in neighbouring Corsica (also home to amazing beaches) and simply go exploring without doing any research – we found some brilliant, less-visited beaches that way.
Sardinia is a large island with highlights spread across it – the attractive capital Cagliari in the south, the glitzy resorts of the Costa Smeralda in the north east and the historic Catalan city of Alghero in the north west. There are excellent walking trails in the mountainous interior – perfect for shoulder season exploration when the heat is less intense; and the rivers are lovely for wild swimming if you fancy a change from salt water. If you prefer something a little less strenuous, you can try exploring Sardinia's landscapes aboard the Trenino Verde – the green train – which chugs across the countryside in parts of the north and centre of the island. Children will enjoy discovering the mysterious megalithic "nuraghi" stone structures which are scattered across the island.
Some of Sardinia's beach towns can be a little bland – but there are a few treasures worth seeking out. Villasimius in the south east of the island is a characterful base around an hour's drive from the capital with plenty of stunning beaches to choose from close by. Meanwhile, in the north, Santa Teresa di Gallura is an appealing harbour town within day trip distance of not only the beautiful Maddalena islands but also the French island of Corsica – or more specifically the lovely citadel of Bonifacio.
Look for places to stay in Villasimius
Look for places to stay in Santa Teresa di Gallura
Useful resources on Italy for families
Foreign Office Advice for Italy
It's always worth checking the Foreign Office website for the latest travel news – everything changes so quickly in our new Covid world.
Foreign Office travel advice for Italy
The most beautiful towns in Italy
While there are plenty of travel sites expounding the delights of little known hilltop towns (I keep meaning to write an article myself…), there is actually an official association which oversees some of the most delightful and historically significant small towns in Italy.
Avoid Crowds
If you're planning to visit a popular destination in Italy such as Rome, Venice or Pisa, you can check on the website Avoid Crowds to see whether a cruise ship will be stopping that day, whether there's a national holiday, school holiday or other event liable to increase a destination's popularity.
*****
Have you taken an Italy family holiday? Do you have any great tips about Italy with kids? Let me know in the comments below.