Why visit Sicily with kids?
Having worked in the family travel industry focusing for many years on Italy, I'm often asked whether Sicily is a good place for a family holiday. So I decided to compile this list of the best things to do in Sicily with kids. I've experienced quite a few of these recommendations with my own children and I've visited many of the places independently. Writing about the rest of these family friendly Sicily experiences makes me want to book another holiday to my favourite Italian isle very soon.
The best places to visit in Sicily
Taormina is without doubt the most popular place to visit in Sicily. This hilltop town overlooking both the sea and Mount Etna has the perfect ingredients for a Sicily holiday with kids. There are ancient ruins to explore, tons of enticing cafes and gelaterias and a lovely beach complete with rocky island to investigate.
Sicily is a huge island so it's worth hiring a car and exploring some of the island's lesser known destinations. The island's capital Palermo is great fun with older kids (think street food and bustling markets). The south east of Sicily is one of my favourite parts of the island: the Val di Noto is packed with fascinating Baroque towns which are small enough for young children to wander around.
Syracuse is my favourite city in Sicily and it's perfect for children. Our kids loved the puppet theatre and boat rides around the town's coastline. The car-free central piazza is perfect for a family lunch or ice cream break and there are plenty of affordable and family friendly places to stay.
And let's not forget Mount Etna, one of the most exciting places to visit in Sicily with kids. An active volcano is an essential destination on any trip to Sicily. Our kids loved exploring the mountain and learning about its legacy.
Read my article about where to stay in Sicily for families
The best things to do in Sicily with kids
Aside from the usual crowd-pleasers, which Sicily has in abundance – water parks, beaches, and so forth – Sicily is brimming with really exciting, educational and unique experiences for families. Many of the attractions in Sicily offer free entry for children so you can visit an ancient ruin or go on a boat trip and not have to part with piles of cash. You're never far from an amazing sandy beach in Sicily so it's easy to split your day between culture in the morning and seaside in the afternoon. However, as some of the historic and geographic wonders of Sicily are so exciting to children you might find the beach bribe isn't always required.
Map of things to do in Sicily with kids
When is the best time to visit Sicily with children?
Spring, early summer and autumn are perfect times to take a family holiday to Sicily. The best time to visit Sicily for a cultural break is at Easter time. There are lots of traditional festivities and parades, wild flowers bloom in the hedgerows and prices are much lower. It's a lot easier to explore the cultural sights of Sicily in spring before the weather gets too hot.
September and October are great months to visit Sicily with children for a beach holiday: the sea is wonderfully warm and evenings are a pleasant temperature. If you're tied to school holidays, consider May half term for early summer sun or October half term for a cultural break in Sicily with kids.
In the main summer months, Sicily is incredibly hot. If you're just planning to visit the beach in Sicily then this shouldn't be too much of a problem. However, if you want to do any kind of sightseeing, I would avoid August in Sicily with children. Visiting a temple or a Greek amphitheatre when the temperature is 40 degrees is not a fun day out.
Planning a trip to Italy with kids? Read my complete guide to Italy for families here.
Pin for later:
So, here's my run down of the best things to do in Sicily with kids. This list is by no means exhaustive so if you have a recommendation for a fun activity which you experienced on your own family holiday to Sicily, do let me know in the comments below.
Visit the beach in Sicily with kids
There are so many fantastic beaches in Sicily, it's hard to know where to start. Whether you're after people-watching beach clubs, incredible stretches of empty sand or if you fancy snorkelling along its volcanic coastline, you'll find the Sicilian beach for you. Due to the Italian domestic holiday season, many of the beaches in Sicily are packed during August but eerily quiet for the rest of the year.
If you're visiting Sicily with kids out of season, consider heading to Cefalu or Taormina to get your beach fix: these two Sicily beach towns are enjoyable to visit at any time of year.
Check out my post on the best beaches in Sicily for more ideas.
Want to stay in a cave in Italy? Try Scicli.
Matera on the Italian mainland tends to be the cave house town of choice these days but if your children have a yearning for cave life in Sicily, fear not. Scicli in Sicily's Val di Noto is the place to go for troglodytes. The town is beautiful, with the same elegant Baroque architecture that you'll see in other towns in this region of south east Sicily. And if you don't fancy sleeping in a cave, you can also dine in a cave in Scicli.
Good old Airbnb has the option to tick "cave" on its unique stays filter.
Visit an active volcano in Sicily with kids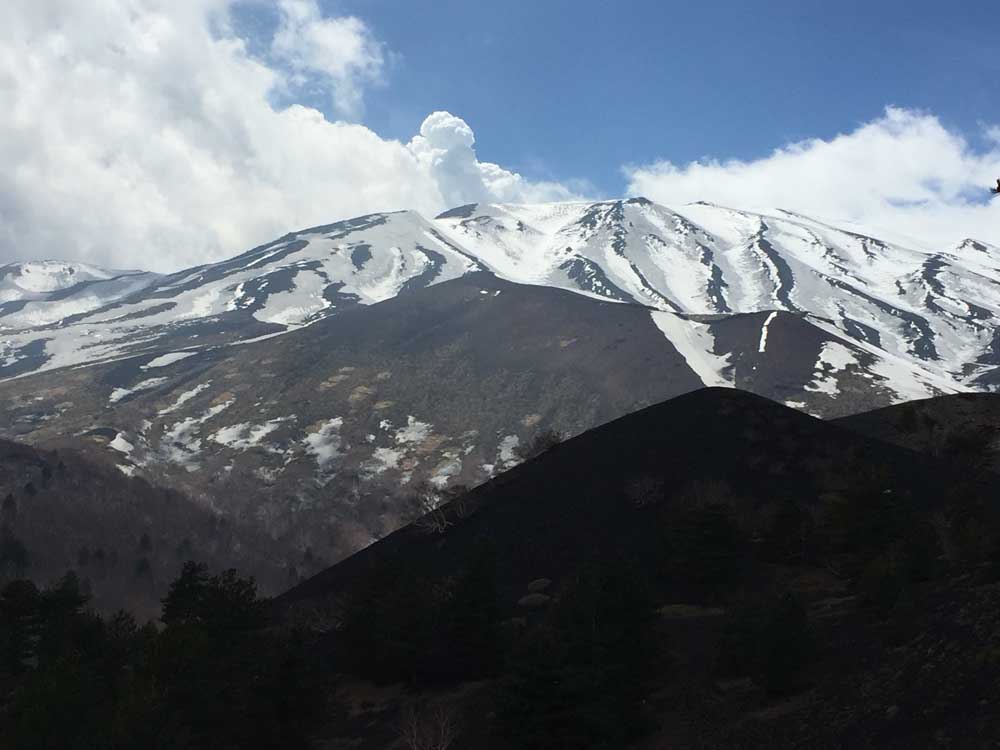 If you're visiting Sicily with kids, an essential part of your itinerary is likely to be a trip to Mount Etna. There are various ways of visiting this active volcano in Sicily. We took a private tour of Mount Etna with Etna Finder. Our kids were only five and three at the time so Marco our guide tailored the day around their interests and their level of understanding. Highlights included clambering over lava fields, sitting on a lava bomb and visiting a lava cave. My kids are now, several years later, still obsessed with Land Rover Defenders thanks to this day out!
Best things to do in Sicily: tour a chocolate shop in Modica
My kids loved learning how the unusual chocolate at Antica Dolceria Bonajuto is produced. They also rather enjoyed sampling all the goodies afterwards including the hot chocolate. This is a great little place to visit: the shop is over 100 years old and has some very interesting delicacies including mpanatigghi, meat mixed with chocolate wrapped in pastry (surprisingly tasty).
During their rule of Sicily in the 16th century, the Spanish brought cocoa to the island from Central America. And in Modica, a unique grainy textured chocolate continues to be produced at Bonajuto.
Enjoy an evening passeggiata in Sicily with kids
One of the most quintessential experiences in Sicily and in all of Italy, is the evening passeggiata. If only all nations could be this civilised. Whether you're wandering through Piazza 9 Aprile in Taormina, exploring the narrow streets of Syracuse or strolling along the atmospheric main thoroughfare in Modica, evenings in Sicily are a wonderful time to explore a town or city. Local people of all generations fill the streets, visiting the shops, meeting for a drink or gelato and generally enjoying the cool evenings together.
Eat delicious Sicilian desserts and sweets
Come to Sicily for the ice cream but don't forget to sample some of the other incredible Sicilian desserts. The island is famed for its almonds: paste di mandorle (almond paste) is widely used in cakes and biscuits. Likewise, sweet ricotta features in many desserts.
The most famous sweet treats in Sicily are cannoli, tube shaped pastries packed with ricotta. Another popular dessert in Sicily is the garish cassatta siciliana, a sponge cake flavoured with liqueur and decorated with bright candied fruit and (sometimes green) icing.
I have to admit that while I do have a fairly strong sweet tooth, neither of these Sicilian desserts float my boat. My favourite sugar high in Sicily is granita. Made from sugar and water along with a specific flavouring, granita is similar to sorbet but with a coarser texture. Common flavours include lemon, coffee and almond. Particular flavours vary from city to city so pistachio is typical of Bronte near Catania while coffee is typical of Messina.
Hike Sicily's rugged coastline: Lo Zingaro
Visiting Sicily with teenagers? One for older children and perfect for the Easter holidays or October half term, Lo Zingaro Nature Reserve in western Sicily will definitely appeal to geography fans. Every coastal natural geographic feature can be ticked off during a walk along in Lo Zingaro: caves, sea stacks, arches and more. Add to this some lovely beaches (some secluded, others quite busy) and crystal clear waters perfect for snorkelling.
The Zingaro coastal hike is around seven kilometres one way and is not recommended in the summer months as there is little shelter from the intense sun and there are no shops to stock up on water. If you visit in the spring you'll be rewarded with beautiful wild flowers on the clifftops while autumn is perfect for plenty of refreshing dips in the sea as the water will have been warmed by months of sunshine.
Eat delicious fresh fish in the beautiful village of Marzamemi
If you like your dinner in a picturesque setting, the pretty fishing harbour of Marzamemi in the south east of Sicily is hard to beat. The village is perfect on a summer's evening when you can sit outside in at one of the many fish restaurants, after a day at one of the many nearby beaches.
Enjoy a bucket and spade Sicily family holiday in Cefalu
Visiting Sicily with toddler in tow? Cefalu is one of Sicily's most popular family seaside holiday destinations, and with good reason. There's a sandy beach perfect for little ones who want to dig in the sand. The beach is backed by a delightful medieval town which is in turn backed by a towering rock, La Rocca. You won't need a car if you visit Cefalu: everything is within walking distance and you can even hop on a train to Palermo if you fancy a little adventure into the big smoke.
Highlights of Cefalu include wandering the narrow cobblestone streets, taking in the views from the top of La Rocca and admiring the colourful fishing boats or the equally colourful mosaics in the Arab-Norman cathedral.
Learn about salt production in Trapani
Hear me out on this one please… salt has been mined for thousands of years between the two ports of Trapani and Marsala. There's a museum housed in an old mill which details the history of the salt industry: how windmills were used to pump the salt water and the system of evaporation still in use today.
The landscape, now a nature reserve, is beautiful: the salt flats are dotted with windmills and a visit at sunset will be the perfect spot for any selfie-obsessed youngsters. Along with the Vendicari on Sicily's east coast, the Trapani nature reserve is a good place to spot flamingos in Autumn.
Run, walk or cycle around Sicily's largest natural lake
We based ourselves at Baglio Pollicarini during our stay in central Sicily. The agriturismo is located close to Lake Pergusa near the hilltop town of Enna. Encircling Lake Pergusa is the Autodromo di Pergusa, a motor racing track now used predominantly by runners, cyclists and dog walkers.
On arrival in Sicily, we bought our kids cheap balance bikes to help them get around towns and historical sites so that they wouldn't tire too quickly and request to be carried (this was the best €80 we ever spent during a holiday by the way). And each evening, whilst killing time waiting for restaurants to open we would take the kids to the racetrack for a bike ride. The sun was just starting to set over the lake and there were lots of people enjoying the cool evening air. Just remember to use mosquito repellent before you arrive.
Best things to do in Sicily: enjoy the carnival at Acireale
No plans for February half term? Check whether this year's dates fall in line with the epic carnival at Acireale on Sicily's east coast. You can expect dramatic floats and processions. This is the most famous carnival in Sicily and one of the most significant ones in Italy.
Celebrations last around three weeks during February. Huge masks are created of topical celebrities, the chance to satirise individuals including politicians and sports personalities. This tradition of mocking the famous dates back hundreds of years in Acireale's carnival. If only we had something like this in the UK…
Acireale, located about 25 kilometres north of Catania, can easily be combined with the popular town of Taormina which will be delightfully peaceful to visit in February.
Walk into a giant ear at the Archaeological Park in Syracuse
Not all children relish the thought of traipsing round ancient ruins which resemble a pile of rubble. It can be difficult to engage kids in history if it's not jazzed up with interactive displays or a lively tour guide. However, this archaeological park, complete with impressive Greek and Roman amphitheatres, has something a bit different. The unpleasant emperor Dionysus had his prisoners dig out a giant cave, shaped like an ear. Due to the cave's impressive acoustics, he apparently enjoyed listening to his prisoner's wails. If you visit today, you enter the cave and try the echoes yourself.
Sicily for kids: visit a puppet theatre
If you're visiting Sicily with kids, taking in a puppet show is essential. There are puppet theatres at several locations across Sicily. We enjoyed a really fun puppet show in Syracuse, on Sicily's east coast. The theatre is small, with seats at the front reserved for children. The show is all in Italian with a convoluted plot of monsters, heroes and villains which none of us were able to follow, even with an explanatory programme. However, the humorous puppets and the regular violence (decapitated monsters, slain knights) meant that our kids loved every minute.
See Roman sports preserved in mosaics at Villa Romana del Casale
It's a little bit off the beaten track in Sicily, hidden away in the centre of the island, but if you have an interest in Roman history or archaeology, Villa Romana del Casale near the town of Piazza Armerina is one of the best places to visit in Sicily.
Our kids probably weren't quite as taken with this UNESCO World Heritage Site as I was but they were able to appreciate the artistry of the mosaics. The villa, probably inhabited by a Roman aristocrat, houses a huge collection of scenes from Roman life. One of the most well known sections depicts women in "bikinis" taking part in various sports such as discus throwing and ball games. Elsewhere, there are hunting scenes and mythical stories.
And if you're in need of sustenance after a visit to Villa Romana, head to nearby Trattoria la Ruota which serves a tasty lunch at shaded tables on a little terrace, there's a small garden for kids to play in.
Climb a giant terracotta staircase at Caltagirone
An unexpected highlight of our road trip in Sicily with kids was a lunchtime stop in Caltagirone. Located an hour west of Catania, Caltagirone has a ceramic industry which dates back over a thousand years. In the centre of the town is an impressive staircase of 142 steps, each inlaid with decorative ceramic designs. Our children loved burning off their lunch by racing up the stairs while us adults appreciated the delightful cafe half way down which has a sunny terrace to rest on.
Enjoy street food in Palermo with kids
I've not visited Palermo with kids yet but I'm looking forward to taking my children to Sicily's capital. I have fond memories of evenings spent wandering along narrow streets with restaurants spilling out on to the streets and stalls selling delicious things to eat.
Some street food in Palermo might not appeal to young gourmands: stiggiola (goat's intestines) and pani ca meusa (spleen sandwich) are unlikely to be a hit, but do not fear, there are plenty of fun (and cheap) snacks in Palermo. The most well known street food is the deep fried ball of rice arancino. Also likely to be a hit with the kids are panelle, fried bread made from chickpea flour. And of course, Sicily has its own take on the pizza: sfincione, a more bready version of the margarita.
Climb on the white cliffs at Scala dei Turchi
I visited Scala dei Turchi, near Agrigento, when I was a student rather a long time ago so it's high time I paid these white cliffs a return visit. Eroded over centuries to form smooth step-like features, these rocks are a great place for kids to play and there's a sandy beach below with access to the sea. If you're travelling with members of the Instagram generation, this will definitely be a crowd-pleaser, it's a very photogenic spot. A good bargaining chip if you want to take your children to the temples at Agrigento first.
Spot the ghost at Castelbuono
You'll have to plan ahead if you'd like to do a spot of ghost busting in Castelbuono in northern Sicily. The ghost of Queen Constance Chiaramonte only makes an appearance on the first Tuesday of the month at the town's castle. If you visit on any other day of the week, you'll just have to make do with the rather impressive views of the Madonie Mountains instead.
Castelbuono is a good day trip destination from Cefalu.
Slurp granita in the most beautiful piazza in Sicily
Italy has lots of beautiful piazzas but I've decided my favourite is Piazza del Duomo on the tiny island of Ortigia in Syracuse. There's something about the brilliance of the light on the limestone cathedral set against the (usually) blue sky which makes it a lovely spot to while away the time. And if it's a hot day, a granita is the perfect thirst quencher.
During our visit to Syracuse, our kids went off to play football in Piazza del Duomo with some local children. The square is car-free and a perfect spot for little ones to burn off some energy.
Take a day trip to the Egadi Islands
If you're holidaying in western Sicily with kids, the three Egadi Islands are an essential day trip destination. Favignana is the largest and closest to the mainland and has a lovely sandy beach, Lido Burrone. The islands are perfect for cycling, walking and snorkelling. The seafood and the sunsets sound pretty impressive and you'll even find ancient cave paintings on the island of Levanzo. I've wanted to visit the Egadi Islands for a long time…
Visit the catacombs in Palermo
History is so much more fun when it's horrible, hence the success of a certain series of books. If you're visiting Palermo with kids, I'm sure they'll enjoy a trip to the Catacombe dei Cappuccini. Here you'll find thousands of mummified bodies dating back to the 17th century (although the tradition continued into the early 20th century). Still dressed in smart outfits, lining corridors and rooms, are Sicilians from all walks of life. Not one for the fainthearted.
Enjoy Sicily's wild flowers
Spring is my favourite time of year to visit Sicily. The countryside is awash with colour: bright yellow fennel grows wild in the olive groves, pink and red blooms poke their heads up through Sicily's many crumbling ancient ruins and in the eucalyptus woods near Enna in Sicily's remote interior you'll discover tiny orchids. The wildflowers of Sicily are incredible.
Soak up the culture with a local festival in Sicily
Sicily is a very traditional island and this is reflected in its multitude of festivals. Most are linked to religion, some more obviously than others. Easter is a great time to witness one of these spectacles. Trapani and Enna have particularly atmospheric processions during their Settimana Santa (Easter week).
Saints are honoured in the form of festivals and firework displays: Palermo has a lively celebration of Santa Rosalia in July while St George is commemorated in Ragusa in May.
Food is celebrated with great enthusiasm across Sicily in the form of sagre. Each region focuses on its local produce so Sortino celebrates its honey and Agrigento has an almond blossom festival in February.
Admire the mosaics at Monreale near Palermo
I promise I haven't added this Norman cathedral to the list in an effort to reach a clean "50 things to do in Sicily with kids". While my two children probably wouldn't be overly impressed by 6,000 square metres of glittering Byzantine mosaics, I know that others will be.
If your offspring are used to following date lines in their school history lessons, then Monreale is an important site to include in a trip to Sicily for kids. You'll no doubt visit a 2,500 year old Greek temple during your Sicily travels and perhaps the 2,000 year old Roman villa near Piazza Armerina so it makes sense to add something from Sicily's Norman past (a mere 1,000 years ago).
If nothing else, tell the kids you're stopping in Monreale for an ice cream after the stress of trying to navigate your way out of Palermo.
Ride the Taormina cable car to the beach
What better way to arrive at the seaside than by cable car? When we stayed in Taormina with kids, we loved hopping on the cable car to reach the pretty pebble beach below the town. In busy periods you may find there's a bit of a queue, all the more reason to visit Taormina outside of the main summer months.
Once you hop off the Taormina cable car, it's a short walk along the road, passing a few bucket and spade shops (in case you've forgotten these essentials) and there's a flight of steps down to the actual beach. You'll find the usual selection of sunbeds and umbrellas for hire, there's restaurants if you haven't packed a picnic, and toilets.
From the beach, visitors can reach little Isola Bella, a rocky outcrop of an island which is now a nature reserve.
See flamingos at the Vendicari Nature Reserve
If you have some junior twitchers in the family, they're in for a treat if you're visiting Sicily with children in autumn. There are some stunning coastal nature reserves in Sicily and the Vendicari Nature Reserve on the east coast just south of Noto is particularly rewarding for birdwatchers. Among the many birds which visit the reserve, you can expect to find flamingos at the Vendicari.
The Vendicari is also brilliant for walking and there are stretches of sandy beach if you just fancy relaxing while the children build a sandcastle.
Enjoy open air theatre at Taormina with kids
Of the many ancient theatres in Sicily, that of Taormina is likely to hold your attention the longest. Of Greek origin but mostly of Roman construction, the amphitheatre in Taormina commands the most impressive views: out over the Bay of Naxos and towards smouldering Mount Etna. It's a very enjoyable place to sit and relax, or if you're a small child it's also perfect for climbing.
You can enjoy live music, theatre and cinema productions at the Teatro Antico di Taormina. The theatre pulls in some big names: during one of my visits to Taormina, Elton John was playing an open air concert. Sting, Noel Gallagher and Kasabien have also all played at the Taormina amphitheatre.
Hunt for a volcanic elephant in Catania
Sicily's second city, Catania, is known for its fortitude. It has withstood volcanic eruptions and monumental earthquakes. So it is somewhat fitting (as well as bizarre) that the symbol of the city is an elephant, made of black volcanic rock (basalt). Situated in elegant Piazza del Duomo, U Liotru as the elephant is affectionately known, sits atop a fountain and carries an Egyptian obelisk. A strange combination of sculptural elements but ones which will no doubt spark children's imaginations.
Learn about Sicilian olive oil production
There's an olive oil museum near Ragusa where you can see an old olive press and farm machinery. However, if you'd really like to get to grips with this fundamental part of Italian cuisine (and you want to keep the kids interested), the best option is to visit a farm where olives are grown and harvested.
I enjoyed an overnight stay at Mandranova, an olive farm agriturismo with surprisingly stylish rooms and suites, located half an hour's drive from Agrigento. If you come in autumn you can witness the olive harvest in action and take part. There are also cookery classes available, although if I returned I'd be tempted to simply sit by the pool until dinner is served. The food is fantastic.
Visit a temple in Sicily
Some time around the 8th century BC, the Greeks set off to colonise the Mediterranean. The result is a rather impressive concentration of Ancient Greek temples in Sicily. The most famous are those at Agrigento on Sicily's south coast. However, if you head further west you'll come across the most picturesquely placed of all the temples, those of Selinunte while further west still you'll discover the ruins at Segesta. There's also an excellent archaeological park at Syracuse so no matter which part of Sicily you choose to take your holiday, you'll be able to tick off a bit of ancient history during your trip.
Take in the views from Castelmola
If the views from Taormina aren't breathtaking enough, climb a bit higher (five kilometres) to the tiny village of Castelmola. Built around the ruins of a Norman fortress, Castelmola offers incredible views of Taormina, the Bay of Naxos and Mount Etna. Best avoided if you suffer from vertigo…
Island hop through the Aeolians
There are seven islands in the Aeolian archipelago. Lipari is the largest and most accessible while Stromboli is the most exciting: one of the most active volcanoes on earth. It's worth spending a few days on the islands rather than taking a day trip as it takes a while to reach the isles and you'll want to be within reasonable proximity of Stromboli at night to watch it live up to its name as the "Lighthouse of the Mediterranean".
Search for accommodation in the Aeolian Islands here
Visit the Museo Storico dello Sbarco in Sicilia 1943 in Catania
My kids have a bit of an obsession with war museums so I'm choosing (at the moment) to embrace this rather than suppress it. And from experience I've learnt that you need to balance out things you (as adults) want to do with things that the kids will enjoy.
The Museo Storico dello Sbarco in Catania focuses on the Allied Landings of 1943 and sounds incredibly interesting, a great destination for children studying the Second World War. The museum reflects on life in Sicily before, during and after the war through a series of exhibits and photographs.
Find the sculpture of Saint George in Ragusa (and visit the playground)
If you want your children to tolerate visiting endless historic cities, it helps if each city has something that will directly appeal to young minds. This might be a tower to climb, a piazza to play in or gargoyles to look for. We visited the beautiful town of Ragusa on a rather chilly grey day and our kids weren't overly impressed. So we hopped on a tourist trenino to keep the boys happy.
One of the highlights of the little train ride was discovering a sculpture of Saint George slaying the dragon. This sculpture is all that remains, post 1693 earthquake, of what was once a rather magnificent church. The other highlight of the town (for the kids anyway) was discovering the excellent playground in Giardino Ibleo.
Visit Italy's highest regional capital, Enna
Our visit to Enna was one of the highlights of our trip to Sicily with kids. We visited during Settimana Santa (Holy Week) so we witnessed the very traditional processions of hooded figures walking through the streets to the cathedral. Set on a steep hill in the centre of Sicily, Enna is the highest regional capital in the whole of Italy. Our children loved climbing the Castello di Lombardia at the top of the town and admiring the view across the wheat plains. Spring is the perfect time to visit Enna when everything is lush and green and spring flowers bloom in the hedgerows.
Eat ice cream in Sicily with kids
Some gastro snobs might insist you seek out a particular gelateria which has the most sublime or outlandish flavours. But, really, lets keep it simple. It's very hard to have a bad ice cream in Sicily. Just find a nice place where you'd like to eat it.
Sicily for kids: look for gargoyles in Noto
Noto was rebuilt in dramatic Baroque style following a devastating earthquake which levelled many of the cities in eastern Sicily including Catania and Ragusa. Noto feels more like a museum than a town such is its perfect avenues of warm honey-coloured buildings. There are some fantastic faces carved into apartment balconies and church towers. Hunting these hideous beasts is a great way to explore Noto with kids and other cities like it.
Our kids also enjoyed climbing the tower Chiesa di San Carlo which affords a great view over the city. And if your visit to Noto happens to coincide with lunch, I'd highly recommend stopping at Trattoria al Buco, we had a really enjoyable meal there.
Sample Sicilian couscous in San Vito Lo Capo
If you're fortunate enough to be able to visit Sicily with kids at the end of September, and you're a fan of north African cuisine, it's worth heading over to San Vito Lo Capo on the island's north west coast for its annual couscous festival. If you're tied to school holidays for the foreseeable future, fear not, there are plenty of restaurants in this part of Sicily in which to sample this particularly unique fusion of Mediterranean cuisines.
Sicily for families: stay at an agriturismo
Why stay in a hotel when you can stay on a farm in Italy? Sicily has some brilliant agriturismo properties. The best ones have a swimming pool, play ground and plenty of space for kids to run around. Some of my best meals in Italy have been at agriturismos: local food often cooked by several generations of the same family. Just ensure you come to the table with a big appetite…
I've written a post about which agriturismos to stay at with kids. And I've written another post detailing exactly what to expect from a farm holiday in Italy.
Visit one of Italy's largest castles: Castello di Caccamo
If you're visiting Sicily with children who love castles, you'll have no end of fun. The largest castle in Sicily can be found midway between Palermo and Cefalu. The Norman-era Castello di Caccamo towers over its town and offers impressive views over the surrounding countryside.
Sample some of Sicily's most famous cuisine
Italy's cuisine needs no introduction: pizza, pasta and ice cream make it a very appealing destination for families. Each region of Italy has its own specialities and Sicily is no exception. Sardines, aubergines, couscous, arancini, these are some of the things you'll expect to find on the menu. I love pasta alla norma: an aubergine and ricotta dish.
There's a great little restaurant in Modica called Osteria dei Sapori Perduti (meaning lost flavours) which features a menu of traditional Sicilian dishes, and lists the ingredients used to create them (at least it did when I ate there several years ago). It's a great introduction to Sicilian cuisine.
If you fancy a more up-market experience, one of the most celebrated restaurants in Sicily is Michelin-starred La Madia in Licata. I might wait a few years before I take my offspring there.
Enjoy a room with a view in Taormina
Finding the right place to stay on a family holiday is a bit of a minefield so we felt like we'd struck gold when we walked into the apartment I Naviganti in Taormina. This two bedroom apartment is beautifully furnished and features views of Mount Etna from the windows and from the expansive roof terrace. If you're visiting Taormina with kids, I highly recommend this little place.
Sicily for children: wade through a gorge near Taormina
If your children are fans of physical geography, there are endless opportunities to engage their fascination in Sicily. Le Gole di Alcantara, a series of deep gorges created by centuries-old volcanic eruptions, are particularly impressive. There are layers of basalt rock exposed along the river reflecting the dramatic evolution of the area.
The Alcantara gorges are easily reached from Taormina. The waters are very cold so it's best to visit on a hot day if you fancy a refreshing dip!
Play at pirates and knights at Castello Maniace in Syracuse
Sicily does a good line in castles. One of our favourites is Castello Maniace in Syracuse. One of the best things to do with kids in Syracuse, this 13th century castle sits on the very tip of Ortigia, the medieval heart of Syracuse. There are towers, tunnels and underground rooms which look on to the lapping waves of the sea. It really is the perfect place to let your children's imaginations run wild.
Learn to cook in Sicily with kids
If you're visiting Sicily with children who are fussy eaters, taking a Sicilian cookery course could work wonders for you. Many cookery courses include a visit to a typical Sicilian market and perhaps a winery along with pasta making. I've discovered that my children are far more likely to eat something if they've had an active role in its creation so if you're keen to get your kids eating veg, book them on a course to make caponata. This vegetable dish, similar to ratatouille, usually features tomatoes and aubergines with each region of Sicily adding their own slant on the recipe.
Visit the secret railway museum at Villarosa
You know a place is no longer a "hidden gem" when it appears in round ups like this one you're reading right now. However, it is still a bit of a challenge to get into the Treno Museo di Villarosa. We had to telephone a number in our guide book to reach the elderly gentleman who keeps the keys to this charming collection of railway memorabilia. He duly arrived with his granddaughter and welcomed us into the museum which is located behind the actual station at Vilarosa in a series of railway carriages. Each carriage is packed with artefacts detailing the history of the region and its people with tools, clothing and photographs. Our children really enjoyed this museum.
Visit the cool medieval village of Erice
When I say cool, I'm afraid I'm not making reference to anything cool in the hip sense. The hilltop town of Erice sits so high above sea level (750 metres to be exact) that the temperature in this little village is considerably cooler. However, if you're visiting Sicily with teenagers you could always mislead them with this line. There's a cable car from Trapani or you can drive up the MANY hairpin bends. Expect ice cream, peace and tranquillity at the top, plus epic views towards the Egadi Islands.
See contemporary art in Sicily with kids
If you're heading to southern Sicily to visit the Valley of the Temples at Agrigento, ensure you stay long enough to enjoy a more contemporary cultural experience at nearby Favara. Here you'll discover an unexpected life-affirming treasure trove of contemporary art. Put together by a husband and wife team as a way to inject new life into a town with high unemployment, Farm Cultural Park features art installations and exhibitions along with a restaurant and shop.
Do you have any tips on visiting Sicily with family? Let me know in the comments below if you have any great suggestions for a Sicily family holiday.
Disclaimer: This post contains affiliate links. Should you click to purchase, it is at no additional cost to you, although I receive a small commission that goes towards the running of this blog.
Pin for later: