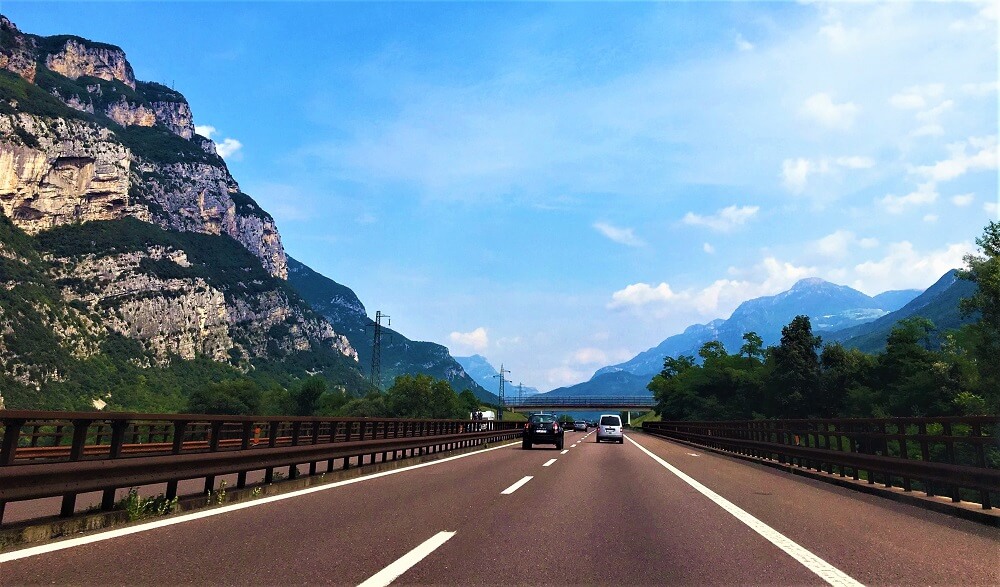 As more and more people prefer to drive to their holiday destination – for various reasons – I decided to compile some of the routes I have taken driving from the UK to Italy. These are journeys which I have enjoyed over the years and I've also included a few which I hope to test out in the future.
I have driven to Italy several times over the last couple of decades. I love the adventure of passing through unknown places and discovering hidden gems along the way. Like many people, I don't like flying – the tedium of queuing at the airport, the deflating feeling of flying home at the end of the holiday. Driving to Italy – if you plan it well – can become part of the holiday rather than simply the journey to reach it. And driving from Italy to the UK at the end of your trip can be turned into a highlight too.
The great thing about driving to Italy from the UK is that you don't need to take the same route out and back – I've made some suggestions for themed routes but you might decide to combine two different trips from the list below – out on one of the speedy routes and perhaps returning on a wine or castle-themed route. The choice is yours!
I have detailed approximate driving distances in kilometres along with rough driving times – please note, these are very much approximate and will vary hugely depending on the time of day, day of the week and the time of year.
Italy is a big country with some very popular holiday destinations – the Lakes of the north, Tuscany and Umbria in the centre and the beach hotspots further south.
In order to give you the opportunity to compare routes like for like, I've chosen an end destination of Siena for each of the itineraries which follow and for the most part, a starting point of Calais.
Disclaimer: This post contains affiliate links. Should you click to purchase, it is at no additional cost to you, although I receive a small commission that goes towards the running of this blog.
Visiting Italy for a family holiday? Read my article all about Italy with kids.
Why drive from the UK to Italy?
If you have a decent chunk of annual leave and you enjoy driving (that last bit is important), the journey from the UK to Italy can become a really interesting part of the holiday, rather than just a mode of transport.
It's educational
If you're driving from England to Italy with children, it's a really fun education on so many levels. The changing scenery – the huge farmlands of France, the vineyards, the lakes and mountains – and the changing cultures. And driving all that way doesn't have to be tedious and argument-inducing. With sufficient planning and preparation it's definitely possible to drive a thousand miles and not want to lock your children into a kids club when you arrive at your destination.
Our kids loved ticking off all the countries we drove through. They enjoyed the subtle (and not so subtle) differences in cultures – breakfast customs, language changes, currency. They spent a lot of time listening to audiobooks but we also spent plenty of time talking about the different countries we passed through – the cars, the roads, the geography, the people. We also converted them to a wide range of music which they hadn't listened to before. And we listened to lots of their music choices too…
If you're concerned about driving a long way with your kids, I've put together a blog post about how to survive the journey here.
It's a more sustainable way to travel
It's hard to put the words "sustainable" and "travel" together and be taken seriously – staying in hotels where bed sheets are washed too frequently and rooms are constantly scrubbed clean with toxic products isn't great for our planet nor is the over-tourism issue which affects certain destinations.
Flying is a luxury which we've taken for granted – particularly with the advent of low cost airlines. I'm not saying that driving is the cure – unfortunately even electric cars come with a cost to our planet – but at the very least, by driving to your holiday destination, you pass through less touristy areas and spend your money in places which might not otherwise have benefited from tourist money.
The joy of not flying
As this is 2021, I can't write this article without mentioning the C word. Spending time in airports and on aeroplanes has definitely become less appealing since the Covid-19 pandemic arrived.
One aspect of flying which I don't enjoy is the early start to reach the airport. The airline dictates the start time of your holiday. It was a revelation on our last driving trip to Italy when we took the overnight crossing from Harwich to the Hook of Holland. I packed the car up during the day, we all sat down to an evening meal and then we hopped in the car for a leisurely drive to the ferry terminal. There was no rushing, no traffic and we had a brilliant night's sleep on the ferry before our proper journey began.
If you're travelling to Italy from the UK as a family or group, the cost of flights – particularly in high season – can be expensive and on top of that, you'll often have the cost of car hire to factor in.
You can bring more "stuff" there and back
Taking your own car to Italy also means you can bring far more with you on holiday than you would if you were travelling by plane. Bikes, bodyboards, buckets and spades can all be brought with you by car saving you quite a bit on hiring or buying these items locally. And coming home, you can be a lot more generous with souvenirs – wine, olive oil, strangely shaped pasta and so forth all travel better by car (just remember to travel light on your way out so you have space to bring these items home).
Tick off a few places you've always wanted to see
Driving across Europe to Italy is a great way to visit more than a few places which you've had on your radar. Perhaps there's a wine region where you'd like to refill your "cellar"; maybe you'd like to check out some of the castles or car museums in Germany; maybe there are some famous art galleries you'd like to tick off; or perhaps you're keen to dive into Alpine lakes or scale some mountain peaks.
If you want your return journey to be a highlight of the holiday, you might consider stopping at somewhere really exciting so you have something to look forward to at the end of your trip.
Here are some ideas:
Disneyland Paris – if you want a real hit for the end of your holiday, the thought of a couple of nights at Disneyland Paris is likely to keep the kids happy on the long drive back from Italy.
Parc Asterix near Paris – a better option if you can't face Disney (the place or the price), this theme park has plenty of rides for kids of all ages.
Luxembourg city – this compact little capital is small and picturesque – a brilliant place to break your journey if you fancy a city break en route to Italy.
Vianden Castle in Luxembourg – if you fancy a fairy tale castle but you don't want to detour into Germany, this Gothic-Romanesque castle is on route from the ferry terminals.
Burgundy wine region near Dijon – this is one of my favourite wines and it's in a great spot straight down the motorway from Calais.
Alsace wine region between Strasbourg and Basel – another good choice if you're looking to keep to your route, the Alsace region is full of pretty medieval towns and vine-covered hillsides.
Europa Park near Strasbourg – a great option if you're travelling with children – this is the biggest theme park in Europe after Disneyland Paris. Located in Germany just south of Strasbourg, it's pretty much half way between Calais and Italy.
Mount Blanc – enjoy a day or two hiking in the Alps in the shadow of Europe's highest mountain on the French – Italian border.
Interlaken in Switzerland – this Swiss town, positioned between two lakes, is the place to go for high adrenalin sports, walking on glaciers and epic mountain views.
Bern – there are two rather diverse reasons which might draw you to the Swiss capital. We stopped off there several years ago so that I could pay a visit to the Paul Klee museum. Meanwhile, families will no doubt find the bears which roam a vast central park to be a hit. The old part of Bern features colonnaded walkways and atmospheric restaurants and bars in the many vaulted cellars. Bern is a charming, underrated city, easy to explore with children and usually overlooked in favour of Zurich.
Efteling Park near Rotterdam – if the thought of a giant theme park doesn't appeal this smaller Dutch offering is another good alternative.
Porsche and / or Mercedes car museums in Stuttgart – petrolheads will love exploring the history of these iconic German motor brands handily located not far off the route to Italy from the UK.
Neuschwanstein Castle near Munich – Germany is packed with fairy tale castles but Neuschwanstein is the most famous. It's just north of the Austrian border around 155 kilometres from Innsbruck. See further on in this article for more on romantic castles.
I've detailed plenty of other places to stop on the way to Italy from England. Read on for more ideas.
How long does it take to drive to Italy from UK?
If you want to know the quickest time you're likely to be able to drive to Italy from the UK, it's around 12 hours from Calais to Milan – provided you don't hit any traffic jams or queues at the tollbooths. Calais to Siena (my example destination throughout this article) takes around 16 hours – again this is very much an approximation.
HOWEVER, there are so many factors determining the answer to this question – such as the day of the week and time of the year as well as the time of day you're driving. Obviously, if you drive in the middle of the night in October it's going to be a lot quicker than a Saturday in August. But, even in the middle of summer, it's still possible to drive all the way to Italy without experiencing too many delays provided you do a bit of research.
How much does it cost to drive to Italy from the UK?
Driving to Italy from the UK instead of flying can IN THEORY half your travel costs, but there are many factors which can affect this. If you're travelling as a family of four and you want to enjoy those driving days, I would estimate that you would shave around a third off the cost of flying.
Here are some estimated costs for driving and flying round-trip so that you can compare:
Channel crossing: approximately £200 return depending on the time of day and whether you take a ferry or the Shuttle.
Motorway tolls: approximately £60 each way – this can be more or less depending on the route you take and whether you use a tunnel to cross the Alps or take the slower pass route.
Petrol / electric: (based on driving from London to Siena) Approximately £300 for petrol or £80 electric.
Swiss vignette: £35 (legal requirement if you use the Swiss motorway network).
Overnight accommodation: if there's two of you driving, you could drive all the way to Italy just stopping overnight once – but it will be a bit of a grim journey, particularly if you have children with you. Let's assume you stop twice – unless you live near Dover or one of the other UK ports. There are some incredibly cheap hotels near motorways in France where a family can stay in a room for £60 a night but if you'd prefer something with character – and space – you're looking at closer to £100 per night.
Food: if you have picnic breakfasts and lunches but eat out at dinner, you could manage on £50 per day.
Total estimated cost to drive to Italy and back for a family of four: £875 for a petrol car or £655 for an electric car.
How much does it cost to fly to Italy?
Flights for a family vary wildly depending on the destination and how far in advance of travel you purchase the flights. However, travelling in peak season, to a popular destination in Italy, it is not uncommon to pay upwards of £250 per person per flight. Car hire costs vary too but if you need something which can hold luggage for a family of four for two weeks, the cost is likely to be around £500.
Total estimated cost for flying with car hire for two weeks £1,500
How to avoid traffic jams driving UK to Italy
Now obviously there are plenty of apps out there to help avoid traffic jams but once you've decided on a particular route, there's often not a lot you can do to avoid a queue. Roadworks and other unforeseen incidents cannot always be avoided. When we did our 2019 UK to Italy road trip we did a bit of research to find out the best days of the week to travel and the best Alp passes to use. We also factored in French and Swiss school holidays.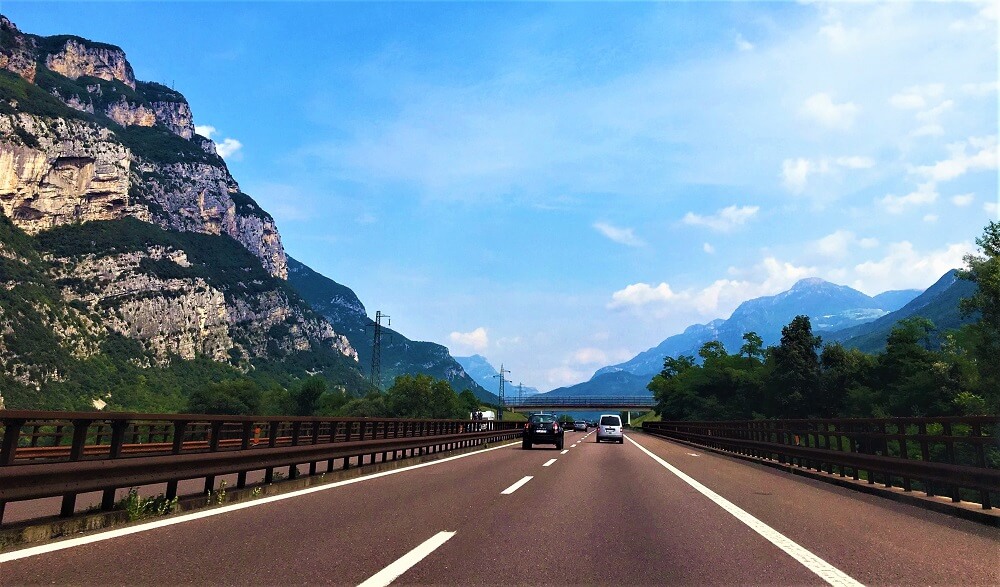 If you're coming from Scotland, Wales or Northern England, consider driving across England during the day and taking an evening Channel crossing before spending the night just outside Calais. That way, you wake up on the second day of your holiday rested and ready to tackle the French motorways. This is also a good option if you live closer to the south coast and you'd like to make the very most of your annual leave – hop in the car after work and head to Dover. Hopefully, this will avoid some of the crazy M25 evening rush hour traffic.
My main tip to avoid traffic when you're driving from the UK to Italy is to avoid driving key routes – Switzerland over the Alps to northern Italy for example – on a Friday or Saturday as these are the busiest days of the week when many Europeans will be driving to their holiday destinations. When we did our European road trip in 2019 we only drove big distances on a week day and it worked really well – we only experienced one hold up during the whole month away.
Crossing the Channel or the North Sea
There are lots of different routes taking you from the UK to mainland Europe. If you live in Southern England, you have a choice of ports strung along the south coast and if you live further north, there are several overnight crossings from the east coast of England if you'd rather avoid the tedium of driving across the UK.
Here are the main routes and operators:
Folkestone – Calais is the tunnel route operated by Eurotunnel, journey time approximately 35 minutes
Dover – Calais is operated by DFDS or P and O Ferries, journey time approximately 1.5 hours
Dover – Dunkirk is operated by DFDS, journey time approximately 2 hours
Newhaven – Dieppe is operated by DFDS, journey time approximately 4 hours
Harwich – Hook of Holland is operated by Stena Line, journey time approximately 7 hours
Hull – Rotterdam is operated by P and O Ferries, journey time approximately 11 hours
Newcastle – Ijmuiden (Amsterdam) is operated by DFDS, journey time approximately 16 hours
Driving through the Alps
I love driving over the Alps – as opposed to driving through a long tunnel. If you put Calais to Siena into Google or Via Michelin, you'll no doubt be directed through one of the tunnels – the Gotthard or the Mont Blanc perhaps. But this does take out one of the very best sections of your drive from England to Italy, which would be a shame. Obviously, the tunnels can be quicker (unless you get stuck in a queue).
Obviously if you're travelling with kids you need to choose your pass carefully. Although Top Gear makes the Stelvio Pass look exciting, your car sick children are unlikely to appreciate the multitude of hairpin bends. However, not all passes take hours to drive up to and down from. Here are some of the main routes over the Alps which you're likely to encounter when driving from the UK to Italy:
The Great Saint Bernard Pass
From Martigny in Switzerland to Aosta in Italy
Elevation: 2,469 metres
This is said to be one of the most beautiful routes through the Alps – lots of peaks, waterfalls and lakes. There are three passes which share the Bernard name but the Great Saint Bernard Pass is the one to head for if you'd like to learn about the history of the Saint Bernard dogs. The dogs were bred by monks at the Saint Bernard Hospice, a monastery which is still in use today – there's also a museum, small hostel and a restaurant making it an interesting overnight stop.
The Gotthard Pass
From Andermatt to Biasca in Switzerland and on towards Lake Lugano
Elevation: 2,106 metres
Although you get some good views on this route, it's not as stunning as some of the options further east. However, it is one of the most direct routes to Italy.
We drove over the Gotthard Pass late on a weekday afternoon at the start of August. The road was pretty empty (the tunnel didn't look too bad either) and we didn't experience any hold ups.
The Furka Pass
From Andermatt to Obergoms
Elevation: 2,429 metres
If you're a fan of James Bond movies – specifically Gold Finger – you'll enjoy this route through the Alps where the famous car chase was filmed. It's close to the Gotthard Tunnel so it's a good option if you fancy some really stunning mountain scenery on one of the more direct routes into Italy.
The Brenner Pass
From Innsbruck in Austria to Bolzano in Italy
Elevation: 1,370 metres
This is one of the lowest passes through the Alps and it is open all year round so it's a good option if you're travelling in spring when some of the higher passes are still closed. The lack of elevation also makes it a wise choice if you have any passengers who are prone to carsickness – there are fewer winding roads to contend with.
Tips on driving from the UK to Italy
Ensure you read up on the rules of the road for each country. The AA has a really useful section on their website where you can check the the different regulations for each country.
Toll roads
These are expensive but often a necessity – particularly if you want to take the fastest route to Italy. While paying for some of the French toll roads is a good idea, you can avoid some of the more costly routes on your way to Italy. For example, the cost to drive through the Mont Blanc tunnel is approximately £50 but if you drive across one of the passes it's free – and stunningly beautiful. Obviously the scenic roads take longer, but it's definitely worth it.
Motorway vignette (tax disc)
Here's my biggest tip. Many years ago, we flew to Germany and drove over the border into Austria for a budget ski break. Our budget was destroyed approximately 10 minutes later when we were stopped by the police for not having a vignette on our windscreen. Frustratingly, we'd done the exact same journey – in ignorance – the previous year without any problem. Switzerland and Slovenia also require a vignette. They can be purchased at petrol stations near the border – or you can buy one online before you travel, ensure you don't forget!
Quick routes to Italy from the UK
There are several "quick" routes you can take to Italy from the UK, these are perfect if you want to maximise the time you have at your main destination. Although they are predominantly on motorways, it's still possible to have the odd scenic pitstop along the way with these routes. If you're trying to drive to Italy as quickly as possible, it's really important to plan these routes carefully to avoid traffic delays at the bottleneck areas (typically around the tunnels through the Alps and around Milan).
Driving UK to Italy via the Mount Blanc Tunnel
Approximately 1500 kilometres / 15 hours
The benefit of this route is the good quality and relatively quiet French toll roads. Just ensure you continue on the A26 to Reims and not the A1 to Paris when you're driving south from Calais, the A1 tends to be busier.
Route overview:
Dover-Calais Eurotunnel 35 minutes (bear in mind you lose an hour on the crossing)
Calais – via Reims, Geneva, the Mount Blanc Tunnel, Milan, Bologna to Siena 15 hours / 1,500 kilometres
Route in detail
You follow the A26 from Calais towards Arras, skirting around Reims onto the A4 and back to the A26 before joining the A5 just south of Troyes. This takes you towards Langres where you merge with the A31 heading to Dijon. You then pick up the A39 to Bourg-en-Bresse. Here you take the A40 towards Geneva before heading south to the Mount Blanc Tunnel.
On leaving the tunnel, you pick up the A40 passing Courmayer and Aosta following this road until just after Ivrea where you take the A4 towards Milan and then the A50 followed by the A1 to Bologna. The A1 drops down through the outskirts of Florence where you finally leave your motorway marathon and join the RA3 to Siena.
Driving to Italy from UK via the Frejus Tunnel
Approximately 1550 kilometres / 15 hours
This is similar time-wise to Mount Blanc but instead of taking the A39 towards Bourg-en-Bresse and Geneva, you continue on the A31 towards Beaune where you pick up the A6 towards Lyon and then follow the A43 to Chambery. The Frejus tunnel brings you out close to Turin where you take the A21 towards Alessandria and Piacenza before continuing on towards Bologna.
I haven't driven this route but I've heard the mountain scenery is less impressive here than it is around the Mount Blanc Tunnel. I would highly recommend taking this route if you're keen on wine tasting – it passes close to the Langhe region where the famous Barolo wine comes from.
driving from UK to Italy via Switzerland and the Gotthard Tunnel
Approximately 1400 kilometres / 15 hours
There's always a lot of discussion as to whether it's quicker to travel straight down through France or to take this route which passes into Switzerland at Basel. I think it all comes down to luck on the day. It is a cheaper option because you avoid most of the French toll roads (you will need a Swiss vignette). The Mount Blanc and Frejus tunnels also carry a toll charge whereas the Gotthard tunnel is free.
Route overview:
Dover-Calais Eurotunnel 35 minutes (bear in mind you lose an hour on the crossing)
Calais – via Reims, Nancy, Basel, Lucerne, the Gotthard Tunnel, Milan, Bologna to Siena 15 hours / 1,400 kilometre
Route in detail
This route starts as per the French routes above but after Reims you pick up the N44 and N4 towards Nancy. From there, the A33, N333, N59 and N159 take you out to Sélestat before you travel south on the N83 to Colmar. You pick up the A35 towards Mulhouse and cross into Switzerland at Basel. Next, you take the A3 and A2 motorways to Lucerne and on to the Gotthard Tunnel near Andermatt. The A2 continues on south across Lake Lugano and over the border into Italy near the tip of Lake Como.
Once in Italy, the road becomes the A9 heading towards Milan and on to the A8 followed by the A50 to Bologna and Florence where you pick up the RA3 to Siena.
Travel from UK to Italy via the Hook of Holland / Amsterdam / Rotterdam
Approximately 1440 kilometres / 15 hours
This route only briefly passes through France so the toll costs are minimal. It joins the Swiss route mentioned above once you reach Sélestat.
We took the ferry from Harwich to the Hook of Holland in 2019, I chose it during a time of Brexit turmoil when I thought the M20 in England was going to become a giant lorry park. This route is worth considering if you live north of London and it can obviously be adapted for the various other sea crossings between eastern England and the Netherlands.
Stena Line plies the route across the North Sea to the Hook of Holland from Harwich and it's a relatively luxurious choice – modern and comfortable cabins and a dreamy peaceful evening drive from where we live in Hertfordshire.
Unlike the quick route through France, this route takes you past quite a few major cities – Rotterdam, Antwerp, Brussels – at the start of the drive, which can make for a bit of morning rush hour traffic (you dock at 8am). We found the first few hours of this drive quite tiring. However, once you're south of Brussels, it quietens down a bit until you reach Basel where there can be queues crossing into Switzerland. Despite this, we would definitely do this route again.
If you're returning to the UK via this route, Rotterdam is a great city to stop in for dinner before driving to the ferry terminal. With the modern architecture and well designed waterfront streets, Rotterdam is a really enjoyable city to wander through.
Route overview:
Harwich – Hook of Holland overnight crossing 7 or 8 hours (there are day sailings too)
Hook of Holland – via Luxembourg, Lucerne and the Gotthard Tunnel to Siena 15 hours / 1440 kilometres
Route in detail
The ferry arrives at 8am. After leaving the Hook of Holland, you pick up the A20, A4 and then A15 before joining the A16 heading south from Rotterdam. This motorway takes you around Antwerp and to Brussels where you join the E411 past Namur. Heading south towards Luxembourg, the road joins the E25 near Neufchâteau. Crossing into Luxembourg, the road becomes the A6 until you leave the capital where you join the A3 to the border with France. Continuing on the A31, the road heads south towards Metz before turning east on the A4 towards the German border. From there the A35 takes you down towards Strasbourg and Sélestat where you follow the Swiss / French route above.
Places to break the journey through France and Luxembourg
The best France stopover will very much depend on the time you depart the ferry or tunnel terminals, so I've listed a number of attractions, sights, towns and villages close to the motorways which I've visited or which have been recommended to me. Some of these work better for Calais while others are good for the Dutch ferry terminals.
Lens, Pas-de-Calais (approximately 1.5 hours from Calais)
In an effort to bring culture to a wider French audience, Lens – a former mining town – was picked in 2004 to be the home of a Louvre satellite museum. The Louvre Lens opened its doors in 2012 and holds a mix of permanent and temporary exhibitions throughout the year. Now, this next recommendation might sound a bit strange but I know that my kids would enjoy it… you can climb the highest slag heap in Europe at Lens. Apparently the views are very impressive.
Historial de la Grande Guerre, Péronne, Somme (approximately 2 hours from Calais)
Although holidays in France are often about visiting pretty villages (plenty of those to follow), the north of France lacks these picture postcard destinations thanks to two world wars. The area south of Calais around Amiens and Arras is dotted with thousands of memorials to those who lost their lives in these terrible wars. If you'd like to get a better understanding of these events, the Historial de la Grande Guerre at Péronne is a good museum to visit.
Verzenay, Champagne (approximately 3 hours from Calais)
If you're passing through the Champagne region, there's an endless selection of places to visit but for a quick stop off to stretch your legs (and entertain the kids), there's a Champagne museum at Verzenay just off the A4 south of Reims which, rather incongruously, features a lighthouse. Climb the 101 steps to be rewarded with far reaching views over the vineyards and then reward yourself further by tasting a few vintages – just remember to decide who's driving for the next six hours before you embark on this experience.
Clervaux, Luxembourg (approximately 4 hours from Hook of Holland)
We visited Clervaux after hearing about a photographic exhibition which is housed in the town's castle. The exhibition – Family of Man – is a moving account of human life from birth to death. I wandered through the exhibition with one of my sons and we really enjoyed it – it's definitely a good one to take kids to. Clervaux itself has a good selection of cafes and restaurants so it's a good lunch stop for travellers coming from the Dutch ferry terminals.
We stayed at the brilliant Camping Kaul near Clevaux – it was a brilliant place to break the journey.
Troyes, Champagne (approximately 4.5 hours from Calais)
This is one of the main towns in the Champagne region. But you don't need to be into bubbly to come here – Troyes offers a warren of medieval streets with half timber houses and Gothic churches. It's a great destination to stop for lunch or dinner as you're motoring through France.
Rodemack (approximately 4.5 hours from Hook of Holland)
This medieval French village is located just south of Luxembourg and it's a good option for a lunch break if you're driving south from the ferry terminals in the Netherlands. The village is enclosed by stone walls and has a warren of cobblestone streets to explore.
Beaune, Burgundy (approximately 6 hours from Calais)
Not far from Dole but heading towards the Frejus Tunnel, Beaune is somewhere you'll want to spend the night – this is the heart of Burgundy wine country and there are some great vineyards, restaurants and hotels. The town itself, surrounded by medieval stone walls, dates back to Roman times and it's a lovely place to explore. There are also plenty of picturesque villages close by if you'd prefer a more rural experience.
Riquewihr, Alsace (approximately 6.5 hours from Calais and Hook of Holland)
The Alsace region is a great place to break your journey in France – it has a particularly dense concentration of pretty towns around Colmar which is really handy if you're heading for the Gotthard Tunnel. We loved Riquewihr – it reminds me of the town from the child catcher scenes in Chitty Bang Bang (although that was actually filmed in Rothenburg ob der Tauber in Germany). Cobblestone streets are lined with colourful timber-framed houses and there are some wonderful restaurants. I'm a big fan of Alsace wine so I am a little bit biased about this region.
We stayed at the charming little Hotel a l'Oriel which is right in the centre.
Look for accommodation in Riquewihr
Dole and Arbois, Jura (approximately 6.5 hours from Calais)
I'm not convinced by the wine of this region but the Jura certainly packs a punch when it comes to natural attractions. Dole and Arbois are both lovely towns on the edge of the Jura to break your journey with an overnight stay. Attractions close by include the Forêt de Chaux – France's second largest forest, the cave networks at Grotte d'Osselle and the gorge and waterfalls at Reculée des Planches. There's also a water park at Dole.
Search for accommodation in Dole
Lons-le-Saunier and Château-Chalon (approximately 6.5 hours from Calais)
More well known for being a spa town, head to Lons-le-Saunier – capital of the Jura – if you're travelling with children. It's the home of the Laughing Cow cheese which has its very own child-friendly museum La Maison de la Vache qui Rit. Nearby, the tiny hilltop village of Château-Chalon is lovely place for a wander and a good place to sample the region's famous vins jaune – let me know what you think of it – I wasn't keen!
Find accommodation in Lons-le-Saunier
Look for hotels in Château-Chalon
Cerdon Caves (approximately 7 hours Calais)
If you want to stretch your legs but it's the middle of summer, this network of caves midway between Lyon and Geneva will offer some cool respite.
Look for somewhere to stay near the caves
Yvoire on Lake Geneva (approximately 8 hours from Calais)
If you're heading to the Mount Blanc tunnel, this is a very picturesque spot to while away an afternoon. Located on the banks of Lake Geneva, this medieval town is full of flower-filled narrow lanes. It is a popular tourist destination so I have a feeling it might be quite busy in summertime so just bear that in mind when you're thinking about traffic jams near the Mount Blanc tunnel – Yvoire is probably best visited on a week day to avoid some of the crowds.
Find somewhere to stay in Yvoire
Looking for other France family holiday ideas? Check out my post about the best places in France for families here.
Places to break the journey in Switzerland
Bern (approximately 8 hours from Calais)
As I mentioned above, Bern – the Swiss capital – is a great little city for an overnight break. It's a lovely city to wander through and kids will love the bears who live in a big park in the city centre. We decided to pay the city a visit so that I could pop into the Paul Klee museum on the edge of the city.
Lucerne and Mount Pilatus (approximately 8 hours from Calais)
Another beautiful Swiss city – this is a good overnight stop on route to Italy if you don't want to deviate. But if you have time, it's a great destination for a break of a day or two with so much to see and do close by. The city itself overlooks the lake and has an attractive medieval centre, it's well known for its covered wooden bridge which spans the Reuss River.
Overlooking Lake Lucerne, Mount Pilatus offers days of fun for all the family: stunning hikes, the steepest cog railway in the world and a rather impressive toboggan run (if you're after another superlative, it's the longest summer toboggan run in Switzerland).
Check accommodation in Lucerne
Sachseln (approximately 8.5 hours from Calais)
If you fancy a little slice of traditional Switzerland, the lakeside village of Sachseln is a good bet. Overlooking Lake Sarnen, Sachseln is handily located just to the south west of Lucerne so it's not far off the main route to the Gotthard Tunnel. Amusingly, there's a point in the village which has been designated as the "centre of Switzerland" perfectly positioned amid stunning scenery.
Find somewhere to stay in Sachseln
Isenthal (approximately 9 hours from Calais)
An even tinier village than Sachsel, perfect for a peaceful escape after a day on the busy European motorways. This one lacks a lake but still has the lovely mountain scenery. It is a bit more of a detour due to its remote location.
Look for accommodation in Isenthal
Golzern (approximately 9 hours from Calais)
Usefully located very close to the Gotthard Tunnel and yet feeling like it's a million miles away from anywhere, the tiny hamlet of Golzern and its stunning lake are the perfect respite from traffic jams. You have to park your car at the Bristen cable car station and zip up the mountain to this car-free little idyll so it's not the place to go if you're in a hurry. We spent a lovely few days hiking in the Maderanertal Valley (see more on that here) but if you're short on time, you could just spend the night here and enjoy a few hours swimming in the lake before continuing on your way.
We stayed at Restaurant Golzernsee which offers simple accommodation and hearty food – it's just a short walk to the lake.
Bellinzona (approximately 10 hours from Calais)
We spent the night at the youth hostel in Bellinzona during our last drive to Italy. It has spacious family rooms and it's a good value option if you're concerned about the high prices in Switzerland. Bellinzona is on the south side of the Gotthard Tunnel but it's still Switzerland – despite looking and feeling in every way just like Italy. It's definitely a pleasant spot for an overnight stay.
Look for somewhere to stay in Bellinzona
Morcote (approximately 11 hours from Calais)
Pretty Morcote is located on the shores of Lake Lugano close to the border with Italy, we stopped here for a coffee and a walk on our drive to Italy. Morcote is not far off the main route south from the Gotthard Tunnel. I'd quite happily return here for a longer stay.
Find somewhere to stay in Morcote
Places to break the journey in Northern Italy
If you're driving from England to Tuscany and you fancy stopping somewhere in Northern Italy, I can highly recommend the Piedmont region – particularly around the Langhe wine region – this area is en route if you're coming through the Mount Blanc or Frejus tunnels. If you're driving down from the Gotthard, you'll be further east and will skim the southern tip of Lake Como – another appealing option!
Turin
Although the idea of staying in a big city might not appeal, please hear me out on this one. Anyone with a passing interest in the motorcar or the Italian Job should definitely visit Turin. There's a good underground car park on the edge of the city at Lingotto so you don't have to navigate into the city centre. I LOVE Turin so instead of adding anymore here about this lovely city, check out my article about why I think you should visit Turin.
Alfa Romeo Museum near Milan
Staying with the motorcar, if it's pouring with rain but you need a break from the motorway – or of course you're keen on cars – the Alfa Romeo Museum is literally metres from the A8 motorway near Milan. It's a huge museum which visitors of all ages will enjoy – there's plenty of space for children to burn off their energy. We took our boys there in 2019, it was almost empty and they loved it (note: we did have an Alfa at the time).
Look for places to stay in Turin
Langhe wine region
We've stayed in the Langhe wine region a couple of times – once pre-kids when we had the most amazing gastronomic experience at a tiny agriturismo (which no longer takes guests sadly). And then with the kids we enjoyed a lovely few days at Cascina Papa Mora – food, wine, swimming pool and lots of wine tasting close by. Staying at an agriturismo is a heavenly experience so I'd highly recommend staying on one if you're looking for somewhere in this part of Italy.
Look for somewhere to stay in the Langhe region of Piedmont
Lake Como
Although it does attract crowds of tourists, Lake Como is worth considering as an overnight stop on route to your destination further south – it's such a stunningly beautiful place. Como city is pretty big but you could head just north to the resort of Cernobbio or a little further still to the village of Moltrasio if you'd prefer to be a slightly off the beaten track.
Look for accommodation around Lake Como
Themed driving routes from England to Italy
Now, I'm not really suggesting you follow any of these routes exactly. They're more to give you some additional ideas of where to stop. You might find you want to mix some of them together or perhaps take a part of one of these themed routes and tack it on to part of a direct route.
Anyway, let me know if any of these ideas appeal – we've done various versions of them over the years.
The wine route to Italy
Approximately 1,600 kilometres / 18 hours
There are countless wine routes to take you through France to Italy – it all depends on the sort of wine you like to drink. This route takes in a good mix of wines: Champagne, Burgundy, Langhe, Lambrusco and Chianti.
Route overview (these points are just suggestions!):
Dover-Calais Eurotunnel 35 minutes (bear in mind you lose an hour on the crossing)
Calais to Épernay 3 hours / 300 kilometres
Épernay to Beaune 3.5 hours / 460 kilometres
Beaune to Alba in Piedmont Italy 5.5 hours / 405 kilometres
Alba to Modena 3 hours / 260 kilometres
Modena to Radda in Chianti 2.5 hours / 175 kilometres
Radda in Chianti to Siena 45 minutes / 30 kilometres
Route in detail
Most journeys heading south from Calais will take you through the Champagne region. It's a fun place to go wine tasting and there are plenty of small caves where you can buy a couple of bottles. If you're not snobby about labels, bear in mind that as soon as you leave the official "Champagne" zone, you'll still be able to buy good quality sparkling wine, but at a much lower price. If you plan to spend the night in the Champagne region, Épernay is a good central base and there are plenty of affordable places to stay nearby.
Look for somewhere to stay in the Champagne region
From Champagne, it's a fairly straight line down the A31 through Burgundy and the Cote du Rhone towards Lyon – gastronomic capital of France. Beaune is a good base for exploring the vineyards around the Burgundy region but there are also some really lovely little places to consider such as hilltop Vézelay.
Check accommodation in Burgundy
After that, it's a drive over the Alps into one of my favourite Italian regions for wine – Piedmont. The most famous wine from this region is Barolo but if your wallet doesn't stretch to that, fear not, everything tastes pretty good in Piedmont. I really enjoy Dolcetto d'Alba which is excellent value.
I would highly recommend staying in an agriturismo in Piedmont. We stayed at Cascina Papa Mora on our most recent visit, not far from Alba. It has an excellent restaurant and a lovely swimming pool. They had themed parties on Friday evenings which we were lucky enough to experience – ours was themed around Alice in Wonderland with all the staff in costume. I ate a lot of food labelled "mangiami"!
Look for accommodation in Piedmont
I used to have a fairly low opinion of Lambrusco, but after drinking it over several days during a Ferrari-themed stay in Maranello, I decided it was actually pretty palatable – particularly on a hot summer evening. The vineyards of Emilia Romagna producing the many different grape varieties which go into a bottle of Lambrusco are most densely centred around the city of Modena – a handy location of you're also a fan of fast cars.
Look for somewhere to stay near Modena
It's really not too far from Modena to Siena but I thought I'd just mention Chianti on this route since you'll be passing so close by – a god opportunity to tick off one of Italy's most famous exports.
If this itinerary is a bit too red wine focussed, I can highly recommend swapping Burgundy for Alsace – I really love the aromatic wines of this region. It's also blessed with a particularly wonderful selection of fairy tale towns to stay in. Our favourite was Riquewihr. We spent the night at Hotel a l'Oriel, a characterful good value little place in the centre of the town.
The castles route: England to Italy via Germany and the Middle Rhine
Approximately 1,700 kilometres / 19 hours
This may sound like a rather circuitous route but it doesn't actually add too many more miles on to your journey. The densest concentration of castles in Germany is on the stretch of the Rhine known as the Upper Middle Rhine Valley where you'll come across around 40 castles over the 65 kilometres between the city of Koblenz and the town of Bingen am Rhein (there's also plenty of vineyards too). This area has been designated as a UNESCO World Heritage Site and it is packed with lovely towns, vineyards and lots of history.
If you focus on Germany and type the word "castles" into Google maps, you'll discover there are hundreds of castles. Aside from those on the banks of the Rhine, there are one or two other noticeable fortifications which are worthy of a detour on your way to Italy. Most famous is Neuschwanstein near the border with Austria, said to be the inspiration for the castle at Disneyland. You may decide this is a detour too far having seen so many on the Rhine but I've put it in here since it is so renowned.
There are of course plenty more castles as you cross the border from Austria into Italy but I've drawn a line here otherwise you'd never reach your destination. As it's a drive of around seven or eight hours from Neuschwanstein to Siena, I have included a stop at Lazise on Lake Garda as it's a good midway point and I know of a very pleasant place to stay close by (and there is a little castle on the lake) – Agriturismo Corte Patrizia.
Incidentally, I've based this route, as with most of the others, starting in Calais. However, if you live north of London you'll shave off around two hours of driving time on the continent if you take an overnight ferry crossing from eastern England to one of the Dutch ports (see above for ferry routes).
Route overview
Dover-Calais Eurotunnel 35 minutes (bear in mind you lose an hour on the crossing)
Calais to Koblenz 5.5 hours / 500 kilometres
Koblenz to Bingen – technically this is one hour's drive – 65 kilometres – but in reality it might take you several hours if you'd like to stop at some of the castles.
Bingen to Lichtenstein Castle 3 hours / 255 kilometres
Lichtenstein to Neuschwanstein and Hohenschwangau Castles 2.5 hours / 205 kilometres
Hohenschwangau to Lazise 4.5 hours / 360 kilometres
Lazise to Siena 3.5 hours / 310 kilometres
Route in detail
I'm using the European road numbers here (E numbers) since this route crosses several borders.
Since this post assumes that your main holiday will be in Italy, I'd suggest taking the most direct route to Koblenz as the drive from there to Bingen will be slow. From Calais, depending on local traffic conditions, you can either take the E40 past Dunkirk and on towards Ghent and Brussels or the E42 past Lille and Charleroi. These two roads meet at Liege where you head east on the E42 and then E40, crossing the border into Germany where the road becomes the A4.
You follow the A4 towards Cologne and then pick up the A61 at Kerpen. The A61 takes you south as far as Bassenheim and then you pick up the A48 to Koblenz. You then have a choice of driving south along the Rhine via the western 9 road or crossing the river and taking the 42 which hugs the eastern riverbank. There aren't any bridges after you leave Koblenz until you're south of Bingen but there are several river ferries to carry you to the other side in case you decide you want to hop out and visit somewhere.
There are several appealing towns which are worth a stop – overnighting in one of them will allow you to appreciate them without some of the daytripper crowds. We spent a night in Rüdesheim am Rhein which had a really fun atmosphere in the evening but it is right at the southern end of the scenic route. Boppard and St Goar are both good bases for exploring the area.
And castles – which one to visit? If you'd like to see a proper medieval castle, not rebuilt or revival in style, then Marksburg is a good bet – it's impressively preserved and there's plenty to see inside. By contrast, Rheinfels – a little further south on the opposite bank – is a castle in ruins. Perfect for children to let their imaginations run wild, tours take visitors through a maze of tunnels inside the fortifications. For something a bit different, Pfalzgrafenstein is a fun excursion – set on an island in the Rhine – this castle acted as a giant toll booth for passing ships.
Do you want to stay in a castle on the Rhine? Well, you can – there are several castles offering hotel accommodation along the Rhine, some offer a more authentic castle experience whereas others look more like a hotel. If you're on a budget, there's even a youth hostel castle:
Hotel Burg Liebenstein in Kamp-Bornhofen
Romantik Hotel Schloss Rheinfels in Sankt Goar
Burghotel auf Schönburg in Oberwesel
Hostel Burg Stahleck Bacharach in Bacharach
Burg Reichenstein in Trechtingshausen
Once you've had your fill of the Rhine region, it's a drive of around three hours south to Lichtenstein castle. You can take either the A61 or the A5. If you opt for the latter you can also take in Heidelberg Castle en route.
From Lichtenstein it's about 2.5 hours to Neuschwanstein and Hohenschwangau castles (it's 20 minute walk between these two). Seeing both might be overkill – in fact this whole itinerary is a bit over the top on the castles front but I decided to include plenty of options so that readers can pick and choose which places they prefer – and which fit in best with the timings of your journey. Bear in mind that Neuschwanstein is incredibly popular during the summer months so it's best visited at the start or end of the day.
Find accommodation near Neuschwanstein
It's worth spending the night near Neuschwanstein so that you can enjoy the scenic drive the next day through the Alps and down to Lake Garda. The quickest option is to drive towards Innsbruck and pick up the relatively fast A22 which takes the fairly low altitude Brenner Pass leading to Bolsano and Trento on route to Lake Garda. There are several much slower options which will take you on winding mountain roads and over higher passes – lovely if you're not in a hurry.
We spent several days at Agriturismo Corte Patrizia near Lazise. It made for a great base close to Lake Garda but was sufficiently far from the resort towns to feel peaceful and relaxing. From Lake Garda, it's around 3.5 hours to Siena – if you haven't used up all of your time exploring endless castles, you'll be passing close to Modena and Maranello where there's a string of fast car museums. See my road trip post for more information on that!
The road trip route
This is less of a route to Italy and more of a European road trip which takes in Italy. We drove this route back in the day before we were tied to school holidays – September is such a fantastic month to travel in – great weather, fewer tourists and no need to book any accommodation in advance. We had a tent so we did a mix of camping and hotel stays.
I won't go into huge detail with this one – it's just to give you some ideas. Our holiday lasted three weeks and it went something like this:
Calais – Metz – Riquewihr – campsite on a lake somewhere in Switzerland – Salzburg- Lake Bled – Ljubljana – Krk – Rab – Split – (ferry to Ancona) – Spoleto – Montepulciano – Santa Margherita Ligure – Grenoble – Beaune – Calais
The cheating route
If you don't fancy driving thousands of miles across Europe, but you would like to take your car to Italy, there is another way. Sort of. On the return leg of our family road trip in 2019 we used the motorail service from Innsbruck to Dusseldorf.
Unfortunately motorail is an ever decreasing service – there used to be a brilliant route which took cars all the way from Calais to Nice and other destinations in southern France but it went out of service some years ago. For the most up to date information, check out the excellent website The Man in Seat 61.
There are currently two main ways to take your car on the train to Italy, both from Dusseldorf – one goes to Innsbruck and the other to Verona. It's a fairly quick and easy drive from Innsbruck into Italy. Dusseldorf meanwhile is four hours from Calais and 2 hours and 45 minutes from the Hook of Holland. Using the motorail isn't a cheap option but it is an experience. I've written more about it on this post.
Useful resources for driving to Italy from the UK
UK Foreign Office is always a useful resource, particularly at the moment with the UK travel laws changing so frequently.
The AA has lots of really useful information to prepare you for driving in Europe including the rules and requirements for each country.
Via Michelin can tell you how much your journey will cost in fuel based on the model of your car and its engine size and it also details toll costs, scenic routes and other useful information.
Emovis Tag – this allows you to pay digitally for the French motorway tolls – essential if you decide to drive mostly through France to reach Italy. There can be lengthy queues at the toll booths which you can avoid to a certain extent if you pay digitally.
Austria digital vignette – you can buy a digital vignette which is linked to your number plate, valid for 10 days, 2 months or a year.
Swiss vignette sticker – you can buy the Swiss motorway vignette online but you do receive a physical sticker – not a digital one. It will be sent to you from the Switzerland Travel Centre based in London.
Beautiful villages in France and Italy
If you want to find somewhere to stop – off the beaten track – here are some useful websites for France and Italy, they detail some of the most beautiful places in each country, many of which you might not have heard of.
Les Plus Beaux Village de France
Les Plus Beaux Détours de France
*****
So, have you travelled by car to Italy? What route do you normally take when you drive from the UK to Italy? Let me know in the comments below.
Pin for later: