Sicily is one of my favourite places in Europe so you'll find it cropping up on Smudged Postcard on a fairly regular basis. I've visited the island several times over the years – first as a student, then for work and finally for my own family holiday. There are some brilliant family hotels in Sicily – many of which I visited during my job as a travel agent when I specialised in Italy. There are also plenty of great villas and apartments in Sicily. I'll cover hotels and self catering in Sicily in this article.
Sicily has lots of agriturismo properties which are perfect for children – lots of space and less formal than a traditional hotel. Some offer hotel rooms while others have self catering apartments. If you'd like to learn more about agriturism in Italy, read my post about what to expect from an agriturismo holiday. I've also put together an article about some of my favourite agriturismos.
This article contains my recommendations as well as providing affiliate links to general areas of Sicily to stay in should you wish to look for accommodation ideas independently. There are some great little independent places to stay in Sicily bookable through search engines such as Booking.com and Airbnb. Please note that if you click on a link and go on to confirm a reservation I will make a small commission but this does not affect the price you pay.
The best areas to stay in Sicily for families
The best place to stay in Sicily for families very much depends on the type of holiday you want and also the time of year you are visiting Sicily. There are several family resorts in Sicily if you are looking for an easy beach holiday but there are also plenty of off the beaten track destinations which families will enjoy if you visit Sicily outside of the peak summer months.
If you've never been to Sicily and you'd like to know about some of the things the island has to offer families, check out my guide about the best things to do in Sicily with kids. Below is a map with all of the main highlights pinpointed on it.
Best places to stay in Sicily for a one centre holiday
Although I think Sicily lends itself really well to a multi-stop itinerary, there are several places which work really well if you'd rather just stay in one area.
Where to stay in Sicily without a car
If you want a simple beach holiday with no car and everything close at hand, Cefalu is a really good option. There's a range of beachfront hotels as well as plenty of self catering apartments in the town centre. Alternatively, if you're happy to hire a car, consider a farm stay just outside the town – look for one with a swimming pool and a restaurant.
From Cefalu, you can do day trips into Palermo by train or head to the Madonie Mountains inland on an organised tour. Cefalu does get very busy in August – if you're travelling with pre-schoolers, make the most of travelling in the shoulder months of June and September. If you're tied to school holidays, try to go at the end of July, it is quieter than August.
Find somewhere to stay in Cefalu
Taormina offers a combination of great town and great seaside but again you'll struggle for space on the beach in high season – and crucially the beach here is pebbly. However, the town is stunning – pretty streets and squares with inviting cafes and restaurants; stunning views of Mount Etna; the well-preserved Greek amphitheatre. We visited Taormina at Easter and it was lovely. May half term would also be a good option.
Look for places to stay in Taormina
One-centre places to stay in Sicily with a car
San Vito Lo Capo is another good bet for shoulder season travel – it boasts a photogenic curve of sandy beach backed by Mount Monaco. You'll need a car to make the most of a trip to this part of Sicily – there's medieval Erice and the Greek temple of Segesta to explore.
Look for accommodation in San Vito Lo Capo
Another consideration if you have a car which I've not had a chance to visit is Castellammare del Golfo. It's in a brilliant location midway between Palermo and Trapani so there's plenty to see and do. The town has a couple of beaches to choose from and it's close to Scopello and Segesta with Trapani, Erice and San Vito under an hour away.
Find places to stay in Castellammare del Golfo
Ok, where to stay in Sicily in high season? I would recommend heading to the Val di Noto. You have a great range of sandy beaches to choose from – Sampieri, Marina di Ragusa and Pozzallo to name just a few – so if one is full or you don't like it, there are plenty of other options to try. There are lots of towns – Ragusa, Modica and Noto for example – to explore for a spot of culture and a decent range of good quality places to stay.
Check availability in the Val di Noto
Where to stay in Sicily for a two centre holiday
If you fancy spending a few days in a city or town before heading to the beach, there are several options which work really well. Taormina is lovely for a few days (my husband did ask me why we only stayed there for three nights – oops). And we also loved Syracuse – home to what I think is one of the most beautiful piazzas in Italy. Both these towns can easily be combined with a stay in the Val di Noto.
If you're keen to explore the capital, you need to think a little more carefully about your second base if you're visiting in high season. Palermo is over four hours drive from the Val di Noto and you need to factor in the hassle of actually getting out of Palermo. Driving in the capital is challenging – particularly if you happen to visit when there's a football match on (I spent a long time in the car that day). It's best to take a taxi to and from the airport and collect a hire car after your stay in the city.
If you'd like to combine Palermo with the Val di Noto, there are several good places to break your journey either for lunch or for an overnight stop. Agrigento with its amazing Greek temples is the obvious choice but I'd also be tempted by the interior as it's so different to coastal Sicily.
Alternatively, try Palermo with Cefalu or Castellammare del Golfo.
If you're less keen on a city stay but you'd still like to explore two areas of Sicily, the obvious choice is to spend a week in the west and a week in the east. Trapani is a practical option in the west. Although Trapani doesn't compare to Taormina or Cefalu for looks, it has an interesting fishing and salt production history and from its port you can take day trips to the Egadi islands. You're close to the medieval hilltop town of Erice and within day trip distance of the Greek temples at Selinunte and Segesta (the latter is the closer of the two). There are plenty of beaches along the coast near Trapani.
Look for accommodation near Trapani
If you combine the Trapani area in the west with the Val di Noto for a second week, the drive along the south coast between the two takes in the famous white cliffs and beach of Scala dei Turchi. Alternatively you could break your journey at Agrigento to see the Greek temple complex there.
For a slightly different two centre experience in Sicily, I would also recommend spending a few days in the mountainous interior of the island. We based ourselves near Enna for a few days so that we could visit the mosaics at Villa Romana del Casale. We also loved stopping for lunch at Caltagirone.
Sicily road trips
If you fancy taking a road trip in Sicily, there are lots of great options – taking in all the elements I've described above. Unfortunately, if you do this in the summer school holidays the intense heat may make the experience less than ideal. Easter is the optimal time to take a road trip across the island (if you're tied to school holidays) although it won't necessarily be beach weather. If you're travelling with pre-schoolers or children who have finished GCSEs or Alevels and you have that window in June, definitely try to travel then.
Otherwise, if you're keen for a mix of beach and culture, try visiting Sicily at May half term and just explore one side of the island. In a week you could fly into Catania, spend two nights there and use it as a base to visit Mount Etna. From there, you could continue on to Syracuse for two nights and then have three nights in the Val di Noto before flying out of Catania again.
If you'd rather include Taormina in a week's holiday, I would suggest doing just a two centre trip due to the hassle of having a car in Taormina (we parked our car outside the city and didn't use it during our stay there). Fly into Catania and head straight for the Val di Noto for three nights. You could drop in on Syracuse for lunch on the way back up before continuing on to Taormina for four nights. From Taormina you could do a day trip to Mount Etna.
For a short western Sicily itinerary, I'd recommend flying into Palermo for a two night stay, then hiring a car and heading down to Agrigento for two nights before spending the last three nights in the Trapani area. This might be a bit rushed for some families – if I had a week I'd be tempted to just visit two areas.
Read about our eastern Sicily road trip here.
Map of where to stay in Sicily
Best family hotels in Sicily
What follows is a compilation of hotels, villas and apartments in Sicily which I have either stayed in myself, sent clients to when I was a travel agent, or they are places I have researched and which I believe, to the best of my knowledge, to be suitable places for a family holiday in Sicily. However, places do change so I recommend doing your own research on top of what I have done to ensure the properties are suitable for you.
I am a strong believer in supporting smaller tourism ventures so where possible I avoid chain hotels, all inclusive hotels and big sprawling resorts. I think this is increasingly important in our new covid world – so many small businesses have suffered.
Family hotels in Taormina
No trip to Sicily is complete without a trip to the island's most picture-perfect town – Taormina. We loved our stay in precipitously positioned Taormina – lovely streets to stroll along, beautiful cafes and bars, the well-preserved Greek-Roman amphitheatre and that view of Mount Etna. Then there's the beach – pebbly but oh so pretty and with crystal clear waters.
Taormina isn't a cheap destination – the more central the hotel the pricier the rooms, and the rooms tend to be on the snug side. Lots of families opt to self-cater as a lot of the hotels are unable to accommodate a family of four in one room. We found the most fantastic apartment when we visited Taormina with our two children – I Naviganti. Right in the centre of town, just five minutes' walk from both the Greek theatre and Piazza IX Aprile, I Naviganti has a huge roof terrace with the most incredible view of Mount Etna.
If you would prefer a hotel, I have visited several of them during my time as a travel agent and sent countless clients to many other properties over the years. My top tip? Book as far in advance as you can if you don't want to compromise on location and facilities.
These are the hotels in Taormina for families which I recommend:
La Pensione Svizzera
Best for: family rooms on a budget
This elegant 22 room hotel is well located close to the cable car station. It has an attractive garden and a terrace with lovely views over the sea – breakfast is served here. The family rooms are on the ground floor – perfect if you're travelling with little ones.
Of the many three star hotels in central Taormina, this is one of the best – run by the same family for many years.
Check availability at La Pensione Svizzera
Hotel Sirius
Best for: good value with a swimming pool
This Taormina hotel is a good option if you don't want to spend too much but you do want a swimming pool and a family room. The Sirius is around a 10 minute walk from the amphitheatre and very close to the cable car which takes visitors down to the beach.
Some of the family rooms have a terrace and a partial sea view and there are interconnecting rooms too.
Check availability at Hotel Sirius
Hotel Villa Schuler
Best for: great views and great location
You'll have to book well in advance to get one of the spacious junior suites at Villa Schuler – other rooms at the hotel only sleep three guests. Although there's no pool at Villa Schuler, there are beautiful lush gardens and the junior suites have a lovely terrace – some with sea view, some with garden view.
Villa Schuler is less than five minutes' walk from Piazza IX Aprile – delightful for a morning coffee or evening passeggiata.
Check availability at Hotel Villa Schuler
Hotel Villa Belvedere
Best for: beautiful views for couples with a baby
This is a beautiful, traditional hotel with a lovely garden (with pool) and beautiful sea and Etna views – ensure you pick a room with a terrace to make the most of the scenery (otherwise, you might as well opt for a cheaper hotel) – it also means you have somewhere to relax in the evening while your baby is (hopefully) sleeping.
NOTE, the hotel does have a couple of upmarket self catering suites and villas which are great for families but otherwise, the Villa Belvedere is best suited to couples with a baby as the rooms are quite small. Unless of course you're travelling with older children and you're happy to pay for two rooms.
Check availability at Hotel Villa Belvedere
Apartments in Taormina for families
I Naviganti
Best for: self catering with incredible views
As I mentioned above, we stayed in this lovely apartment several years ago. It is in a perfect position in the centre of Taormina. There's a little café at the end of the street for buying freshly baked bread and cakes but what really sets it apart is its magnificent roof terrace which has stunning views over the sea and Mount Etna. I'm writing this whilst in isolation from Covid – how I wish I could be isolating at I Naviganti with that view!
Check availability at I Naviganti
Residence Terra Rossa
Best for: self catering with a swimming pool, larger families
If a pool is more valuable to you than a town centre location in Taormina, Residence Terra Rossa is a reliable base. And if you have more than two children, you'll find apartments which sleep five and nine plus a villa sleeping up to 14 making this perfect for multi-generational trips or for families travelling together.
The Residence Terra Rossa is midway between the town and the beach – it's a 20 minute uphill walk to the town – hard work in summer but pleasant in spring or autumn (there are plenty of taxis). The beach is about a 10 minute downhill walk.
Check availability at Terra Rossa
Sicily family hotels near Mount Etna
We visited Mount Etna while on route from Enna to Taormina but if you'd like to spend more time exploring the mountain or you fancy a base in the lava landscape, this area is great for wine tasting and hiking.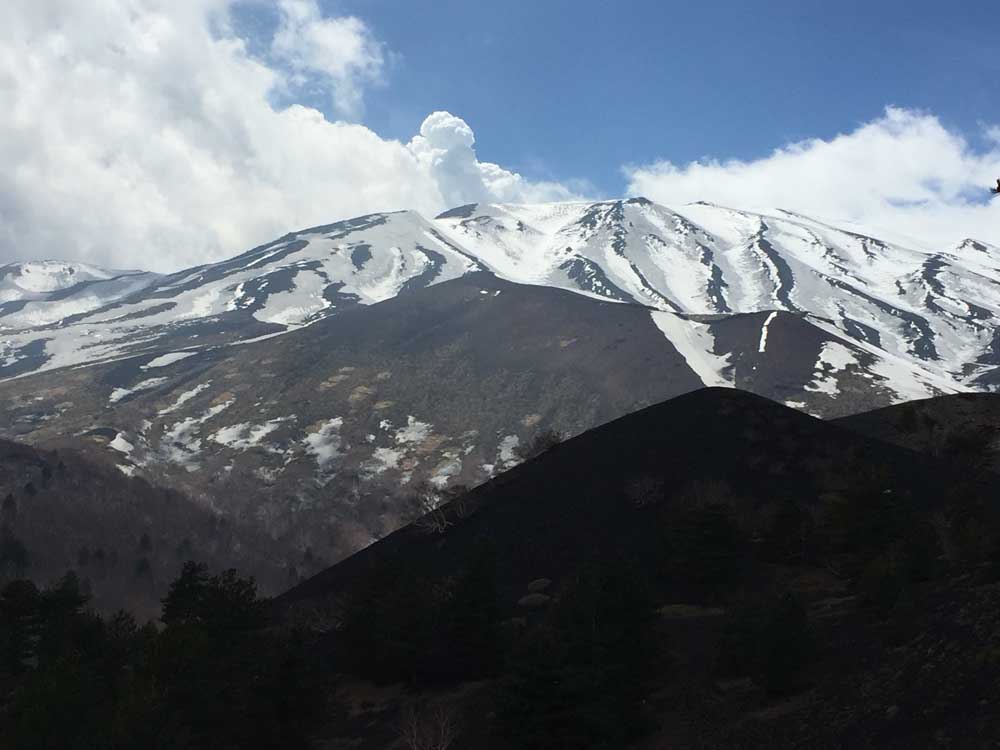 Monaci delle Terre Nere
Best for: Mt Etna luxury hotel for families
This wine estate puts an emphasis on the environment with organic farming, zero hours produce and homemade cleaning products. Add to this contemporary rooms, suites and villas carved from the lava. All this comes at a price of course – but it also comes with incredible views of the Mediterranean, cookery classes and wine tasting, jazz evenings and incredible food.
This luxury Sicilian hotel is great for exploring Mount Etna combined with relaxing by the pool in the estate's lovely surroundings. Day trips to Taormina and Catania can easily be done from here but if you're more of a beach person, the location is not ideal as most of the nearby coastline is rocky.
Check availability at Monaci delle Terre Nere
Family friendly places to stay in south eastern Sicily / Val di Noto
There is so much to see and do in south eastern Sicily. I absolutely love Syracuse – it's a perfect town to explore with kids. A little further south are the Baroque towns of the Val di Noto – Ragusa, Modica, and Noto itself – all vying for your attention. And on the coast are some wonderful sandy beaches to keep little people happy all day long.
Relais Torre Marabino, near Ispica
Best for: families with young children, proximity to beaches and towns
Although this small country hotel feels very traditional in its style, the cuisine has quite a contemporary edge. I dined here after having several hearty Sicilian meals in preceding days and it was quite a change to experience the lighter, delicate dishes on offer at the Marabino.
The hotel is part of a winery so you're guaranteed good food and wine pairing in the restaurant, La Moresca. Families will love the garden which features a little play area for toddlers and a lovely curved swimming pool.
There are three suites at the Marabino which each have a little kitchenette – perfect for making a light meal for young children. The suites are split level with the double bed on the mezzanine level.
The immediate surrounding area is not in the same league as some of the bucoli mainland scenery – this is tomato territory so there's a certain realism to the agricultural landscape with poly tunnels supplying the world with delicious tomatoes. However, what the Marabino lacks in pretty views it makes up for in practicalities – it's a short drive to the historic towns of the Val di Noto and to a string of sandy beaches. So families can enjoy a bit of sightseeing in the morning before retiring to the beach or the swimming pool.
Check availability at the Relais Torre Marabino
Masseria degli Ulivi, near Noto
Best for: families of all ages
As with the Marabino, the Masseria degli Ulivi is a rural property with suites for families – this time the kids stay upstairs. And there's space for a third child on an extra bed.
The Masseria has a swimming pool and restaurant and sits in slightly more appealing surroundings than the Marabino. It's on the Ibleo plateau, around 500 metres above sea level, so it should be a little cooler than some of the sea-level properties.
There's a tennis court and table tennis, plus bikes can be hired on site.
Check availability at Masseria degli Ulivi
Casa Talia, Modica
Best for: families with older children
I used to send lots of clients here and I generally received great reviews. One couple did suggest it was more style over substance – the rooms are beautiful – but the owners are very attentive and the views across Modica from the garden terrace are unbeatable.
I fell in love with Modica on my first visit. It was a stormy day and the town felt so atmospheric. At night the cathedral looked like the perfect location for a remake of the Godfather – or a similar sinister movie. When I returned several years later with my young children Modica seemed less appealing – the kids didn't appreciate the characterful old streets and the incredible cathedral (they did love the chocolate shop though). So, if you have older children do give Casa Talia a try – it has such a brilliant location.
Unlike the rural hotels, I'd say Casa Talia is better for a short stay as it takes a while to get in and out of the town by car. Modica is not great for buggies – there are steps everywhere so bring a baby carrier if you have a little one.
Check availability at Casa Talia
Agriturismo Serrafiori, near Pozzallo
Best for: good value family summer holidays
This good value agriturismo is located just a 10 minute drive from the beaches of the south coast around Pozzallo. The farm consists of a collection of eight simple self-catering studio apartments which share an attractive garden, swimming pool and tennis court.
Although this is a place for self catering, breakfast is included – fresh local produce and homemade cakes, a great way to start the day.
Check availability at Agriturismo Serrafiori
Approdo delle Sirene, Syracuse
Best for: boutique, central accommodation in Syracuse
We stayed in this stylish seven-room B&B for a couple of nights at the start of our road trip around eastern Sicily. The Approdo is incredibly good value if you're just looking for a double or twin room with an extra bed. The rooms aren't huge so they don't sleep a family of four but there are two rooms which interconnect if you're happy to pay a bit more. We chose this option – it was the first stop on our road trip and I decided to treat us.
You can read my full review here: Approdo delle Sirene.
We loved the little breakfast room which has a roof terrace with views over the harbour. The breakfast room is rather small and our children were a bit noisy but everyone was very welcoming towards them (luckily!).
Check availability at Approdo delle Sirene
Family places to stay in central Sicily
Baglio Pollicarini, near Enna
Best for: a great base for the attractions of central Sicily
If you're looking for somewhere to stay near Villa Romana del Casale, this hilltop agriturismo near Enna is a good option. There are several rooms which can sleep a family of four – we opted for one of the dependence rooms which have a door directly onto the terrace. There are also some more historical rooms inside the main farm building which were once occupied by monks but we decided the external rooms were more practical for our children to have easy access to the outdoors.
We stayed at the Pollicarini in April so the swimming pool wasn't open but the position of the agriturismo is so impressive that we were perfectly happy just sitting out on the terrace taking in the view – green rolling countryside and wild flowers. Despite being some 70 kilometres from Mount Etna, it's possible to see the volcano in the distance from the farm. One of the guests had seen the glowing lava flow the night before we arrived.
This is a traditional agriturismo with hearty food and old fashioned accommodation but we loved the authenticity of the place. Enna is a short drive away and a must visit during Easter when there are traditional parades through the streets. I loved this part of Sicily.
Check availability at Baglio Pollicarini
Family hotels near Agrigento
Mandranova
Best for: a stylish base from which to visit the Valley of the Temples
This olive farm on the south coast of Sicily manages to blend the best elements of an agriturismo – delicious food and an informal, relaxed vibe – with good quality accommodation. The rooms and suites are spacious and stylish with various options for families including a self catering villa with its own swimming pool.
Mandranova is around 30 minutes drive from Agrigento and 20 minutes from the seaside town of Licata. It's a fabulous base for exploring the south coast beaches or for simply relaxing with a good book by the pool. A note of caution – the swimming pool, though stunning, is rather deep so it's not ideal for toddlers. There is lots of space for children to run around and explore but it is very much a working farm with various dogs sauntering around.
I absolutely loved dinner on the terrace in the evenings after the heat of the day had passed. The food was incredible.
Check availability at Mandranova
Masseria Agnello, near Scala dei Turchi
Best for: stylish accommodation near Scala dei Turchi and Agrigento
This stylish farm stay sits on a hillside overlooking the south coast. The masseria is well positioned for visits to the famous beach of Scala dei Turchi (10 minute drive) – as well as many other stretches of sand – and Agrigento (20 minute drive).
There are family suites which sleep up to five guests (book early to nab one of these), beautiful grounds and interiors plus an outdoor pool and an attractive restaurant.
Check availability at Masseria Agnello
Family hotels and self catering in Cefalu
After Taormina, Cefalu is one of the best places in Sicily for families. There's a sandy beach to enjoy, backed by a warren of streets leading to a magnificent Norman cathedral. Palermo is within day trip distance by train and inland are the Madonie Mountains.
Turismo Rurale Cefalù
Although it might be tempting to stay in a central location in Cefalu, walking distance from the beach, I find a lot of hotels which have this kind of enviable position rest on their laurels – certainly feedback on review sites suggests this – so I've found this little agriturismo property about 15 minutes outside Cefalu.
Now forgive me for harping on about farm stays but I really do believe they offer so much more than a standard hotel. Good food for one, and at Turismo Rurale Cefalu you also get a spectacular view from the swimming pool.
Rooms sleep up to four guests and there are only eight of them.
Check availability at Turismo Rurale Cefalu
Le Calette
Some friends of mine really rated this hotel when they stayed in Cefalu with their young twins. Le Calette is a beachfront hotel within walking distance (just) of Cefalu. The hotel consists of three parts – Calette No5, the Garden and Bay area, and the villas. Each has a different style and price band so it's worth doing a bit of research to decide which suits you best.
The hotel has an excellent restaurant and a swimming pool and there are various places where you can access the sea – some areas are rocky but there is a sandy beach area too. The only drawback to Le Calette of course is the price – come in May or early October if you can!
Check availability at Le Calette
Cefalu in Casa
Best for: family summer holidays with young children
This is a collection of modern apartments and villas in a brilliant location two kilometres from the centre of Cefalu and one kilometre to the beach – this is best done by car rather than on foot. Within this small complex is a shared pool and a playground.
Check availability at Cefalu in Casa
Family friendly places to stay in Palermo
Palazzo Planeta, self catering suites in Palermo
Best for: a very comfortable stay in the centre of the city
When I worked for an Italian tour operator, I used to struggle to find decent hotels in Palermo. It was before the time of Airbnb. Nowadays, there are plenty of appealing places to stay in pretty much every city in the world. And Palermo is now no exception.
The Palazzo Planeta is part of the rather wonderful Planeta family group which is predominantly about wine. If your children are of the right age and disposition, I can highly recommend a stay at the Planeta Estate – a modern country hotel near the sea in south western Sicily. I'd recommend it even more as a place to escape to without children should that opportunity present itself. There aren't many places where you can see vineyards stretching to the sea but at the Planeta Estate, that will be your view.
Anyway, back to Palermo, Palazzo Planeta offers seven apartments with one or two bedrooms. They are elegantly furnished and set in a great position for exploring the capital. Breakfast can be taken at a neighbouring café and there's a tour guide available to show you the sights.
Check availability at Palazzo Planeta
BB 22, bed and breakfast in Palermo
Best for: older families
I stayed in this little B&B during a work trip to Sicily. It's in a great location right in the centre of Palermo and there were some brilliant places to eat close by. Most of the rooms are double but there are one or two which can accommodate two children on a sofa bed or you can interconnect two rooms if you have three children.
BB 22 is a bed and breakfast, not a hotel. I think I'd feel a bit uncomfortable staying here with my energetic children – it has quite a grown up atmosphere so might be better suited to children who are not as full of beans as my two.
Look for availability at BB 22
Places to stay in western Sicily for families
Villaggio Cala Mancina, San Vito Lo Capo
Best for: typical Italian seaside holiday experience
This holiday resort in western Sicily is perfect for families looking for a typical Italian experience – there's a bar serving breakfast, a swimming pool, evening entertainment and a mini club for kids (likely to just be Italian if you're looking for total cultural immersion for your children!).
The complex consists of hotel rooms and apartments, the largest of which sleeps up to five guests. It's a two minute drive into San Vito for that incredible beach.
This probably isn't for you if you prefer your holidays to be quiet, peaceful affairs but if you're looking for a fun stay, a short drive to the beach, this property will tick lots of boxes.
Check availability at Villaggio Cala Mancina
Baglio del Sole, near San Vito Lo Capo
Best for: a good value base for visiting San Vito lo Capo
This is a good value, rustic farm stay a short drive from the centre of San Vito. The accommodation – 12 simply furnished apartments – can sleep up to five guests. There's a shared pool and BBQ area plus a small play area for children. You can access the sea by foot but it's rocky and pebbly – rather different to the swathe of sand which the area is known for – but handy if you fancy a quick morning dip.
Check availability at Baglio del Sole
Tenute Plaia Agriturismo, Scopello
Best for: a good value, traditional Sicilian farm stay
I think this would be the place I would pick next time I'm heading to western Sicily. This is a good quality, traditional agriturismo offering simple accommodation and good local food.
I'd imagine the highlight here would be mealtimes on the terrace with sea views. The accommodation can sleep up to four guests with some units having a simple kitchenette – perfect for families who want to keep costs down by self catering but with the option of on-site meals now and then. It's tricky to find this combination of swimming pool, location, restaurant and self catering all in one place – and it's walking distance into the tiny village of Scopello too.
Check availability at Tenute Plaia Agriturismo
***
Have you visited Sicily? Where are your favourites places to stay in Sicily? Let me know in the comments below.
Pin for later: