The best family short break ideas in the UK
With cheap airfares allowing us to jet off to anywhere in Europe for a family short break, it's easy to forget that we have an endless selection of family-friendly places to visit in the UK. Despite the unpredictable weather, exploring the UK can be great fun at any time of year.
Our beaches are fabulous for sunset walks in the middle winter and our cities, with their brilliant museums, are perfect for rainy days during half term family breaks, family weekend breaks or in the longer school holidays.
There is an abundance of holiday accommodation available across the UK so if you're looking for a last minute half term holiday or a family weekend break, there's a corner of the UK which should have something suitable for you.
Half term holiday ideas and family weekend break ideas
The UK has some incredible wild landscapes to explore and endless villages with inviting pubs and cafes to refuel in. Some of my favourite family holidays have been in the UK: an October half term city break in York; playing on Camber Sands beach during a February half term break; and camping in Wiltshire during the May half term holiday. Hopping in the car for a two night family long weekend, even just an hour or so from home, can feel like a much longer holiday if it's a break from the norm. A last minute weekend away with kids is a great way to reconnect as a family.
There should be enough ideas below to appeal to families of all ages, whether you're looking for short breaks for toddlers or weekend breaks with children in their teenage years. Harry Potter short breaks are becoming increasingly popular so you'll find details here about some of the locations used in the films. I've included ideas for all times of year from family winter breaks to summer and Easter getaway ideas.
So, with help from a great group of family travel bloggers, I've put together a list of diverse family short break ideas in the UK, from a family escape on the Isle of Wight to a family getaway on the Isle of Skye. I hope you find a destination in here which appeals to your family. Do let me know in the comments below if there's a destination for a family getaway which I should add to this list.
Family short break ideas in Scotland
Edinburgh city break with kids
by Marianne at Mum on the Move
Edinburgh is a great fun city to visit for a family short break. It is a relatively small city, making it easy to get around with kids, and there is lots of wide-open green space, including the city-centre Princes Street Gardens. Most restaurants are child-friendly, and although there are a few hills to conquer, it is generally buggy friendly too.
Scotland's number one paid-for tourist attraction is Edinburgh Castle, which is easily visited with kids, and Edinburgh Zoo and Dynamic Earth are also fun. Our favourite attraction though is the National Museum of Scotland, which is in the Top 20 of the most visited museums and galleries in the world.
There is a lot to take in at this brilliant hands-on museum. From the age of the dinosaurs to the technology of the future, there are more than 8,000 objects displayed, covering everything from science and technology to world culture, transport and the natural world. Our kids especially love the Animal World gallery and also Adventure Planet where they can dig for dinosaur bones. There's even a full-size Tyrannosaurus Rex skeleton. And what's more – it's free!
For more ideas on short breaks with kids in Edinburgh, Marianne has compiled 10 fun things to do in Edinburgh with kids.
Family short break on the Isle of Skye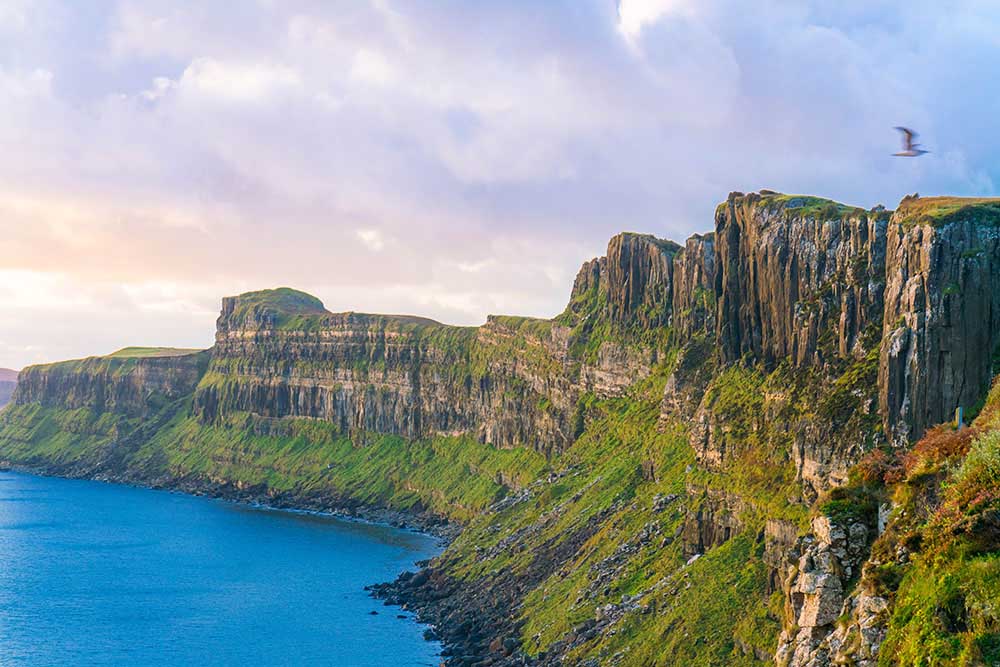 by Vanessa at Wanderlust Crew
For a quick UK family break during half-term, the Isle of Skye is a great choice. With so much natural beauty and interesting history, there is something for the whole family.
Getting there is half the fun, but it can be done fairly quickly. You can take the train to Edinburgh in just over four hours from London or take the overnight train for a real adventure, then rent a car and drive through the beautiful Scottish Highlands to the magical Isle of Skye. Watch out for sheep and highland cows!
The island offers several holiday cottages that are perfect for families and give a truly local experience. Once you're on the island, be sure to visit the Skye Museum of Island Life where the whole family can learn about what it was like to live there 100 years ago.
The whole family will love visiting Dunvegan Castle, where you can tour one of the only castles still occupied by the original owner's family, wander through the beautiful gardens and get lost in the forest and waterfalls, and even take a boat tour out to see the Loch Dunvegan seal colony up close and personal!
If you love hiking and the outdoors, the Isle of Skye is the perfect place to go for a hike and enjoy the views. Hike to the Quairang, scale the steps to Neist Point, explore the fairy pools, and enjoy the views of Kilt Rock at sunrise.
Visiting the main town of Portree and enjoying local food and ice cream for dessert is a must!
Family short break ideas in northern England
Family trip to Alnwick Castle, Northumberland
by Priya at Outside Suburbia
During a UK family break to Scotland we did a spontaneous trip from the Scottish Lowlands to the Scottish borders and to Alnwick Castle in Northumberland, England. We stopped at Melrose for some coffee and pastry, learnt about Melrose Abbey where Robert the Bruce's heart is buried. From there we drove to Alnwick Castle, which was the set for the Harry Potter movies. It is a nice town for a short break, particularly if your children are Potter fans.
Alnwick castle is very impressive. Still inhabited by the 12th Duke of Northumberland, Ralph Percy and his family, the castle had a 'homely' feel. The castle has been in the Percy family for 700 years and all their history, priceless paintings and furniture, books, journals, photographs, personal possessions are there for all to see, from legendary kings and queens of England to the present day. Alnwick Castle is the second largest inhabited castle in England.
In recent years Alnwick Castle has also taken starring roles in several films and television productions, featuring as Hogwarts School of Witchcraft and Wizardry in the Harry Potter films and as a location for the Downtown Abbey series. You might be able to take broomstick flying lessons when you are there.
The Alnwick Castle gardens are enchanting and the town is quaint with coffee shops and cosy cafés, and an award winning fish and chip restaurant. You can find local boutiques and other shops in the centre of Alnwick.
If you're looking for family break ideas in Scotland, Priya has written a useful post about things to do in Scotland with kids which also covers her foray into Northumberland.
Durham city break with kids
by Sinead Camplin at Map Made Memories
If you are looking for city breaks for families, the historic city of Durham in the north east of England is ideal for a family short break. It is easy to get to by car or rail and the small, compact city can be covered on foot.
Kids and adults alike will enjoy exploring the UNESCO World Heritage Durham Cathedral which dominates the city skyline. Built in the 11th century, the cathedral is famous for its distinctive rounded arches and enormous carved pillars. Children can borrow activity backpacks with family friendly trails to follow around the cathedral. Harry Potter fans may recognise parts of the cathedral as Hogwarts from the Harry Potter films and Lego fans will love the enormous and detailed Lego model of the Cathedral on display near the cathedral shop.
A short distance away across pretty Palace Green is impressive Durham Castle which can be explored by guided tour. Durham city centre has cobbled streets packed with independent shops leading to the central Market Place and the indoor Victorian era market. Escape the bustle of the city with a pretty, peaceful riverside walk along the River Wear.
There are also lots of family friendly attractions around Durham such as the lead mining museum at Killhope or Crook Hall house and gardens. A little further afield is Beamish, a fantastic open air living history museum. Here you can visit working wartime farms, stroll a Victorian street, visit the shops and homes meeting the people who 'live' there and even take a short trip down a mine. Our kids love riding the assorted trams and buses that travel around this excellent outdoor museum.
Short breaks in the Lake District with kids
by Ellie at Five Go Exploring
The Lake District is perfect for a UK family break. Although it can be packed with other tourists during school holidays, it's with good reason. There is so much to do and many activities geared towards families. Our family of five visited for a long weekend at the beginning of the October half term. Accommodation can be pricey at peak times, so we rented an Airbnb in Burton-in-Kendal, a 20-minute drive to the busy town of Windermere.
When in the Lake District with children, you can't really avoid a boat trip, and there are plenty of options! Sightseeing cruises cross Lake Windermere, while Ullswater Steamers offer environmentally-friendly trips. We chose a short lake cruise as our children are quite young, and we all enjoyed listening to the tour narration while we spotted points of interest!
If you're a National Trust member, your card will come in useful in the Lake District. We headed to Wray Castle, a mock-Gothic property in Ambleside. It's full of children's activities, including Peter Rabbit-themed playrooms, giant board games, and a great adventure play trail in the surrounding woodland. There are plenty more National Trust estates in the area, including Hill Top (Beatrix Potter's house) and Wordsworth House and Garden.
We didn't do much walking on our trip, but there are lots of routes suitable for even the littlest of legs. Mini mountain-climbers may even like to take on some of the larger peaks and there are flatter hikes around Lake Windermere and within National Trust estates.
Whitby budget break with kids, Yorkshire
by Elizabeth at Dutch Dutch Goose
Head to the YHA Boggle Hole in Whitby for a family short break. This YHA property is built into an old mill. It has updated family rooms that your kids will love. The public areas are packed with kid friendly fun from scavenger hunts to dress up. The old fashioned hobby horses were our boys' favourite.
The Boggle Hole beach is perfect for sandcastle building, tide-pooling and fossil hunting. Ten minutes on the cliff-side trail (perfectly suitable for children) brings you to Robin Hoods Bay, a seaside town with a few museums and plenty of restaurants. When the tide is out you can walk back along the beach, exploring as you go. Back at the YHA Boggle Hole you can check out some trash grabbers and help keep things clean or visit the on-site nature centre which hosts a variety of crafts and educational programming. In the evenings the little bar has plenty of seating and simple meals to enjoy while the kids run around the property. We went home after our family break feeling refreshed and pockets full of fossils.
Family friendly York city break
I think my sons would vote York as their favourite city for a family weekend getaway for its railway museum alone. The museum is vast, packed with iconic engines including the Mallard, the Japanese bullet train and a replica of Stephenson's Rocket. Entry to the museum is free.
If trains aren't your thing, there are a multitude of other museums making York a great wet weather destination. We loved the Yorkshire Museum with its interactive exhibits: my kids loved rowing a Viking ship across stormy seas. And while we're on the subject of Vikings, what visit to York would be complete without a trip to one of the UK's most popular visitor attractions: the Jorvik Centre. This interactive museum takes visitors on a tour of York's thrilling Viking past with life size models and recreated scenes of the city.
Of course, there's plenty to do outside in York. Walking York's city walls was such a highlight of our visit that it prompted me to write a whole post about walled cities to visit with children. If you're travelling with little ones who tire easily, you'll discover they are willing to walk a lot further if they're atop the city walls: its a great way to explore York.
Where we stayed: we found a really good city centre apartment on the river which was a short walk to all of the main attractions in York. We booked our York apartment through Airbnb and there's another one in the same building available through Booking.com.
Interested in taking your kids to York for a UK family short break? Read more about family friendly things to do in York.
Yorkshire Dales short break with kids
by Sinead Camplin at Map Made Memories
The Yorkshire Dales is part of North Yorkshire, the largest county in the U.K. North Yorkshire is often dubbed 'Gods Own Country' due to its stunning scenery. The valleys and hills of the Yorkshire Dales are a fantastic location for a U.K family short break as there is something for everyone. You can explore the beautiful Dales on numerous family friendly walks of all lengths and difficulties either independently or guided. My favourite walk for a far reaching view of Yorkshire is to climb the stone steps to the top of Malham Cove, a 70 metre high white limestone cliff.
Adventure lovers can try gorge walking and canyoneering at How Stean Gorge or go underground at White Scar and Ingleton Caves. The Yorkshire Dales is packed with cave systems and is home to Gaping Gill, a cave with England's largest known underground chamber.
History fans can enjoy the beautiful historic ruins at Fountains Abbey or Bolton Abbey. Kids will love paddling in Bolton Abbey's river on a hot summer's day. Train buffs can enjoy steam railway rides across the Dales or visit the iconic Ribblehead Viaduct, famous from the Harry Potter movies.
Anyone who loves waterfalls will be spoilt for choice between visiting Aysgarth Falls, Ingleton Falls or Hardraw Force, England's highest single drop waterfall. And after all this exploring, families can relax at England's highest pub, The Tan Hill Inn.
One of our favourite places to visit as a family is the unique Forbidden Corner, a four acre garden packed with secret tunnels, water spurting statues, hidden chambers and many more surprises!
Family short breaks in the Peak District
by Jenny at Peak District Kids
Nestled between the big cities of Manchester, Sheffield and Derby, The Peak District National Park is the oldest National Park in the UK. With it's green rolling hills, dry stone walls, quaint country cottages and old pubs serving real ale in front of a roaring fire it's the perfect family short break for outdoor loving families.
As a family we love nothing more than a long family walk in the Peak District. Our favourites are the Nine Ladies Circle through Stanton Moor Peak or the walk starting next to The Robin Hood pub in Baslow, with spectacular views from Birchen Edge. These walks are only 2km long, perfect for little legs. Alternatively, hire some bikes and ride the Monsal Trail or Tissington Trail. We often visit Blaze Farm in Wildboarclough for a free walk around the farm and a taste of the scrummy A2 ice-cream, or head over to Chatsworth House to play in one of the best playgrounds around!
However, if Mum or Dad are needing a drink (the fantastic pubs are part of the Peaks' charm), we suggest stopping by The Bulls Head Inn, Monyash, with a wonderful playground for the kids behind the garden.
Check out Peak District Kids for things to do, family walks, and lots more info about visiting this beautiful area of the England for a UK family break.
Long weekend in Lincolnshire
England is packed with incredible cities and Lincoln is definitely one of my favourites. It has some great independent shops and restaurants, a magnificent cathedral and an excellent castle.
We enjoyed a long weekend in Lincolnshire during February half term. Although the weather wasn't on our side we managed a great day out in Lincoln. We explored the castle with its excellent prison museum and admired Magna Carta. We walked the castle walls and also peeked inside Lincoln's Gothic cathedral.
Another highlight of our short break in Lincoln was a visit to the North Sea Observatory at Chapel Point. It was a very stormy day but we enjoyed a quick walk on the beach before retreating to the café at the Observatory. We also spent a morning at the National Trust's Belton House which boats the largest adventure playground of all the Trust's properties. We didn't get a chance to visit Belton's impressive stately home as the draw of the playground and café were too great (and we had to make the most of the one day of dry weather).
Where we stayed: we all loved our stay at Brackenborough Hall, a family family on the edge of the market town of Louth. Brackenborough has three apartments to rent and it's one of those places which literally ticks all the boxes for a perfect family-friendly getaway. Feeding newborn calves, driving toy tractors, playing football in the huge gardens and playing hide and seek in the woods are just some of the reasons we'd like to pay Brackenborough a return visit.
Family short break ideas in central England
North Norfolk short break with kids
If you're looking for ideas for short breaks with kids, I cannot recommend North Norfolk enough. We love visiting the region at any time of year. Summertime of course means wonderful days at the seaside on the epic stretches of sand but autumn and winter are also fantastic seasons for a family short break to this region of the UK. We visited North Norfolk in early November for a half term holiday and enjoyed sunny days cycling through the vast estates at Blickling and Holkham and long walks along the coast. Whilst wandering along Holkham beach at sunset, we witnessed incredible clouds of migrating starlings whirling through the skies.
If the weather is really up against you, the Sea Life Centre at Hunstanton is a great day out and railway fanatics will love the Poppy Line which takes passengers from Sheringham to Holt. The market town of Holt is home to a generous selection of cafes and tea rooms which we found very helpful during a particularly wet and cold May half term visit to Norfolk.
We always enjoy a trip to Wells-next-the-Sea when we're in North Norfolk. Aside from consuming ice creams and fish and chips, it's essential to try your hand at crabbing off the harbour wall: we've yet to fail at this pursuit. The high street is great for a lazy amble: there's a good range of independent shops to browse and cafes to linger in although our kids prefer to wile away the time at the excellent play ground which has a pirate ship to clamber on.
Where we stayed: we've visited North Norfolk several times. Recently we had a great stay in Fakenham at Cannister Hall Barns which we picked due to its indoor swimming pool.
Check out my UK beach break post for more seaside holiday ideas.
Short break with kids in Shropshire
We enjoyed a family short break in Shropshire during summer 2020. We stayed in a rather remote spot between Shrewsbury and Ludlow. The scenery was spectacular: miles of rolling hills with no development in sight. We enjoyed long walks in the Shropshire Hills, there are trails for all abilities.
Shropshire is famous for its industrial heritage. Although we didn't have time to visit, the town of Ironbridge is packed with museums including the excellent open-air Blists Hill Victorian Museum. Blists Hill recreates life in 19th century Shropshire with live demonstrations of foundrymen pouring molten iron and a Victorian fairground to enjoy.
Shropshire is well known for its restaurants. We had some great meals in Shrewsbury and Ludlow. The castle in Ludlow was a hit with our kids: a vast ruin with plenty of space for the children to run and around. There is a good ice cream shop opposite the castle in case you need something to entice your little people away from playing knights and warriors.
We only really scraped the surface during our family short break in Shropshire. We're keen to return to enjoy a bit of time on the River Severn: there are lots of local outfits offering stand up paddle boarding and kayaking.
Where we stayed: we spent three nights at Stable Cottage for our family short break. This converted barn is in a scenic spot midway between Ludlow and Ironbridge. The farm had a family of goats which our children enjoyed feeding each morning.
Bristol city break with kids
by Angharad at This Bristol Brood
Bristol is one of the best small UK city breaks for families. As well as fantastic child-friendly attractions (covering all bases – historical, wildlife, art, scientific and aeronautical), iconic landmarks, quirky places to stay and fantastic theatre shows, there are tons of family-friendly festivals all year round celebrating everything from hot air balloons to maritime Bristol.
Described as a 'city in the countryside' owing to its proximity to glorious North Somerset, South Gloucestershire and Cotswolds landscapes, it's also home to over 400 parks and gardens, making it an exciting mix of outdoorsy adventure and buzzing urban life.
There's stacks to do come rain or shine, which means you won't miss out if the weather takes an unfortunate turn. Bristol also holds its own in the 'cool' department thanks largely to its quirky, creative and independent spirit, visibly seen in the vibrant street art (which is great fun to hunt out with kids) and unusual events. Finally, it makes a great base to explore the surrounding West Country, with oodles of exciting day trips to beautiful coastline, castles, caves, World Heritage Sites and more, all within easy reach.
There's lots more to learn about family getaways to Bristol on Angharad's blog, check out her post 25 Family Friendly Attractions in Bristol.
Family short breaks in the Cotswolds
by Emily Cole at Kids and Compass
The Cotswolds is one of the UK's most beautiful areas; think thatched honey-coloured cottages draped with roses, nestling in the hollows of gently rolling hills. At less than two hours from London, the Cotswolds is a perfect family getaway for a half term break.
There's something for everyone in the Cotswolds, but it's especially great for children. Top things to do in the Cotswolds with kids include visiting the animals at Cotswold Wildlife Park, where you can admire bactrian camels, giraffe and rhinos; or the Cotswold Farm Park which has rare breeds of farmyard animals and fantastic outdoor activities.
You can explore some of the UK's most scenic villages such as Bibury and Bourton on the Water where the kids will run riot at Birdland and the Motoring Museum. Further to the north there's lovely Broadway, home to Broadway Tower high up on a hill overlooking the best playground in the Cotswolds.
If the kids are into history then take them to Blenheim Palace on the edge of the region. It's no stuffy stately home; there's a whole play area perfect for kids and they'll love the ride on the miniature train to get there. They'll also love Cogges Manor Farm, an historic farm with gorgeous gardens that was used in the filming of Downton Abbey.
There are numerous places to stay in the Cotswolds for a family getaway, although choosing a central location such as Bruern Cottages near Stow on the Wold will allow you to get to both the north and south of the region in less than an hour.
Want to get off the beaten track in the Cotswolds? Take a look at some of the more unusual things to do in the Cotswolds.
Family short break in the Forest of Dean, Gloucestershire
We took our children to the Forest of Dean for a short family break several years ago and we're all dying to return. There is a great selection of things to do in the Forest of Dean with kids aside from the obvious woodland walks. Highlights include exploring the tunnels of Clearwell Caves, taking a train ride at Perrygrove Railway and enjoying a slap up meal at the Saracen's Head pub on the River Wye.
During our February half term break, my children absolutely loved wandering along the mysterious pathways through Puzzlewood. This fantastical place would set any child's imagination into overdrive, just don't bring a buggy as the paths are narrow and bumpy with steps and uneven stones to clamber over. Our two year old walked a considerable distance that day. There's also a brilliant sculpture trail in the Forest of Dean to keep little ones interested on a woodland walk.
If the weather is against you, the Dean Heritage Centre is a brilliant place to explore on a wet day with plenty of indoor interactive displays to teach children about the history of the region. Older children will no doubt enjoy taking to the water at Symond's Yat: canoeing and kayaking are popular pursuits on the River Wye and the scenery you'll paddle past is stunning.
Family short break ideas in southern England
North Devon family break
For a peaceful family break in south west England, North Devon takes some beating. There are wonderful beaches of course, such as Woolacombe, Croyde and Saunton Sands but inland there are plenty of family friendly activities.
The 30 mile Tarka Trail is a car-free track perfect for walking and cycling. Dinosaur fans will love Combe Martin Wildlife and Dinosaur Park and children's imaginations will run wild hunting for fairies and elves at the Gnome Reserve.
There are lots of pretty villages to explore in North Devon from the steep cobbled streets of Clovelly to the popular seaside resort of Ilfracombe where boats take visitors over to Lundy Island.
There are several steam railways in the area and plenty of popular theme parks including Watermouth Castle and the Big Sheep at Bideford.
If you're considering a short break in Devon, read this review of Torridge House Farm Cottages.
Dorset bank holiday weekend
Dorset is a really fun short break for families. We spent an amazing August bank holiday weekend exploring the coast around Lyme Regis. Highlights included fossil hunting at Charmouth, leaping over the waves at Hive Beach and eating delicious cakes and numerous cafes.
Charmouth is home to the excellent Heritage Coast Centre where visitors can learn all about the Jurassic Coast. Down at nearby Hive Beach, there's one of the south coast's best beach cafes – the fish and chips we had there are some of the tastiest I've had the pleasure of eating.
Lyme Regis is a really enjoyable day out. There's a long promenade along the harbour front (inexplicably known as "the Cobb") – perfect for a stroll with an ice cream. The beach is a mix of sand and pebbles. Our kids spent quite some time playing there following a visit to the RNLI shop to purchase some toy life boats.
We stayed at the incredibly lovely Rudge Farm – quite possibly one of the best places we stayed at with our children. Surrounded by beautiful scenery, the farm is a collection of little cottages which share spacious grounds, a play area and a pond complete with rowing boats.
Family short break in East Sussex
Think of East Sussex and you might well think of Brighton. However, there's a whole area of East Sussex, closer to the border with Kent which I have completely fallen for. The countryside is beautiful: lanes wend their way past meadows and gently rolling hills. There are tiny villages and swathes of vineyards – sparkling wine to rival a certain French bubbly is produced here.
And there is an incredible beach: Camber Sands. We've yet to visit Camber in the summertime, I can only confirm that it is fabulous in winter: amazing sunsets and three miles of sand for sandcastle builders to play in. We've visited Camber twice at February half term and will return again I'm sure. A short drive from the beach is lovely Rye, full of steep cobble stone streets, timber framed houses and legends of smugglers and ghosts. A little further west is Hastings, home to the Smugglers Adventure which tells the history of this thriving coastal industry, our boys loved exploring the warren of caves hidden in the hillside above the town.
If you can tear your kids away from the coast, the National Trust's Bodiam Castle, reached by steam train from Tenterden, is the perfect day out. The moated castle has tunnels and towers to explore and a terrifying gatehouse complete with original portcullis.
Easily accessible by train from London, East Sussex is perfect for a family weekend away from the capital.
To find out more about this part of south east England for a UK family break, have a read of my post about our favourite family friendly things to do in East Sussex.
London family breaks
by Leona at Wandermust Family
Looking for the perfect UK family short break? Then look no further than London!
No visit to London is complete without a visit to one of the capital's brilliant museums. As an added bonus, most of the London museums are free which means that it is a great place for families on a UK budget short break. The Science Museum and the Natural History Museum are perfect whether you are visiting with older children or even toddlers or babies. London is also a great place to provide your kids with an introduction to theatre so whatever type of culture you want to introduce your kids to on your trip, London will have it!
Maybe you are worried about the business of London with kids but fear not, there are plenty of green spaces and parks that you can take your kids to! A favourite is the play area in St James's Park which is adjacent to the viewing area for the Changing of the Guard – another must for your London bucket list! Anther park which you must visit is Kensington as children will love the Princess Diana Memorial Playground! You will struggle to tear them away.
So if you are looking for a great family short break, London is definitely worth considering!
For more ideas of things to see and do during a London family break, Leona has put together 50 best things to do in London with kids.
Short break near London: Hertfordshire
If you're after a short break near London, it's worth considering the home county of Hertfordshire for a weekend getaway. Located just north of London, Hertfordshire stretches from Watford and Tring in the west to Bishop's Stortford and Royston in the east. There are lots of great villages to explore – some excellent local pubs and some wonderful countryside for walks and bike rides.
History buffs will love the Roman heritage in the city of St Albans – there are city walls and an interactive museum exploring the city's past. There's also some one thousand years of history displayed in the city's cathedral which combines Norman, Romanesque and Gothic elements in its structure as well as reclaimed bricks from the Roman city of Verulaneum.
Stepping further back in time, Tring has an excellent natural history museum. I'm always slightly put off by the crowds of the London museum, Tring's is a smaller and quieter affair.
On the eastern side of the county is the wonderful Henry Moore Studios and Gardens – a brilliant place to introduce little artists to the wonders of sculpture in an open air setting. You'll also find Broxbourne Woods – a national nature reserve perfect for walking and cycling. We love the Broxbourne Sculpture Trail, perfect for little children.
Here are a few less well known villages worth exploring in Hertfordshire along with good pubs for a Sunday roast:
Watton at Stone is great for a family walk, it is accessible by train or car in less than an hour from London.
The Cricketers pub in the village of Weston (between Baldock and Stevenage) serves up delicious pizzas and has a particularly good garden for families – there's a play area and a space for football.
The area around Datchworth and Tewin is crisscrossed with footpaths through woodland and fields – great for working up an appetite before heading to one of the excellent local pubs such as the White Horse at Burnham Green or the Horns at Bulls Green.
For family-friendly stays in Hertfordshire, have a read of my article on glamping in Hertfordshire.
If you're after more walking ideas in this part of the world, check out my post about the best bluebell woods in Hertfordshire.
Looking for other fun days out in Hertfordshire? I've written a guide to the best places to visit in Hertfordshire.
Off the beaten track family getaway to the Scilly Isles
If you're searching for a UK family break off the beaten track, the Scilly Isles is without doubt the place to go. We visited the Scillies in August a couple of years ago and had beaches to ourselves. It was so peaceful.
Getting to the Scilly Isles can be a bit of a challenge if you don't live in the south east of England but that is the reason the islands are so quiet and unspoilt. The cheapest way to get there is by ferry from Penzance in south west Cornwall but if you can't face that drive along the A30 there are flights from Exeter airport.
The journey is definitely worthwhile: five inhabited islands and lots of uninhabited isles, more beaches than you could possibly visit in one holiday and a tranquillity that's hard to come by in UK seasides nowadays.
There's a good range of accommodation on the Scilly Isles: camping, glamping, a good youth hostel and plenty of self catering properties. There are family friendly hotels and romantic retreats as well as luxury accommodation on the private island of Tresco. Most visitors to the Scillies stay on the main island of St Mary's where there's a range of shops, cafes and restaurants.
Spending time at the beach and taking boat trips to other islands are the main pastimes on the Isles of Scilly. You can also swim with dolphins, go kayaking and paddle boarding or hire a bike to explore the island of St Mary's on two wheels.
Learn more about what to expect from a trip to the Scilly Isles.
Where we stayed: we enjoyed a week at 14 Silver Street, a three bedroom house on the main island of St Mary. If you'd prefer a hotel for a short break, there's some lovely family friendly hotels on the Isles of Scilly to choose from.
Weekend away on the Lizard Peninsula in Cornwall
One of the lesser visited parts of Cornwall is the wild and beautiful Lizard Peninsula. Lizard Point is the most southerly place in England – and it's much more scenic than its most south westerly counterpart Land's End – there's no tacky gift shops or funfair rides, just stunning sea views and a well placed clifftop café in which to eat a Cornish cream tea.
Beaches in the Lizard rank among the best in Cornwall – top of the list is Kynance Cove, a popular spot with caves, rockpools galore and incredible rocks rising from the waves. We also enjoyed Kennack Sands on the eastern side of the peninsula – lots of sand and lovely shallow waters which are perfect for little ones.
There's plenty to do on the Lizard if the weather isn't on your side – the seal sanctuary at Gweek, the old fashioned theme park Flambards and Poldark mine are all worth a visit.
Despite the impressive coastline, I was particularly taken by the River Helford – a peaceful stretch of water perfect for an afternoon of kayaking or stand up paddle boarding.
However you choose to spend your short break in the Lizard, you won't be disappointed. This is Cornwall at its best.
Wiltshire short break: Bath and Stonehenge with kids
by Priya at Outside Suburbia
You can get to many places in the UK by train from London. Just an hour and a half away, Bath is one of the most popular trips from London and perfect for a short break with kids. The city of Bath has gorgeous Georgian architecture that you can discover on a guided walking tour and you can also visit the Roman Baths that date back to 40 AD, built around Britain's only natural hot spring. The gorgeous city of Bath was the first city in England to be designated an UNESCO World Heritage site.
Jane Austen, the famous novelist lived in Bath in the early 19th century. There are several museums including the Museum of Bath Architecture, the Victoria Art Gallery, the Museum of East Asian Art, the Herschel Museum of Astronomy and the Holburne Museum that you can visit. Don't miss a visit to the 15th century Bath Abbey –the church is shaped like a cruciform and the fan vaults and stained glass windows are spectacular. In the afternoons pack a picnic and wander around the park near the River Avon, admire Pulteney Bridge modelled after Florence's Ponte Vecchio.
Stonehenge is a prehistoric monument located in Wiltshire, England, about 2 miles (3 km) west of Amesbury and 8 miles (13 km) north of Salisbury. You can visit Stonehenge from Bath or on the way to Bath. One of the most famous sites in the world, Stonehenge is the remains of a ring of standing stones set within earthworks. It is in the middle of the most dense complex of Neolithic and Bronze Age monuments in England, including several hundred burial mounds. Archaeologists believe it was built anywhere from 3000 BC to 2000 BC.
Family short breaks in the Isle of Wight
by Cathy at Mummy Travels
Every time we visit the Isle of Wight, I'm amazed at just how much there is to do on a relatively small island – and somehow, no matter the time of year, the weather is always better than the mainland!
It's a perfect place to explore with kids: small enough to get around easily, there are beaches galore as well as some little zoos and attractions like Blackgang Chine, with its rides and amusements. History lovers can discover everything from a Roman villa to Queen Victoria's favourite palace at Osborne and a castle where Charles I was held prisoner (also home to a couple of donkeys).
Plus there are natural attractions as well, from the Needles landmark (take a boat out) to National Trust sites along the coast and in the countryside, and even a chance to discover dinosaur history with walks to find fossils. Picking up part of a carnivore's arm from a beach, thanks to our knowledgeable guide, was one of our top memories.
Or if you just want some proper old-fashioned seaside, wandering along the piers with ice cream, you'll be spoiled for choice too. We've visited almost every year since my six-year-old was born, staying at farms and cottages, and still have plenty more we want to do.
It's only a short ferry or hovercraft ride across the Solent from Portsmouth and Southampton (you can also travel from the New Forest) but the second we drive off, I feel like we've entered another, more relaxed, little world.
Hampshire weekend break near London
There's so much to see and do in Hampshire that I shouldn't really be putting it here in my short break list – it would take months to take it all in. Hampshire highlights include Portsmouth, the Isle of Wight and the New Forest. However, I'm going to confine this report to a small section of the county a little further north.
Thanks to a certain virus, we recently spent a half term break in Hampshire in order to be within socially distant day trip distance of my parents. We stayed at the rather lovely Watercress Line Lodges. If you have little children with even a passing interest in steam trains, this is the place to stay. It's a collection of cottages which overlook the steam railway station of Ropley, near Alresford.
There are fun trips on the Watercress Line which runs between Alton and Arlesford. At certain times of year there are Thomas the Tank Engine and Harry Potter themed days.
Close by is Winchester, home to a magnificent cathedral and a truly fantastic science centre with an impressive number of hands-on exhibits. Winchester is on the western edge of the South Downs which stretches across the county offering endless scenic walks over the rolling countryside.
And then there's Basingstoke. It might not be in the same league as Winchester but it has one gem which is worth seeking out – Milestones Museum. This is one of those brilliant "living museums" which engage even the most reluctant historian. We've taken our kids there many, many times. It charts the history of Basingstoke – with an emphasis on its Victorian past. There are recreated shops and homes along with plenty of vehicles such as fire engines and trams. You can order a (modern day) pint in a Victorian pub and purchase a paper bag of sweets in an old fashioned sweet shop.
Heading back to Alresford, there's a great little river walk which is do-able for little legs. It passes a thatched house which straddles the river and there's an honesty stall selling duck food. The river is sufficiently shallow for fair-weather paddling. I paddled here as a child and have taken my two boys here to repeat the tradition. In Arlesford, the Tiffin Tea Rooms is the place to go for tea and cake.
New Forest half term holiday
We had a brilliant February half term break in the New Forest. Despite the changeable weather, we spent several days outside, cycling and walking along the many gravel paths which wind their way through the woodland and heathland. The New Forest is a brilliant place for children to cycle – there are endless car-free tracks to whizz along.
Away from the woods, there are plenty of fun attractions to explore in the New Forest – the National Motor Museum at Beaulieu is packed with interesting vehicles including a Chitty Bang Bang and Mr Bean's Mini. Our kids loved Little Beaulieu, a brilliant adventure play space which occupied them for hours.
There are several wildlife centres to visit in the New Forest and you can go fossil hunting on the coast at Barton on Sea. If you're visiting in the summertime, check out the giant salt water baths at Lymington – they have a 200 metre inflatables course to scramble over.
Find out more about family holidays in the New Forest.
Family short break ideas in Northern Ireland
Antrim Coast family short break in Northern Ireland
Northern Ireland has some of the most beautiful beaches in the world. Long stretches of sand, towering cliffs and rockpools for exploring. Even in August, the beaches are very quiet and the roads are peaceful too. I know the weather isn't always perfect but provided you have a wetsuit and you're willing to dive into one of the excellent local cafes or pubs should the rain come, you'll be fine.
The Antrim Coast is a short drive from Belfast. The road hugs the rugged coastline, climbing steeply for incredible views over the sea towards Scotland. There are ruined castles and tiny fishing villages to explore along the way. One of the highlights is the Giant's Causeway, a true geological wonder which our kids spent hours exploring. Game of Thrones fans will enjoy visiting the various filming locations in Antrim: the Dark Hedges and pretty Ballintoy Harbour.
One of our favourite beaches was the huge Portstewart Strand. It's perfect for families: you can drive right onto the beach and set up base next to your car, very handy if you don't want to lug buckets, towels, bodyboards and other paraphernalia across the beach. There's also an excellent café, Harry's Shack, which serves particularly delicious food. Portstewart Strand was the only busy beach we visited. Our other favourite stretch of sand was White Rocks Beach near Portrush, it was almost empty when we arrived. There was every imaginable rock formation along the beach including a huge arch. We spent hours there and the kids loved it.
If you'd rather not fly to Northern Ireland, driving there is an enjoyable journey (depending on where you're starting from), there are ferries from various ports in England, Wales and Scotland or you can sail into Dublin and drive north from there.
Where we stayed: we spent 5 nights at the lovely Ballylinny Holiday Cottages for our family break on the Antrim Coast. Located just outside Bushmills and just a mile from the Giant's Causeway, this cluster of cottages are in a brilliant position for all the main Antrim Coast sights. The sunset views from our living room window were magical.
Find out more about family holidays to Northern Ireland.
City, beach and mountains family break in Northern Ireland
The great thing about Northern Ireland is that you can tick off so many holiday boxes. All within a short drive are mountains, beaches and the country's capital city, Belfast. We based ourselves midway between Belfast and the Mourne Mountains just outside the Georgian village of Hillsborough.
We had a brilliant day out in Belfast. The Titanic Experience was a real hit with our children. One of our boys is not a big fan of museums but he was enthralled for an hour and a half, a record for him. There were lots of interactive elements which really brought the ship to life.
Although summiting a mountain in the Mournes was vetoed in favour of an extra trip to the beach, we did manage a fun day out in Tollymore Forest Park on the edge of the mountains. The park is a great destination for a family walk, there's an excellent trail running along the River Shimna with plenty of elements to keep children entertained: stepping stones, a grotto and various stone bridges. Our children loved it.
Although the beaches on the Antrim Coast are pretty unbeatable, County Down offers some lovely stretches of coast too. We enjoyed a day on the beach at Murlough National Nature Reserve. This fabulous stretch of sand goes on for miles and has the Mourne Mountains as a stunning backdrop.
Where we stayed: we picked a perfect spot for a family break in County Down. We hired a pretty converted barn in between Annahilt and Hillsborough which was particularly well equipped: plenty of toys for the kids indoors and a table tennis table and trampoline in the garden.
Family short break ideas in Wales
Anglesey in North Wales
If the weather is looking good, Anglesey is hard to beat for a beach break in the UK. There are so many incredible stretches of sand to choose from. Whether you're looking for sandcastle building, bodyboarding or simply a swim in the sea, there's more beaches in Anglesey than you could possibly visit in one summer.
Away from the beach, the coastline is wonderful to walk along – coastal paths take in lighthouses, abandoned brickworks and incredible views towards Snowdonia.
Anglesey has plenty of interesting rainy day attractions, should you incur bad weather during your short break. Beaumaris Castle is fun to explore while the Anglesey Sea Zoo has a great range of creatures to learn about.
But it's the beaches of Anglesey which are the real attraction here. My top pick is Llanddwyn on the tip of the south coast. Backed by sand dunes and pine forests and with a little island to explore, it's a mesmerising place to spend the day.
Snowdonia short break with kids
by Nicky at Go Live Young
Snowdonia in North Wales is a great option for a UK family short break for those looking for a combination of outdoor activities and history. There's so much for families to do, it will be difficult choosing what to do first! There's castles to explore, mountains to climb, beaches to play on, ice cream to eat, and all manner of adventurous outdoor pursuits.
Snowdonia has many beautiful castles to explore. Caernarfon is a great option. Much of the castle is still intact and there are towers to climb and walls to run along. There's also a worthwhile kid's explorer trail which kept ours busy and engaged.
Snowdon, the highest mountain in Wales, can be hiked, or you can reach the top by train (definitely the best option with young kids!). There are numerous other walks throughout Snowdonia to suit all ages and abilities.
ZipWorld is the place to head for adventurous pursuits. Try cave trampolining, zip-lining (both above and below ground), tobogganing and treetops courses. There's something for the most dare-devil of kids.
There are numerous beaches in Snowdonia. Barmouth and Harlech are worth mentioning. Spend the afternoon on the beach building sand castles and paddling in the sea. And don't forget an ice-cream or two!
Short break with kids in Southern Wales
by Cathy at Mummy Travels
It's not just the scenery which is straight from a fairy tale in Wales, wherever you look there are myths and legends to be discovered, especially from the tales of King Arthur. We themed one half term break around some of the stories, starting in the south east just outside Cardiff and heading towards the west coast in Pembrokeshire via the Gower Peninsula and Carmarthen.
Following Arthurian legends, you could head to the three separate lakes in Snowdonia which are supposed to contain Excalibur, Caerleon (reputedly the site of Camelot) as well as two possible locations for his burial – including the hill where he sits to save the country in times of need.
If you stick to the south, make sure you head towards Swansea Bay and Arthur's Stone which he is said to have thrown from Carmarthenshire towards Cefn Bryn – you can still see it near Reynoldston (and keep going down to Rhossili for one of the area's most beautiful beaches). In Carmarthen itself, there's a statue of Merlin. Born here, the oak tree he used to sit under was said to protect the town from danger – chopped down in the 70s, a piece is still on display.
Perhaps my favourite part of Wales is Pembrokeshire, with its beautiful unspoiled wild coast and the chance to discover Iron Age life at Castell Henllys and more history at Tenby's little museum. Throw in misty mountains, dramatic valleys, tiny villages clinging to the cliffs and lush green countryside and it's the perfect area to make your own legends.
To find out more about taking a UK family break in Wales have a read of Cathy's guide to Welsh Legends in South West Wales
Are you sick of stopping at boring service stations during your UK family short breaks? If you're driving in the UK, make sure you take a look at my post about family-friendly places to stop just off the motorway. It covers everything from play areas to picnic spots, castles to nature reserves.
Do you have any short break ideas for families to add to this list? Do you have any family city break ideas to suggest? Let me know in the comments below if you have some great suggestions for a UK family break.
Disclaimer: This post contains affiliate links. Should you click to purchase, it is at no additional cost to you, although I receive a small commission that goes towards the running of this blog.
Pin for later: