2020 was the year of the UK beach break. From Scotland to the Isles of Scilly, so many people rediscovered our amazing coastline and what it has to offer. And by the look of things, there's going to be a lot more families taking beach holidays in the UK in the coming years. And is that such a bad thing? As much as I love hopping on a plane to a destination of guaranteed sunshine, I was reminded this summer that the heat of the Med isn't essential to a good family seaside holiday. So, here's a collection – slightly subjective – of the best family beaches in the UK.
What type of UK beach break are you looking for?
Although the weather isn't always on our side, there's no denying that we are spoilt for choice when it comes to beaches in the UK. But which is the right UK beach resort for your family seaside holiday?
If you're used to jetting off to the other side of the world for your fix of sand and you need a bit of help choosing the right beach in the UK for your next family getaway, I've put together a list of UK beach types to help you narrow down your options.
Traditional family beaches in the UK
If you like a seaside resort with plenty of traditional UK character – amusement arcades, shops selling pink rock and rude postcards – you'll be pleased to know that this genre is alive and well across the UK. Blackpool, Cromer, Brighton and Portrush (in Northern Ireland) all offer variations on this theme. Kids literally never tire of posting two pence pieces into those machines piled with coins which never seem to topple over.
Quaint fishing villages and seaside towns in the UK
Is this the nation's favourite type of beach holiday in the UK? A pretty cove or strip of sand, backed by charming fishermen's cottages or a handful of characterful inns serving gastro fayre. Visiting a seaside town such as Padstow in Cornwall or Robin Hood's Bay in Yorkshire can be relied upon to keep the whole family content: parents get good food, children get good sandcastle materials or rocks to scramble on and there's usually somewhere appealing to stay close by.
Best family beaches UK with a wow factor
I've been to quite a few impressive beaches around the world thanks to my life in the travel industry. It might not have paid well but there were some pretty good perks over the years so I like to think I know a thing or two about great beaches. When it comes to beaches with a wow factor, the UK can hold its own pretty well.
Kynance Cove on the Lizard Peninsula is a great example: it has incredible geology: caves disappear into the cliffs, rock stacks emerge from the sea and there are fabulous rock pools to play in. Holkham in North Norfolk and Camber Sands in East Sussex are two other favourites of mine: huge expanses of sand which continue on for miles.
Off the beaten track family beaches UK
I discovered this summer on a trip to Northern Ireland that even when the majority of the UK population have decided to remain at home for their summer holiday, it's still possible to find quiet, unspoilt beaches in the UK. Northern Ireland has a seemingly endless supply of beautiful beaches with only a smattering of people on them. Whiterocks was my favourite.
There are little hidden pockets of coastline all over the British Isles which remain overlooked. The Isles of Scilly are packed with stunning unspoilt beaches: big empty sweeps of sand, little rocky coves. We visited the islands one August and had some incredible beaches to ourselves.
Best family beaches UK for a weekend break
Life is rather unpredictable at the moment. It's hard to plan ahead to the next school holiday so now is a great time to consider last minute weekend beach breaks in the UK. Although a weekend beach break only equates to a two day holiday, the complete change of scene can make it feel like a much longer trip.
UK coastal holidays are wonderful at any time of year and if you travel out of the high season you can often take advantage of reduced prices and short stay options. There are plenty of affordable farm stays near the UK coast – some rent family rooms with bed and breakfast whilst others offer self catering facilities. Alternatively, try a traditional seaside B&B right on the seafront. There's nothing like a bracing walk along the beach in wintertime to blow the cobwebs away!
So, whether you're after a weekend beach break walking the dog, or a short coastal getaway for a spot of surfing or perhaps an atmospheric winter beach weekend away in North Yorkshire or the Antrim Coast, I hope some of the beach break ideas which follow offer you inspiration.
Beach breaks in the UK for a family seaside holiday
So, what follows is a collection of some of the best UK beach holidays which I've loved. As I've yet to circumnavigate the UK, this list is by no means exhaustive so I'll be adding to it over the coming months (and years!). In the meantime, I've enlisted the help of my friends, my friends' children and a number of travel bloggers to help fill in some of the gaps in my knowledge.
If you have a UK beach holiday you'd like to recommend please do let me know in the comments at the end and I'll add it to the list. There are so many brilliant beach breaks in the UK to choose from.
UK family beaches in Cornwall
Cornwall has a long and varied coastline with every type of beach you could wish for: long stretches of sand, some great beaches for surfing, as well as plenty of pretty little coves to explore. There's also plenty going on away from the beach, from the open air clifftop Minack Theatre to the wonderful gardens at the Eden Project.
My main tip for Cornwall? Make sure you set off early when you drive there, it gets really busy in the summer months when families all join the one main road which links Cornwall to the rest of the country.
Kynance Cove, Lizard Peninsula
Managed by the National Trust, this is one of my favourite beaches in Cornwall. And I'm probably not alone in thinking this – ensure you arrive early if you're visiting Kynance on a hot sunny day, the car park can get very busy. Kynance is also one of those beaches where it's essential to check the tide times. If you visit at high tide, much of what makes this beach special will be hidden beneath the waves or inaccessible: wonderful rockpools, caves, great rock stacks rising out of the sea.
Kynance Cove can be reached via a steep little path from the dedicated car park. On your way down, you'll pass the National Trust café. It's hard to know where to throw down your towel: parts of the beach are good for swimming, other areas are more exposed to the elements and therefore better for body boards. Visibility can be tricky as there are so many rocks plonked on the sand – we had to move several times to keep an eye on our children who wanted to explore every corner of this beach-tastic wonderland.
A final note of caution, if you set up camp at the far end of the beach, beware the turning tide. A kind member of staff from the café came to warn us and other unsuspecting beach-goers that we were about to be cut off from the rest of the beach as the tide came in. Being completely submerged by a crashing wave as we hurriedly retreated was the highlight of the day for one of our boys (the other one was less impressed by the unexpected soaking).
Kennack Sands, Lizard Peninsula
During our stay on the Lizard Peninsula, Kennack Sands was our "local" beach, just a 20 minute stroll or a 5 minute drive away from the holiday cottage we rented.
Located midway between the fishing villages of Coverack and Cadgwith on the eastern side of the peninsula, Kennack Sands ticks all the boxes for a family day at the beach. There are two sections of beach, one of which is dog-friendly. There's plenty of sand, lots of rockpools at low tide, a life guard, toilets and a café. Kennack Sands has a really lovely family-friendly feel with lots of happy children charging around having fun.
We loved wandering down to the beach in the evening too. It was usually deserted and the kids had great fun clambering around on the rocks. Although there were plenty of people at Kennack Sands, there was always space to park.
Where to stay near Kennack Sands: we stayed in a lovely Cornish holiday cottage, Skyber Lowen which was just about within walking distance of the beach when we went out for an evening stroll (we didn't attempt to walk it with all our beach paraphernalia during the day). If you want to be closer to Kennack Sands, there's Sea Acres Holiday Park which is a short walk uphill from the beach. It has an indoor pool and a choice of caravan and lodge accommodation.
Cadgwith Cove, Lizard Peninsula
We visited this little fishing village on the Lizard Peninsula one Friday summer's evening. The locals put on a weekly BBQ in high season which sees visitors flocking in to munch on freshly caught prawns, shark fillet and other fishy delights. There's also burgers and sausages for kids like ours going through a fussy phase.
Our kids enjoyed the punch and judy show while eating their dinner. I hadn't watched this particular puppet production for several decades so it was interesting to see it from an adult's perspective. It's quite an unpleasant story but funny nonetheless.
Cadgwith beach has colourful fishing boats moored on the shore and the cottage gardens throughout the village are filled with colourful flowers. It's a delightful little place to explore and I'd love to go back and sample the food and drink of the characterful local inn.
Gyllyngvase Beach, Falmouth
Recommended by Nichola from Global Mouse Travels
This is one of my favourite beaches in the world, let alone in just Cornwall. Set on the outskirts of Falmouth and overlooked by the wonderful Pendennis Castle it is in a really dramatic setting. The beach here feels long and beautiful but there are opportunities to rock pool at either end which means it's great at any time of the year for a family beach break.
The waves are perfect for swimming or surfing and there are always families in the water. There's a great little kiosk selling buckets and spades and bodyboards but there's also a wonderful café, Gylly Beach Café which is absolutely perfect for warming hot chocolates during the winter or great lunches overlooking the sea all year round.
There is ample parking on the streets around the beach but also a great little car park next to a crazy golf which is next door. This is somewhere we love to visit in every season, it always feels the sun shines at Gyllyngvase beach. As it's situated right at the edge of Falmouth it doesn't get some of the crowds of the beaches closer to the town and we've never been there and felt it was too crowded. There are some fantastic family hotels in Cornwall and one of our favourite places to stay is St Michaels Resort and Spa which is walking distance to the beach so a perfect retreat when the salt and sand get too much.
Sennen Cove, near Land's End
If you have older children who enjoy more than a simple bucket and spade experience, Sennen Cove is a good bet. I used to go rock climbing on the cliffs at Sennen – its a great (and very scenic) destination for climbing, there are lots of great routes for beginners. If you'd rather enjoy the sea and the sand, Sennen is also very good for surfing and swimming.
Sennen makes up one half of Whitesand Bay, joined at low tide with its northly neighbour Gwynver Beach. Sennen is the better beach for young families with safer swimming and better parking while Gwynver is better for surfing.
Porthcurno Beach, near the Minack Theatre
If you like to mix a bit of culture into your family beach holiday, Porthcurno is the beach for you. Overlooking the beach is the famous open air Minack Theatre, carved into the cliffs with incredible views over the Atlantic Ocean.
You can see a whole range of productions at the theatre from Shakespeare to light-hearted children's shows. We opted for the latter and then headed to the beach for a paddle and a picnic. The cliff path is rather steep and narrow so if you have unsteady toddlers or a fear of heights, there is a pay and display car park (with toilets) behind the beach.
Porthcurno beach is surrounded by high cliffs and the sea has that particularly thrilling shade of turquoise if you're lucky to visit on a clear day. Our children were so absorbed by the stream which runs down to the beach, damming it and rerouting it, that they barely made it into the sea.
Perranporth Beach in North Cornwall
Recommended by Julie at Pour Moi
Perranporth has everything you could want in a Cornish beach resort. The tidal inlet provides hours of amusement for kids, and is perfect for younger children who are too small for the big waves. There are also excellent rock pools along the sides of the cliffs.
At low tide, the rock that takes centre stage on the beach is accessible, offering climbing opportunities, great views from the top and a naturally formed swimming pool. At low tide it is possible to walk around the headline and access a further three kilometres of golden sand with two separate lifeguard areas for surfing and bodyboarding.
For refreshments, the beach also boasts the only pub on the sand in the UK, offering food, drinks and live music throughout the summer with views of the most stunning sunsets, check out the live webcam views. The town itself offers a lovely mix of cafes, pasty shops, surf gear and a couple of beautiful galleries that we never manage to come home empty handed from!
Accommodation in the town is limited as is beachfront parking in peak summer. We stayed at the Perran Sands Holiday Park located just up on the headland. Steep steps lead down to a private area of the beach only accessible from elsewhere at low tide.
Adjacent to the campsite are acres of dunes containing the historic site of St Priran's Oratory, one of the oldest and most important sacred sites in Britain dating to the 6th century. There is a vast expanse of grassy sand dunes for the children to play in and we also saw horse riding trips through the dunes and along the beach. The holiday park itself offers a vast array of activities including adventure golf, archery and a pool with flumes and a lazy river.
Porth Beach near Newquay
Recommended by Lieze from Glitter Rebel
Porth Beach is one of the best family beaches in the UK, not only because of its size but also because it has a small fresh-water stream running through it. A little river not deeper than 20 centimetres at its deepest point allows kids to play and muck around in the clear and fresh water. In summer the water is warmed up by the sun, and it allows you to have your small kids playing nearby at all times – even when the tide is out.
When the tide is out, however, your kids will be able to build dams to cut off the water running down from the river bed into the sand or play in the many tide pools left behind in the rocks and in the sand.
The large sandy beach also has an ice cream hole in the wall and a dog-friendly pub nearby which serves pub food, pizza and has a hut in the beer garden serving ice creams and milkshakes.
There is almost always a guard on duty in Porth Beach which makes it incredibly safe for older children to go for a little swim. There are also not that many surfers around on Porth beach in comparison to the surfer beaches of Watergate Bay and Whipsiderry Beach.
There is ample parking space close to Porth Beach and you won't have to carry up and down your stuff via high stairs or slopes as you would normally have to do in Cornwall – and Porth Beach is a lot calmer (and cheaper) than its famous counterpart Fistral Beach at the other part of Newquay.
UK beach holidays: Isles of Scilly
The Isles of Scilly are part of Cornwall but I've given them a separate section here because they are such an amazing and special place to visit.
If you're looking for an old fashioned beach break in the UK, far from the madding crowd, you cannot go wrong with the Isles of Scilly. We fell in love with this hidden corner of England on a multi generational family holiday several years ago.
Read my guide to planning a family holiday to the Isles of Scilly.
The Scilly Isles are perfect for cycling – if you're looking for other destinations to take your kids for a family bike ride, check out my article all about the best cycle routes for families.
Porth Hellick, St Mary's
This beach on the main Scilly Isle of St Mary's is hidden away on the quiet east coast of the island. We reached the beach by way of a narrow nature reserve pathway which twisted and turned as it followed the route of a stream through thick woodland.
Porth Hellick, like many of the beaches we visited in the Scilly Isles, was deserted. The tide was out and there were hundreds of rockpools to explore and colourful seaweed was draped over the rocks. It was a wonderful natural playground for our children who spent ages collecting pebbles and shells.
Porth Hellick is close to the airport of St Mary's so if there's a plane spotter in the family, it's a fun place to watch the light aircrafts coming in to land.
Great Bay, St Martin's
If you long for peaceful beaches free from the trappings of modern life – no tat, no human development and very few humans for that matter – head to the Isles of Scilly. My favourite Scilly beach is Great Bay on the Island of St Martin.
Great Bay takes a bit of getting to: a ferry from the main isle of St Mary, then a half hour walk across the island (cars aren't permitted so there aren't any proper roads), not to mention the actual journey to the Scillies in the first place.
But it's worth that journey. Great Bay is a wide arc of sand bookended by rocks and backed by heathland. We visited in August and had the place to ourselves. It was heavenly. Although the water was a bit chilly – I'm glad I lugged our wetsuits there.
There are no facilities at Great Bay – no loo or café. Wander back across the island for lunch at the Seven Stones pub near the quay or bring a picnic and stay all day (just bear in mind you'll need to wee in the sea so don't bring a flask of coffee if you're not keen on a dip in the Atlantic Ocean).
Porthcressa Beach, St Mary's
This was our "local" beach when we took a family holiday on the Isles of Scilly. We could see it from our bedroom window and walk to it in 10 seconds. It wasn't as unspoilt and pretty as some of the other more remote Scilly beaches but it had two things which made it a really good spot to return to.
At one end of Porthcressa is the excellent Dibble and Grub café. We loved this spot for an evening drink before heading home for dinner. The kids played in the sand while us grown ups had a gin and tonic or a beer close by.
Porthcressa also boasts a particularly good playground just above the beach. The play area has spectacular views of the sea so it's a great place for parents who welcome somewhere scenic to while away the hours as they push their kiddos on the swings.
The Bar Beach, St Agnes and Gugh
We didn't have a chance to visit these two little islands but my brother enjoyed a day exploring them. St Agnes and the uninhabited island of Gugh (pronounced "goo") are connected at low tide by a sand spit, the Bar.
When the tide is out Bar Beach is a great spot for swimming in the shallow waters and there are rock pools and boulders to entertain the children. At high tide Gugh is cut off and the water becomes quite deep with a fast current. An interesting place for budding geographers!
Find out more about the Scilly Isles.
UK beach breaks: Devon
Devon is perfect for a family beach break in the UK. The main problem you'll have is deciding whether to head for the north coast with its great selection of sandy beaches or the south coast which has some incredibly picturesque seaside resorts to explore.
Croyde Beach, North Devon
Recommended by Ania Brucciani, age 13
Every year we stay at Torridge House Cottages and me, my family and my friends who also stay there go to Croyde beach. The beach is in North Devon and it is my favourite beach because of all of the amazing memories that I have shared there.
A great thing about the beach is that there is so much sand that everyone can have their own space. That means that there is so much room for anyone to do what they like or be where they like! The sand is amazing to make sandcastles; my brother dug a huge hole and it was a lot of fun and he definitely entertained everyone who saw him in his hole!
When you journey closer to the ocean you will see that the sand has been dampened and on the ground it is good for making drawings, moats or even sculptures.
There are many rock pools that are fun to clamber over and find crabs and anemones! There are great waves for bodyboarding and surfing!
Read this review of Torridge House Farm Cottages in North Devon.
Burgh Island, South Devon
Recommended by Florence Haines, age 9
When I was 8 years old I went on holiday with my family to Devon. We decided to go to a place called Burgh Island, near Bigbury-On-Sea. It is a lovely, tiny island with only a few cottages on it. There is also a famous hotel on the island for grown-ups.
The island is a fun and magical place to visit because you are cut off from the mainland when the tide is in. However, you can row over to the mainland if you need to. We kayaked over, which was really exciting as we got extremely wet!
On the mainland, there are lots of lovely shops selling beach toys and spades and lots of other things (like slime!) When you go over to the mainland, you can get hot dogs and ice cream. I got a brownie-topped hot chocolate. Yum!
We stayed at one of the cottages on the island called Fisherman's Cottage. It was built on top of the rocks right next to the water and the bathroom was built into the cliff so bits of rocks sometimes fell into it! In the living room there was a huge window from the floor to the ceiling, so it felt like you were sitting on the water.
When the tide is in, the island is completely surrounded by water. But don't worry! You can always get the sea tractor! The sea tractor is a gigantic blue carriage with an engine. It has huge wheels that are over a metre high so it can easily travel through the waves, without the passengers getting too wet!
There is a secret beach on the island, which is perfect for skimming stones. You have to climb down about 115 steps to get there but it's worth it as it is beautiful and very quiet. The water is much calmer than the rest of the sea. There is some decking with big stripy deckchairs too!
There are some interesting buildings on Burgh Island… Like the Pilchard Inn! It is a very old building, over 600 years old, and is known for its famous smuggler, Tom Crocker who was shot in the doorway. When we visited I even got to meet a real pirate! The Pilchard Inn is one of the oldest pubs in England but I didn't visit it for that, I just wanted the burger!
There are also the remains of a chapel from a monastery that used to be on the island. We pretended it was Kirrin Castle and that we were the Famous Five! There are also two pillboxes on the island, which were used as secret hideouts during the War. I think this would have been very exciting, especially when the tide was in, as the island is very atmospheric.
I would recommend Burgh Island to anyone who likes good views, long walks, the beach, pirates and ice cream!
Find out more about holiday breaks at Burgh Island.
UK beach break ideas in Dorset
Dorset is the home of the Jurassic Coast so it's a brilliant destination for dinosaur fans. My most vivid childhood memory of Dorset is a geography fieldtrip. I'm not sure how we managed to fit Chesil Beach, Lulworth Cove and Durdle Door into one short school day… the teachers must have been exhausted by the end of it.
Southbourne Beach, Bournemouth
Recommended by Ben Richardson, age 6
My favourite beach break was Southbourne Beach in Bournemouth because of the lift and the ice cream shop at the top (after you've climbed the slope) is great. It's a big beach and sandy which is great for building sand spitfires on.
Lyme Regis Town Beach
Lyme Regis is an appealing seaside town for a UK beach break. There's a long promenade along the seafront which stretches all the way to the harbour, known as the Cobb, at the western end of the town. Here you'll find the RNLI station which has a small shop (a highlight for our children).
In town, there's a good range of eateries and there's an excellent ice cream shop along the sea front. The beach is a mix of pebbles and sand so it's a great seaside resort with something to keep all members of the family happy.
Charmouth Beach
We visited Charmouth on a wet and windy day. But the weather isn't a problem when you visit Charmouth as it's all about the fossils. After a trip to the excellent (and free) Heritage Centre, our kids spent ages combing the beach for fossils and interesting pebbles and stones.
Charmouth, located a few miles east of Lyme Regis, is part of the Jurassic Coast so a trip to the area is quite an educational experience. The Heritage Centre is really informative with plenty of hands on activities for children.
The beach at Charmouth is a mix of sand (at low tide) and shingle. There are beach huts for hire too.
Hive Beach, Bridport
Sometimes it's the circumstances which make a beach special. We visited Hive Beach one August bank holiday weekend with my extended family several years ago. It was gloriously sunny and the kids all loved jumping in the waves.
The beach is backed by crumbling yellow cliffs and farmland so it feels natural and unspoilt. Fish and chips from the Hive Beach Café has yet to be trumped elsewhere on my travels, the batter was particularly crisp and delicious. There are toilets next to the café and a car park.
Where to stay near Hive Beach: we stayed at the brilliant Rudge Farm Holiday Cottages. A collection of farm cottages sharing a play area, field and small lake, this is a brilliant place for families.
Check availability at Rudge Farm Holiday Cottages.
Lulworth Cove
We have visited Dorset for a few camping trips in the last couple of years, each time staying close to Lulworth Cove. Although this is a pebbly beach, we love coming here for the lovely sheltered water – the cove has been carved into the the cliffs over thousands of years to create a brilliant circular inlet. The kids love kayaking on the sea and I love the walk over the cliffs to Durdle Door – the coast is truly stunning here.
The little village of Lulworth Cove has a visitor centre, several ice cream shops (with extensive flavours) and a decent sized car park – even on a hot day during the staycation of 2021 we found parking spaces.
On our last trip there, we stayed at the lovely Longthorns Campsite which is about 10 minutes from the beach.
Hampshire beach breaks
Hampshire is a very diverse county – home to the ports of Southampton and Portsmouth but also the rural delights of the New Forest. There are plenty of good beaches on the mainland – Barton on Sea, Milford on Sea and Southsea for example – but for a truly wonderful family beach break, hop on a ferry to the Isle of Wight.
Ventnor on the Isle of Wight
No guide to UK beack breaks would be complete without mentioning the Isle of Wight. One of my favourite spots on this sunny island is Ventnor on the south coast. This Victorian seaside town has a good range of independent shops and there's a wide selection of places to eat and drink. I like the Spyglass Inn which overlooks the sea. The beach at Ventnor is a mix of sand and shingle and it is really popular with families.
There are several enjoyable walks from Ventnor. Heading west along the coast, a footpath leads visitors to Steephill Cove – a tiny settlement with a cafe and restaurant plus a little beach. Steephill cannot be accessed via car so it's a perfect hidden spot for an ice cream or a swim.
In the opposite direction, there's lovely walking to be had on the Downs above the town and also a good circular walk which takes you into the neighbouring village of Bonchurch – great for a spot of lunch.
If you're happy to hop in a car, a short drive takes you to the popular amusement park of Blackgang Chine which continues to be a family favourite 40 years on since my first visit!
Beach breaks in the UK: Sussex
If you're looking for a family beach break close to London, East and West Sussex on the south coast of England are a good bet. Just ensure you set off early in the summertime, there'll be a lot of other Londoners with the same idea.
Brighton, East Sussex
If you're after city breaks with beach, Brighton is hard to beat. Although the pebbles might put off the sandcastle builders among you, Brighton has a wealth of attractions which more than make up for the lack of sand.
I'd need to write a separate blog post to list everything Brighton has to offer, but here's brief rundown: enjoy spending some money on the pier, visit the fishing museum or the aquarium, admire the views from the British Airways i360, rent paddle boards or kayaks and take to the sea.
Simply walking along Brighton's seafront is a enjoyable experience: browsing in the shops, eating ice cream or fish and chips, watching a game of volleyball or basketball. If you don't fancy walking, there are bikes to hire or an electric railway to hop on.
Camber Sands, East Sussex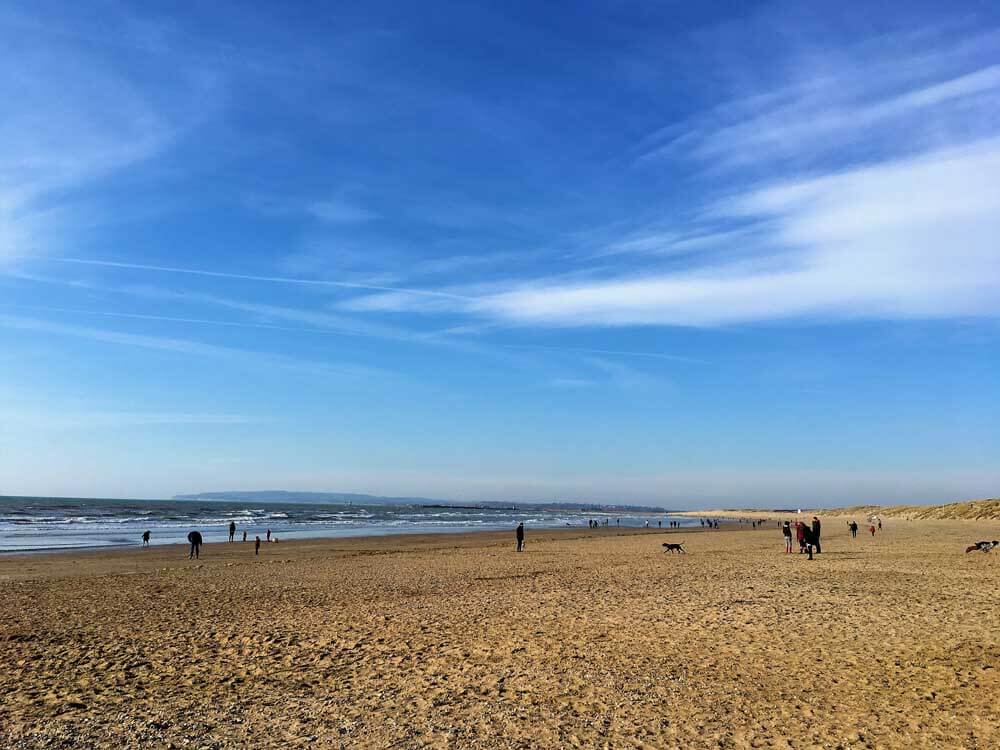 We've only ever visited this huge expanse of sand in wintertime. Camber Sands is one of those UK coastal breaks which is fabulous in any season. We've visited during mild February half terms and enjoyed hot chocolate and sandcastle building in the winter sunshine. The sunsets are stunning.
Camber Sands is five miles long so even if you visit this beach in East Sussex on the hottest day of the year, there'll always be space for everyone to spread out.
Close to Camber is the pretty town of Rye which is perfect for an evening meal. The town is particularly atmospheric on a misty winter's night: our kids loved imagining where smugglers or highwaymen might once have taken shelter in the timber-framed buildings on the narrow cobblestone streets.
Find out more about visiting East Sussex with kids.
Climping, near Littlehampton
We visited this little beauty on a particularly hot sunny day. We'd been scouring the net searching for somewhere that might not be too packed, or which still might have parking spaces by the time we reached it (we don't live near the coast unfortunately). As the weather was amazing, we'd been warned off a day trip to the Witterings which was where we really wanted to be. However, someone recommended Climping and I'm so glad they did.
Climping, or Clymping, is reached via a quiet unassuming road. Unlike its neighbours, there were plenty of parking spaces as well as toilets and a café. The beach itself is a mix of sand and pebbles. The tide was out during our visit and the children had a wonderful time exploring the beach, collecting shells and filling their buckets with water. The sun sparkled on the sea and I had a rather lovely swim in the cool water. We felt like we'd struck gold on a day when we'd almost given up hope of finding a patch of sand to spread our picnic rug on.
Hastings, East Sussex
One of my children's favourite beach breaks in the UK is Hastings. It is literally packed with my boys' favourite things. There's a network of smugglers caves to explore in the hillside, little museums dedicated to shipwrecks and fishermen, an outdoor trampoline park (with donut stall next door, perfect when you're queuing) and little red cars to race in.
There are some great pubs for fish and chips and if you'd like to balance out the seaside fun with some slightly more highbrow culture, head to the Hastings Contemporary which features works by some of the UK's most celebrated artists.
And of course, let's not forget the actual beach. There are pebbles at high tide and sand is revealed when the tide goes out: the best of both worlds.
UK beach break ideas in Essex
Essex doesn't tend to top the list of destinations for a beach break in the UK but it's incredibly popular due to its proximity to London. Clacton and Southend are the more well known spots along the Essex coast but there are several quieter and more attractive beach resorts including Frinton and Holland on Sea.
Frinton-on-Sea
This is our "local" beach so we often make a day trip to Frinton on Sea in the summer holidays. Frinton consists of a long stretch of sand, broken up by a series of wooden groins. At high tide the beach pretty much disappears so it's worth checking the times before you set out. However, the sand is only under water for about half an hour so most visitors decamp to a grassy area overlooking the sea.
If you're looking for a sandy beach close to London accessible by rail, Frinton is a good option. It takes an hour and a half including a quick change in the village of Thorpe-le-Soken. Colchester is 45 minutes inland.
Where to stay near Frinton on Sea: we usually only take a day trip to Frinton beach but we did once escape for a weekend beach break and spent a night at Grange Farm campsite in the nearby village of Thorpe-le-Soken.
Beach breaks in the UK: Norfolk
Of all the UK beach holidays we've been on with our kids, Norfolk has always been the most successful. It's easy for us to get to from our home in Hertfordshire and we love combining trips to the beach with visits inland to National Trust properties or market towns.
Norfolk has a particularly good selection of sandy beaches to choose from and plenty of family-friendly beach break destinations to choose from. If you like your beaches unspoilt and natural, you'll love Holkham. For a traditional UK seaside experience, Cromer is perfect with its pier and interesting shops. Hunstanton has an excellent aquarium while Blakeney is popular for its seal watching excursions.
Holkham Beach, North Norfolk
Holkham on the North Norfolk coast is one of our favourite family beaches in the UK. Stretching for several miles, this nature reserve is backed by dunes and pine trees so it's completely unspoilt. And its size means that even in the height of summer, it never feels very busy as there's enough space for everyone.
Holkham beach is great at any time of year. We've had lovely summer days there but also had fabulous autumn walks at sunset and we even hired a beach hut on New Year's Day 2020.
If you're visiting Holkham outside of the summer, you'll find parking easily enough at Lady Ann's Drive where it's a short walk to the visitor centre. There you'll find toilets, a café and information boards explaining the history and ecology of the area. Otherwise, there's plenty of parking in Wells next the Sea where there is easy access to the beach. If you access the beach from Wells, bear in mind that this end of the beach is busier and you'll need to walk for a little way to reach the quieter stretch of sand. However, you'll pass colourful beach huts on route.
Read about our autumn trip to North Norfolk.
Where to stay near Holkham Beach: you're spoilt for choice with a beach break in Norfolk. We've stayed at various places over the years. Kett Country Cottages offers a good range of self-catering accommodation in the area and there's a well placed holiday park, Pinewoods, right next to the beach at Wells. On our visit to Holkham at New Year, we stayed at Walnut Cottage in the heart of Wells. If you're after a hotel stay, I've always liked the look of the Victoria Inn on the Holkham Estate which offers family friendly accommodation.
Hunstanton, North Norfolk
Recommended by Liona from Travels with Ted
This has to be one of our all time favourite UK beach holidays. The thing our family loves the most about a beach day at Hunstanton is that it is different every time. Our day will depend on the tide, where we make our base and the weather. We might prepare for swimming, rock pooling, making sandcastles, visiting attractions or going for a walk.
Hunstanton beachfront is filled with all the things you look for at the seaside. Amusements, ice cream, fish and chips and crazy golf can all be easily accessed. There is also an excellent SEALife centre for rainy days or extra entertainment. The most unique activity found on the beachfront is the Wash Monster. This is part monster truck, part boat that runs trips out onto the sandbanks of the Wash where you can spot seals, dolphins and porpoises.
Hunstanton's location on the Wash means big tides. Rockpools and mudflats are revealed at low tide, so check the tide times and bring a net. At high tide, the sandy beach at Old Hunstanton is popular with swimmers and kite surfers as well as sandcastle creators. Old Hunstanton is also where you will find sand dunes which make an ideal and safe natural sandpit for smaller children. The town centre has a traditional seawall promenade with a rock and sand beach divided up with breakers. In between is a stretch of fascinating red and white striped cliffs.
Both ends of Hunstanton have plenty of paid parking, and public toilets and refreshments are available. There are more facilities in the town centre while Old Hunstanton is ideal for a quieter beach visit.
Great Yarmouth
Recommended by Mandi from Great Yarmouth Family Fun
Great Yarmouth Beach is known as the Golden Mile, due to its golden sand. It has a large promenade filled with attractions, bars, restaurants and cafes, that all face the beach.
Great Yarmouth is one of the best beach breaks in the UK for families: it is an extremely safe beach and there is lots of entertainment to keep everyone amused, the sand is perfect for building sandcastles and the sea can get pretty warm. Either side of the piers dogs are allowed onto the beach, so if you plan to bring your dog along, they can have fun too. Great Yarmouth beach is just as stunning in the winter months, the kids love walking along the seafront whatever time of the year.
There is on street parking along the seafront which is payable at a meter, as well as lots of car parks to choose from. If you are visiting for a week, you can purchase a rover ticket before you arrive to enable you to park more easily.
There are a few toilet blocks along the seafront, and many of the cafes and restaurants also have facilities.
There really is so much to do, from crazy golf to the Pleasure Beach, or maybe once the sun goes down a trip to the Hippodrome Circus or if it's bad weather, the Sealife Centre. Great Yarmouth has lots of accommodation to choose from, including hotels, guest houses and bed & breakfasts, but most families tend to stay in one of the numerous Great Yarmouth holiday parks.
UK Beach breaks in Suffolk
Suffolk has some stunning coastal nature reserves as well as some good old fashioned seaside resorts. Along with Norfolk, Suffolk is a popular weekend beach break destination for Londoners so you'll find quite a diverse range of coastal towns here.
Southwold Beach
If you're too posh for Great Yarmouth but you still fancy all the trappings of a traditional UK seaside break, Southwold will be right up your street. Indeed, this little Suffolk beach resort has been described as Islington on Sea such is its appeal with well-heeled second-homers from north London.
But don't let my introduction sway you in your judgement. Southwold has a popular sandy beach, a long pier packed with a fairly upmarket take on seaside paraphernalia and there are shops and cafes galore in its delightful high street. Southwold is very photogenic: there are brightly painted beach huts and a working lighthouse.
If you'd like to rent a beach hut in Southwold, Durrants Holiday Cottages has a good range of huts to hire, with durations ranging from 3 nights to 3 weeks.
Walberswick
Recommended by Anisa from Two Traveling Texans
You won't find any colourful beach huts in Walberswick, but that's not necessarily a bad thing. It's a quiet Suffolk beach where families can enjoy themselves. You can even bring your dog along.
The beach is a mix of sand and stones, so you can still make a sandcastle. We also saw several people flying kites. From the bridge that connects the car park and the beach, you can go crabbing.
The sea water is shallow and relatively calm so it's ideal for swimming as long as you don't mind the cold water. Keep in mind there are no lifeguards so you will need to keep a close eye on the little ones.
There is a public toilet a short walk from the beach. If the weather happens to take a turn for the worst, the nearby Bell Inn is family-friendly. It's best to drive to Walberswick as there is no train station. There are two nearby pay and display car parks.
Walberswick is located just on the other side of the River Blythe from Southwold. You can see the Southwold Lighthouse from Walberswick beach. If you want to also visit Southwold, there is a ferry you can take or walk across the footbridge. Kids may also enjoy exploring the nearby ruins of St. Andrew's Church.
Aldeburgh
Like nearby Southwold, Aldeburgh has a particularly appealing high street with some lovely places to eat and shop. However, our children love this Suffolk seaside town for its colourful array of fishing boats and the rusting yellow vehicles used to drag them over the pebbles up the beach.
Aldeburgh is a great beach to visit outside of the main summer months: the pebbles provide plenty of throwing and building entertainment and there's an excellent fish and chip shop for takeaways.
If it's too chilly for fish and chips by the sea, the beach is backed by little wooden fishermen's huts where you can buy freshly caught fish to take home and in town there's a proper green grocers where you can stock up on veg for your dinner.
Beach breaks in North East England
From the atmospheric Yorkshire seaside town of Whitby with its links to Dracula, to the breath-taking sandy beaches of Northumberland, the north east coast of England has some brilliant family beach breaks.
Chapel St Leonard's Beach in Lincolnshire
We visited Chapel Point on a particularly stormy winter's day in February 2020 when life was still carefree and you could squash into the café with lots of other families and shelter from the elements. How things have changed.
Anyway the bleak, cold and windy weather rather suited the austere Chapel Point Observatory, a spikey futuristic piece of architecture. Inside, the Observatory has plenty of information about coastal ecology and it's very family friendly. On warm sunny days, the beach will be wonderful for sandcastles and swimming in the sea.
Where to stay in Lincolnshire: while this lovely farm is a bit of a drive from the coast, I have recommend it as it was such a perfect place for a family holiday. Brackenborough Hall offers lots of space, characterful self catering accommodation and heaps of fun for children. Highlights for our boys were bottle feeding new born lambs, playing on rope swings in the woods and climbing trees.
Cayton Bay, near Scarborough
Recommended by Suzy from Yorkshire to do with Kids
Cayton Bay is a beautiful sandy beach on the North Yorkshire coast. It's a popular surfing beach with Scarborough surf school located there. Although don't expect any massive waves, the sea here is relatively calm and perfect for paddling in as you have to walk a long way out before the sea becomes too deep.
The walk down to the beach is relatively steep but doable compared to some of the beaches in the area. What makes it so unique is the forest that goes right down to the beach. It's worth walking an extra 15-20 minutes to set yourself up for the day next to the woodland. The beach also has some old second world war pill boxes which you can explore. When the tide is out it's also a perfect beach for rock pooling. You can park for £3 at the surf school or on the road for free.
There's a toilet at the surf school and also half way along the beach next to a mini shop selling beach goods. Cayton Bay is just a short drive south of Scarborough and has a few popular caravan parks nearby. Cayton Bay holiday park run by ParkDean resorts is a great place for families to stay. It's a great base for a UK beach holiday and for exploring the local area.
Runswick Bay in North Yorkshire
Located on the North Yorkshire coast just south of Staithes, is the little fishing village of Runswick Bay. There's a sheltered arc of sandy beach with rockpools at either end – perfect for entertaining little ones. Behind the beach, the tiny village is made up of a collection of red-roofed cottages which climb the hillside. There's also a couple of shops and a pub and hotel.
In the summer, there are water sports available – stand up paddle boarding and kayaking are both popular. There are fishing boat trips too and at one end of the bay is the old life boat station which operated for just over 100 years.
There are lots of scenic coastal walks from the village along with extensive hikes inland – Runswick is backed by the North York Moors National Park.
If you hop in the car, it's just an 8 mile drive south to Whitby for a spot of vampire hunting and the bright lights of Scarborough are under an hour away. Staithes is just 2 miles away and Robin Hood's Bay is close by too.
Seaburn Beach in Sunderland
Recommended by Stuart Forster of Go Eat Do
Sunderland's Seaburn Beach has soft golden sand and on warm sunny days it's a great place to relax with youngsters during a day out. Rock pools, at the northern end of the beach, prove a fascinating place for both children and adults to view marine life including starfish, sea anemones and crabs. The beach and nearby seafront tends to be at its busiest during the annual Sunderland International Air Show, held in July.
A Blue Flag flies at Seaburn, reassuringly, that provides a positive indicator about the water quality and facilities at the beach, which is disable friendly. Additionally, over the summertime lifeguards watch over bathers.
When the weather's not so great and the tide is out Seaburn Beach is a lovely place for family walks. From October until May dogs are allowed onto the beach but during the summer are restricted to a section near Whitburn.
Toilets are available up on the promenade and in the nearby Morrisons supermarket. Roker Park has a play area and miniature steam train, making it a good place to visit with young children. Teenagers may prefer spending time in the seafront amusement arcades.
Parking is available on streets close to the seafront. It's worth noting that the Seaburn Metro station is more than a mile's walk from Seaburn Beach.
Cresswell to Amble
Recommended by Martin Fletcher
The stretch of beach/coast from Cresswell (about 4 miles northeast of Morpeth just off the A1) to Amble is just under 9 miles long. Most of it is walkable as the tide goes out, and on a fine day with the tide out it offers some of the best beach found anywhere.
Although the beach is occasionally 'busy' i.e. there are more than 6 people within 400 yards, it is mostly quiet and peaceful. There are places to park and the Druridge Bay Country Park is in the centre of the coastal stretch. The UK Coastal Path runs along it.
A little further south Newbiggin By The Sea offers a pleasant seaside experience with easily available cafes and shops.
Alnmouth, Northumberland
Recommended by Sophie, aged 9
My favourite beach in England is Alnmouth because once a year there is a competition to see who makes the biggest fire on the beach. This event takes place depending on when the tide comes in and out. In this event you have 30 minutes to make a fort and a fire. The aim is to make a fire that stays on the longest before the tide comes in and destroys it.
On this beach they have really good surfing lessons and really good waves to ride in for surfing. I spent one hour in the water without feeling the cold, then I had a brilliant picnic after that!
If you go there in winter, autumn or spring you will need to have jumpers and warm coats on because Alnmouth is near Newcastle and is in Northumberland so it is going to be quite cold.
Near Alnmouth there are other interesting places like Alnwick Gardens, Alnwick Castle and Barter Books which is a book shop that used to be a railway station. There is also Puffin Island where you can get a boat and ride it, to see puffins and dolphins as well.
UK Beach break ideas in North West England
Although the north west coast of England is home to the most famous beach break in the UK – Blackpool – this stretch of coastline is also packed with more low key but no less enjoyable beaches. Morecambe, Formby and the Solway Coast are all popular destinations for a family seaside holiday.
Blackpool Beach in Lancashire
Recommended by Faith from XYU and Beyond
Back in the day Blackpool used to be the height of a family beach break in the UK. There are plenty of things to do in Blackpool and it is the perfect place for a cheap holiday with kids. Blackpool can be as cheap or as expensive as you want it to be.
One of Blackpool's truly redeeming features is the absolutely beautiful unspoilt sandy beach. The beach at Blackpool runs to Cleveley and it is a tidal beach so it is almost completely covered by the sea twice a day. Central Pier is the place to be: this is the best place for families and children to play in the sand and have a quick swim in the sea. There are no deckchairs to rent these days but there is a huge stepped sea defense to sit on.
There are three piers on Blackpool beach and you will find attractions galore, it can be crazy busy. In town itself you can head to the Winter Gardens to watch Strictly Come Dancing or take a journey all the way up to the top of the iconic Blackpool Tower.
A lovely tradition that goes back years are the colourfully decorated donkeys on the beach. The donkeys are all health checked and nobody over the weight of 50kg or an adult is allowed to ride.
There are literally hundreds of B&Bs in Blackpool ranging from the ultra luxurious to the cheap as chips, you will be spoilt for choice and the same goes for fast food restaurants, fine dining bistros and lots of entertainment venues.
Formby Beach in Merseyside
Recommended by Jenni from Cruise Mummy
Formby beach is perfect for families because it has lots of space to run around, sand dunes to jump off the top of and red squirrels to spot.
Located in Merseyside on the North West coast of England, Formby is owned by the National Trust. This gloriously unspoilt beach has miles of golden sand and clearer water than many of the beaches in the North West.
One of the best things about Formby beach is that it can be enjoyed all year round. The area by the sea is great to cool off in summer. But, on a slightly cooler day then the areas within the sand dunes are so sheltered from the wind that it can feel like summer, even in spring.
Beside Formby beach is a pine woodland which is home to the rare native red squirrel. Kids love to spot the squirrels and collect pinecones, of which there are many. There are also some lovely picnic areas here.
The beach has a car park and toilets. However, it does fill up pretty early at the weekend so it's advisable to get there early. Alternatively, you can park on the street and walk through the woods to reach the beach.
Beach breaks in the UK: Northern Ireland
What comes to mind when you think of Northern Ireland? Although I'd visited Northern Ireland before, until summer 2020 I hadn't explored the country properly and it certainly wasn't up there as a destination for some of the best beach breaks in the UK. However, I am now a convert. This tiny country is packed with incredible beaches. And provided you pack a wetsuit, it really is a fantastic destination for a family seaside holiday.
Portstewart Strand, Antrim Coast
There are some really beautiful beaches on Northern Ireland's Antrim Coast and although Portstewart isn't the most picturesque, I'd say it's the most family-friendly of all the beaches we visited during our stay in the region.
Managed by the National Trust, Portstewart Strand features two miles of sandy beach. At one end is the excellent Harry's Shack which serves particularly good grilled fish and delicious coffee and cakes. There are a couple of mobile kiosks on the beach: one an extension of Harry's in case you're too lazy to walk to the café and the other offering body boards and wetsuits to rent.
What I'm ashamed to say I particularly liked about Portstewart Strand was the ability to drive our car onto the beach. Our kids love to take a wide selection of buckets and spades to the beach so along with body boards and all the other beach paraphernalia it makes for an uncomfortable trek to the beach from wherever the car park is. Not so at Portstewart: you can park your car and build your sandcastle right next to it. Now, I like a picturesque beach unspoilt by human development as much as the next person but I did find this a particularly relaxing day out.
White Rocks Beach Portrush, Antrim Coast
The rather spectacular Causeway Coastal Route is one of those drives which should really be undertaken on foot, such is the desire to continuously stop for photographs. I'd put my neck out as much to say this under the radar driving route is up there with the likes of Australia's Great Ocean Road and Italy's Amalfi Coast.
One of the highlights along this stretch of Northern Irish coast is Whiterocks Beach just outside the holiday resort of Portrush. This beautiful stretch of sand is backed in some areas by towering rocks and also by a massive sand dune. There's an archway, sea stacks and numerous caves to explore. When we arrived, we had a huge section of the beach to ourselves. There's a small car park and a toilet block behind the sand dunes and you're a short drive from Portrush where there's an endless supply of cafes, restaurants and all manner of fun seaside pursuits to choose from.
Ballintoy Harbour, Antrim Coast
We stopped at this delightful spot on our way out to dinner one evening. Ballintoy is reached via a narrow lane which winds its way down to a small carpark. There's a café, a handful of houses and several fishing boats bobbing in the harbour.
Game of Thrones fans might recognise this rocky inlet as the town of Lordsport in the Isle of Pyke. We visited on a particularly warm and sunny evening and had a great time clambering over the rocks and watching people swimming in the sea from the sandy beach.
Ballintoy is a really scenic spot and we'd have happily returned for more climbing fun if we'd had time.
Murlough Beach, County Down
Although the immediate coastline of County Down is rather flat compared to Northern Ireland's picturesque Antrim Coast, Down makes up for this with the incredible backdrop of the Mourne Mountains. It was rather cloudy on the day we visited Murlough Beach but we could still make out the outline of the mountains while we were swimming in the sea.
Murlough Beach is part of a large national nature reserve managed by the National Trust. Murlough is reached via a boardwalk pathway through the sand dunes so once you're on the beach it feels very remote and unspoilt.
The beach stretches for miles. At low tide its quite a trek out to the sea which stays shallow for quite some distance making it very safe for young children. There are lots of shells and pebbles for curious minds and quite a few jellyfish which intrigued our two who haven't seen them in the wild (or rather washed up on the beach) before.
There's a car park with toilets and a mobile café. Newcastle is a short drive away with all the trappings of a traditional holiday resort if Murlough proves too tranquil for you.
Learn more about family holidays to Northern Ireland
UK family beaches in Wales
Wales has an incredible coastline: wild inaccessible coves and beaches, pretty seaside towns and long stretches of sand. I have happy memories of days spent at Aberdovey as a child and I'm dying to return to Wales with my kids to explore some of the beautiful Pembrokeshire Coast.
Barry Island, near Cardiff
Recommended by Bhushavali of My Travelogue
Barry island is not technically an island, it is simply isolated from the mainland by coves on either side. It is served by Barry and Barry Island railway stations which are directly connected from Cardiff by train in a short 30 minute ride. There are a few hotels in Barry mainland, but the best option is to choose a nice Airbnb close to the sea. Being just two and a half hours away by train, it's a perfect family weekend trip from London.
The main beach in Barry Island is Whitmore Bay Beach. It is a bit touristy and can get pretty crowded in summer. The most striking aspect here is the colourful beach huts. They come in two sizes and can be hired till 10pm in the summer. The beach has several kid-friendly activities including a rock-climbing wall, indoor play area, laser tag and so forth. There's also a small amusement park here called Pleasure Park. There are quite a few cafes but the larger restaurants are on the mainland.
Apart from Whitmore Bay, there's the Porthkerry Pebble Beach along the shore of Porthkerry Country Park which is more quiet. The country park has a large expanse of greenery making it very picturesque. The Barry Castle as well as a viaduct with railway track on it are amid this park.
Bracelet Bay, Mumbles
Recommended by Suzanne at Meandering Wild
Bracelet Bay is a small bay in South Wales. Located four miles from the centre of Swansea city it is near Mumbles on the first part of the Gower Peninsula with its range of large wide beaches. While nearby Rhosilli is famous for its surfing, Bracelet Bay is much smaller and is perfect for rock pooling.
As you drive through Mumbles village you will see the old pier with the lifeboat station. Continue past this and over the hill and you will see a large car park on the left. This is where you can park for Bracelet Bay. There is a large café and separate toilets as well as a play area.
In the middle of the bay beneath the car park are steep steps that take you down onto the beach. It starts with coarse sand that can be used for sand castles and then pebbles turn into large gullies filled with rock pools. These are deep and home to a really good selection of creatures. The rocks are covered in seaweed in places which helps provide camouflage for the rock pool inhabitants. At high tide the rocks are completely covered and there is very little beach left.
On one end of the beach is a headland that has Mumbles lighthouse and a small fort. At low tide it can be reached but you need to take care of not getting cut off. Mumbles has a range of options for accommodation and there are a few AirBnB apartments that overlook the bay and the lighthouse giving easy access to the beach.
Nefyn beach, Llyn Peninsula
Recommended by Karen from Are We There Yet Kids?
The Llyn Peninsula in North Wales is home to some of the best beaches in the UK offering wide stretches of soft sand, calm waves for paddling and rockpools for exploring. Nefyn or Porthdinllaen beach, located on the north of the peninsula, is one of the top choices for keeping the whole family happy.
The beach is split in two but you can walk from one side to the other which is about a mile when the tide is out. Half the beach is pebbly and fairly quiet, the other has soft golden sand and gets a bit busier on a nice day. Kids will love playing in the many rock pools, just make sure you bring some water shoes as the rocks can be quite sharp.
Access to the beach takes a bit of effort which tends to keep the crowds away. There is a National Trust carpark at the top of the coast path, you then just follow the path down to the sea and walk to the left to get to the sand. Or you can park at Nefn Golf Club then walk through the golf course and down to the sea. Both options will take around half an hour with kids and it's probably best to leave the bulky equipment at home.
The famous Ty Coch Inn is located right on the sand and is a wonderful place to enjoy lunch whilst watching the kids play in the sand. Check their website for opening times, these change regularly and are dependent on the weather. The pub has a couple of outdoor toilets and you'll also find some in the National Trust carpark.
Whenever we visit North Wales with kids we rent a holiday home in the nearby village of Pwllheli. Bay View house can sleep up to ten people and offers gorgeous views over Pwllheli Marina. It's a great place to cosy up after a day at the beach.
Poppit Sands, near Cardigan
Recommended by Sinead at Map Made Memories
Poppit Sands in West Wales is a clean, expansive sandy beach located a short drive from the charming village of St.Dogmaels near Cardigan. The enormous, unspoilt beach forms part of Cardigan Bay and it's perfect for a family UK beach holiday.
The beach never feels crowded; families can spread out on the golden sand which is backed by low sand dunes that provide shelter from the wind. The sea retreats a considerable distance at low tide so there is plenty of sand for playing on and the lack of crashing waves makes this a quiet beach to visit. There is a gentle incline into the sea making Poppit Sands an ideal location for paddling, swimming and bodyboarding. There is a lifeguard on duty during the summer months.
Don't forget to bring your binoculars as dolphins and seals are often spotted from the beach. More active visitors can access the stunning coastal path from the beach which offers incredible views of the dramatic Wales coastline or, as the beach includes an inlet leading to St Dogmaels, this is a great spot for fishing.
There is fee paying parking at one end of the beach with toilets and an excellent cafe with outdoor seating. Stay in a luxury static caravan at nearby Cardigan Bay Holiday Park. This gorgeous, leafy site has a heated indoor pool, small bar and is just a short ten-minute walk along a wooded path to the beach.
Llanddwyn Beach, Anglesey
Anglesey is a brilliant destination for a family beach holiday in the UK. We spent a week there during the summer of 2021 and visited a different beach each day – but we really only just scratched the surface.
Our favourite patch of sand on the island was Llanddywyn beach on the southern tip of Anglesey. The beach is long and backed by a nature reserve of pine trees and sand dunes. There are spectacular views of Snowdonia and the Llŷn Peninsula.
There's great walking to be had at Llanddwyn – if the weather isn't great you can take shelter in the forest or you can walk across to Llanddwyn island, joined to the rest of the beach by a strip of sand. But if the weather is good, you'll just want to swim, build castles or take in those views. It's a truly lovely spot.
UK beach holidays in Scotland
Scotland has some of the most dramatic beaches in the UK. Although the weather might not always be favourable, the scenery is guaranteed to be off the scale. Here's just a taster of what Scotland has to offer.
Gullane Bents, East Lothian
Recommended by Anuradha from Country Hopping Couple
Located 20 miles east of Edinburgh, Gullane Bents is one of the finest beaches in East Lothian and a popular beach destination among families of Edinburgh and Lothians. Gullane is also a popular tourist attraction and is also home to beautiful golf courses.
Gullane Beach is ideal for sunbathing, swimming, surfing, flying kites, barbeque or simply messing about in the sand. The gorgeous coast stretches up to North Berwick, making it a great choice for walkers. The dune grasslands and sea buckthorn helps a plethora of flora and fauna to thrive. There is also a circular route if you prefer to hike along the coast, past the golf fields and woodlands. The route is not strenuous and is a doable 2.5 mile hike.
East coast buses run to Gullane village from where the beach is a 10 minute walk. There are a number of coffee shops, cafes and restaurants around here. Alternatively, if you arrive by car, Gullane Bents car park is the nearest parking area (minimal parking charges apply) from where you have to walk down the corridor of sand dunes, and you can find the stretch of unspoilt Gullane beach.
There are toilet facilities (including disabled toilets) on site. There is also a wheelchair accessible observation deck and picnic spot located close to the WC. While Gullane is a popular choice among locals, not many tourists venture around here. The best option is to base yourself in Edinburgh, while doing a day trip to Gullane. Alternatively, there's beautiful Maple Cottage Bed & Breakfast located close to Gullane golf course.
Portpatrick near Stranraer
We spent a night in south west Scotland before hopping on the ferry from Stranraer to Belfast during our family summer holiday. As our hotel restaurant was shut due to Covid restrictions, we were given a restaurant recommendation in nearby Portpatrick.
We were delighted to discover that Portpatrick was more than just a refueling stop on our journey: this little seaside town has an attractive harbour and enticing beach full of rocks to clamber on and pools to explore. There were people out kayaking and plenty of holidaymakers enjoying their first taste of freedom following the relaxation of Covid restrictions. It was the start of a two week holiday for us so it felt particularly magical to be in such a lovely spot.
Aside from the sandy beach, there's also an excellent playground with a great view over the rocks to the sea. We'd planned an early night after a long drive but our kids had other ideas and we stayed there for the whole evening.
Where we stayed: we found a really good value hotel 10 minutes from Portpatrick where we took a spacious two bedroom attic suite. The Torrs Warren Country House Bed and Breakfast is really convenient if you have an early crossing to Ireland. It's a characterful property with a pretty garden and there's a big field with a play area right next door.
Big Sand Beach near Gairloch, Scottish north west
Recommended by Phoebe from Lou Messugo
Big Sand Beach near Gairloch in the Highlands of Western Scotland is exactly what it says on the tin: a big sand beach. There really is a clue in the name! Big Sand Beach – Sannda Mhòr in Scottish Gaelic – is a reasonably sheltered beach despite its size, protected by a small outlying island and large sand dunes. Having said that, it is in the north of Scotland so don't expect Caribbean calm! There are gentle waves but not surf and plenty of wonderful sandy spaces to play, fly kites, throw balls, dig castles, run around and generally spread out in this wild part of the country. If the weather is kind, there are spectacular views across to Skye.
Although Big Sand is pretty remote it does have facilities which makes it a great beach for families. The large campsite behind the dunes has an excellent shop/general store (good by any standards, not just for a campsite, with an impressive selection of gin!), a café, toilets and a playground for kids if they get tired of making sandcastles and jumping in the dunes.
The award-winning campsite "Sands" has pitches for tents, motorhomes and caravans as well as static caravans, "wigwams" (wooden huts for glamping) and a holiday home. There are also several other holiday homes in the area. We stayed in our campervan on a pitch over-looking the campsite and sea with fabulous views and highly recommend the café (which needs to be booked as it's very popular).
It's worth noting that access to the beach is over big sand dunes which might make it difficult for people with reduced mobility. There is no lifeguard on Big Sand Beach but dogs are allowed all year. Use postcode IV21 2DL.
Beach breaks on the Isle of Man
I know, the Isle of Man is not part of the UK but it does have close ties to the United Kingdom so I'm going to sneak this in at the end of my post as it's a lovely island to visit for a family beach holiday.
The Isle of Man stretches some 30 miles from north to south and 10 miles from east to west. It's a similar size to the Isle of Wight but attracts a fraction of the tourist numbers. The island has some wonderful stretches of sandy coastline including a two mile beach at the capital, Douglas. There's plenty of unspoilt areas to explore too such as the forest-backed rocky cove at Garwick Beach.
Port Erin Beach, Isle of Man
By Larch from the Silver Nomad
Port Erin Beach in the Isle of Man is a favourite for children and adults alike. The golden sands stretching along the seafront.
The horseshoe-shaped beach is sheltered in the bay with the high cliffs of Bradda Head on the right and the gentler hills on the left. This makes it a perfect suntrap for sunbathing or playing about in the water. The local shops sell nets and buckets for crabbing and sandcastle making.
The sand is on a very gentle slope to the sea, so it makes paddling safer for little ones as there is no sudden depth change.
For the more adventurous, you can try kayaking, paddleboarding or snorkelling from the outlets around the beach. Or take up hike up Bradda Head to Milner's Tower for amazing views. Try your hand at fishing off the piers to the left of the bay.
If you haven't brought any food with you, there are several places to get a bite to eat and a pub or two for stronger refreshments. Up to the left of the bay is The Foraging Vintners, perfect for lunch and to sample some of their artisan drinks. Also try Scoops for their delicious ice creams.
Dogs are not allowed on the beach between 10 am and 7 pm during the summer season.
There is parking along the seafront and around the bay, or further up in the town. Public toilets are just across the road from the beach.
Where are your favourite beach breaks in the UK? Let me know in the comments below if you have a recommendation for a UK family seaside holiday.
Disclaimer: This post contains affiliate links. Should you click to purchase, it is at no additional cost to you, although I receive a small commission that goes towards the running of this blog.
You may also enjoy reading:
The best beach towns in Europe
UK glamping holidays for families
Pin for later: