UK Open Air Museums
Like lots of other people, I'm currently on the look out for interesting outdoor places to visit with my children and also for relatively safe places to meet up with the older members of my family. Having enjoyed trips to the brilliant Chiltern Open Air Museum and to our local outdoor museum Mountfitchet Castle in Essex, I decided to do a spot of research into other open air museums in the UK. It turns out we have many UK open air museums to explore – some are relatively small collections while others are huge affairs set in extensive grounds.
Many of the UK open air museums listed here are also living museums which means visitors will get to meet local characters, played by actors, who really bring the past to life.
Some of the attractions at these UK open air museums are actually indoors – recreated houses or shops for example which visitors can take a look inside plus traditional visitor centres offering further information. However, generally speaking open air museums are perfect if you want to experience history outside in the fresh air. Open air museums are particularly good for children who do not enjoy the confines of a traditional museum setting.
Please bear in mind that some of these open air museums close during the winter months so do always call ahead to check opening hours. Most of the museums are staffed predominantly by volunteers so this can also have an effect on opening times. I have included a link to each museum's website.
Do you visited any UK open air museums? Let me know in the comments at the end of the article.
Open air museums in England
Amberley Museum in West Sussex
Located on the site of a former chalk pit, the Amberley Museum and Heritage Centre is a museum of industry seemingly at odds with the surrounding countryside. From the mid 19th to mid 20th century, the South Downs was used to quarry various minerals including chalk, clay and gravel.
Today Amberley Museum houses a wide range of buildings and artefacts collected and donated from all over South East England. Highlights include an industrial narrow gauge railway which visitors can ride on. There are classic cars, a bus garage and a recreated 1950s fire station.
There's a whole hall dedicated to the history of electricity with interesting hands-on exhibits. Children brought up in the digital age will no doubt be mystified by the radio and television collection. There's Morse Code technology on display and more recent items which no doubt will have featured in our own childhoods – I find it a little disconcerting that things from my early life keep popping up in museums.
A wide range of traditional crafts is featured at Amberley – there's a pottery, a blacksmith's and a woodturner's workshop – each with hosts demonstrating traditional skills.
Amberley also has a nature trail with a path wending its way through woodland with views of the South Downs.
Find out more: Amberley Museum
Weald and Downland Living Museum in West Sussex
This excellent open air museum near Chichester features over 50 rescued and restored buildings dating back some 950 years. There are houses, farm buildings, a watermill and a bakehouse among many others. Most of the buildings are open and visitors can explore inside them.
Weald and Downland offers a range of demonstrations such as spinning and weaving, blacksmithing and Tudor cooking. Special activities are arranged during the school holidays too.
The museum features various farm animals, some employed in traditional farming duties such as shire horses ploughing and oxen pulling a cart.
The open air museum also has a number of historical gardens to explore, showcasing the change in garden styles over the years from the 16th to the 19th century.
Find out more: Weald and Downland Living Museum
Kent Life Heritage Farm Park
I've always liked the look of oast houses – those conical-roofed buildings which dot the countryside of rural Kent. At Kent Life you can step inside the only working coal-fired oast house and witness the traditional hop-drying process which goes into brewing beer.
Kent Life is a 28 acre working heritage farm, part of what was originally the huge Allington Castle estate. Now, it is a fun family day out featuring a vintage village with cottages, church and village hall; traditional Kent gardens and plenty of farm animals. As well as a Victorian farmhouse, life in World War II Kent is also recreated in some of the cottages, one featuring an Anderson Shelter in its garden.
As well as traditional farm animals (with a petting corner for children), there's also the Kent Owl Academy featuring 12 resident owls. Families will enjoy the indoor soft play area, tractor rides and seasonal events such bottle feeding lambs.
Thank you to Karen Richardson for this recommendation.
Find out more: Kent Life
Butser Ancient Farm in Hampshire
It's a good sign if you can remember visiting an open air museum 30-something years after the event. I can recall a school trip to Butser Ancient Farm – getting very mucky creating a wattle and daub wall.
Butser Ancient Farm is an archaeological open air museum with buildings based on excavations that have been made in the UK covering the Stone Age, the Iron Age, the Roman era and the Anglo-Saxon period.
Children can learn about what life was like during each of these periods – there's an Iron Age toilet, a recreated Roman mosaic floor as well as ancient crops and rare breed animals. There are ongoing building experiments, testing various traditional techniques.
Find out more: Butser Ancient Farm
Little Woodham Living History Village in Hampshire
Little Woodham is a living history open air museum recreating 17th century English village life amid ancient woodland near Portsmouth.
Staffed by volunteers, the museum features villagers going about their traditional trades – there's a potter working at a 17th century replica pottery kiln (the only one in the world), weavers and spinners producing traditional yarns and fabrics, even a scribe who teaches visitors how to make a quill and ink. And children can visit a 17th century village home and learn about how different childhood was 400 years ago.
There are special events organised throughout the year including a special May Day celebration reflecting the importance of this festival to 17th century life.
Find out more: Little Woodham Living History Village
Rural Life Living Museum in Surrey
This open air museum in Surrey is a family affair, originally put together by Henry and Madge Jackson. After the Second World War, the couple slowly amassed what is now a comprehensive collection of agricultural equipment and rural artefacts which is on display at their former home near Farnham. Their story is heart-warming and makes this living museum an extra special place to learn about.
There's a narrow gauge railway at the Rural Life Living Museum which visitors can ride on at certain times of year and there are various historical buildings spread throughout the 10 acres. The Frimley Green Cycle Workshop was originally a blacksmiths but evolved as the popularity of bicycles increased. The Laundry building shines a light on the local army barracks at Aldershot and the work local people undertook taking in the troops' washing.
Find out more: Rural Life Living Museum
Morwellham Quay in Devon
Part of the Cornwall and West Devon Mining Landscape World Heritage Site, Morwellham Quay is an excellent example of how our industrial heritage can be a valuable asset to learning and education today. This open air museum in Devon was an important river port for the Devon mining industry in the 19th century. Materials such as copper and tin were transported across the Tamar Valley to Plymouth.
Today the museum contains farm buildings, cottages and a school as well as a still active pub – the 18th century Ship Inn. There's a good range of demonstrations and activities for visitors to watch and get involved with including blacksmithery, pottery and even a few lessons at the Victorian school.
Morwellham Quay is an extensive site offering a full day out – there are nature trails, a mining train to ride on, a play area and the dry-docked Garlandstone sailing ship which carried copper from Morwellham to Wales for smelting.
Thanks to reader Bella Romain for this recommendation.
Find out more: Morwellham Quay
Shipwreck Museum Charlestown in Cornwall
Recommended by Heather from Conversant Traveller
If you're visiting the southern coast of Cornwall between April and October and fancy a UK open air museum with a difference, head to the charming coastal village of Charlestown near St Austell to explore the Shipwreck Treasure Museum, also known as the Heritage Centre. It's certainly one of the more unique things to do in Cornwall.
Inside the centre you'll discover artefacts salvaged from hundreds of shipwrecks including gold bullion, cannon balls and a fully intact barrel of coins. Yet the main event is outside in the historic grade II listed harbour – the entirety of which is now part of this unusual open air museum. Moored to the high harbour walls are a couple of square rigger tall ships which are famous for being used in film and TV work, in recent years perhaps most notably in the BBC's Poldark.
For a small fee, visitors can take a tour of the 18th century Georgian inner harbour and learn about Charlestown's maritime and china clay history, before stepping on board the resident ship – Kajsamoor – to explore the decks and discover what life was like for merchant traders. Visiting this museum really is like stepping back in time, and perfect for aspiring adventurers, sailors and pirates of all ages.
Find out more: Shipwreck Charlestown
Mountfitchet Castle and Norman Village in Essex
Mountfitchet is our local UK open air museum and we love it. It's a really fun day out for both adults and children – the information boards contain entertaining details to amuse the grown ups while the re-created lives of local folk will absorb kids for hours.
Mountfitchet is actually sited on what was once a Norman fortification. Today, you'll find a recreated castle and village along with livestock which would have been kept during the Norman period. Animals include deer, goats and chickens – all rather friendly and expecting to be fed (food available from the shop). All of the animals are part of a rescue programme.
The museum is spread over ten grassy acres so there's lots of space for children to run around and explore including turrets to climb, hills to run up and lots of little dwellings to peer into. Some of the highlights for my children include the various measures for torturing and executing people – such as the witch's dunking chair suspended over a very green pond and also the medieval toilet. I rather liked the drunken mead producer with his rosy cheeks and slurred life story – most of the exhibits have a short recorded piece explaining their background.
As well as the open air museum, at Mountfitchet you'll also find a haunted house, a small dinosaur park and a toy museum to explore. Expect to find relics from your childhood on display!
Find out more: Mountfitchet Castle
Celtic Harmony in Hertfordshire
Celtic Harmony holds a special place in my heart as it is somewhere I used to visit with a friend when our children were little (or rather, littler than they are now – they haven't yet become big). The site features a collection of round houses where a range of craft activities relating to the Celtic Iron Age are available for children to take part in. It is a popular local school trip destination and a fun day out for all the family.
Our children have enjoyed archery, Halloween themed events and fireside storytelling. Celtic Harmony is not on the same scale as some of the other open air museums in this article but it is history out in the open with excellent volunteers teaching the children about how life was over 2,000 years ago.
You can even stay overnight at Celtic Harmony in a traditional roundhouse with meals and a night time bat walk included. We've yet to experience this! For more information, check out my post about glamping in Hertfordshire which includes this Iron Age accommodation.
Find out more: Celtic Harmony
West Stow Anglo-Saxon Village in Suffolk
West Stow is an open air museum where extensive archaeological excavations show an Anglo-Saxon settlement once stood. The village today is comprised of several recreated buildings including houses and workshops which visitors can explore and learn about life as it was over 1,500 year ago.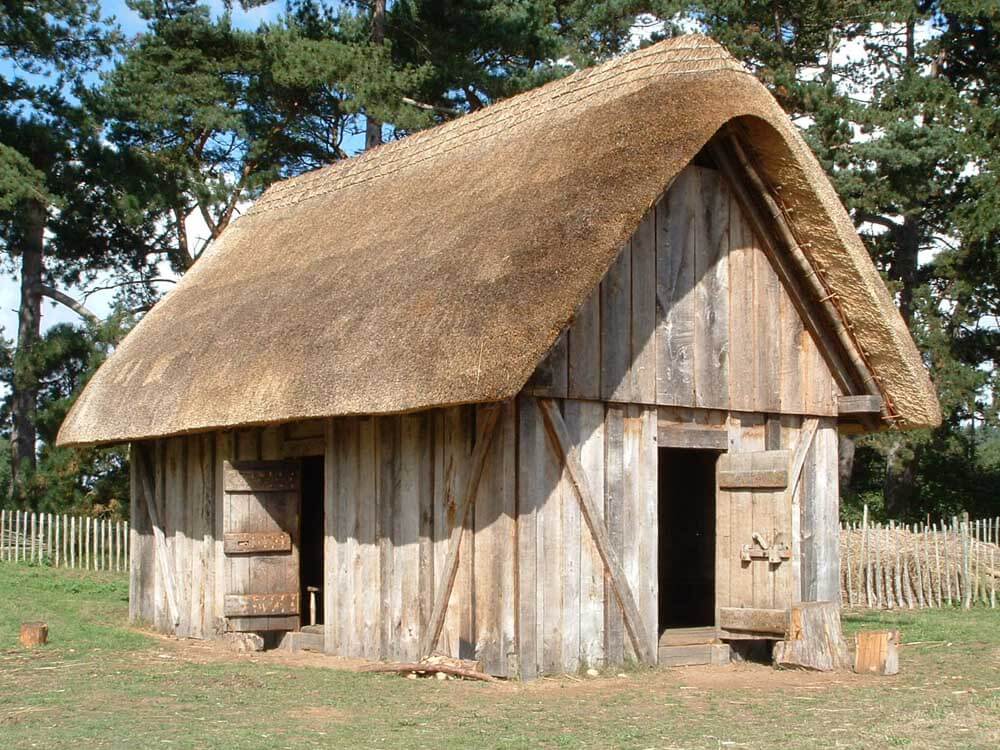 There are extensive indoor galleries providing further information about this impressive archaeological site. West Stow frequently holds living museum events for families from battle re-enactments to the popular Lord of the Rings-themed Ringquest.
The open air museum is set in a 125 acre country park with woodland trails and a large play area for children. One of the highlights of the park is the Beowulf and Grendel trail which takes visitors through the ancient landscape past wood carved sculptures and information boards offering insights into the Anglo-Saxon period.
Find out more: West Stow Anglo-Saxon Village
Chiltern Open Air Museum in Buckinghamshire
This vast open air museum is a really enjoyable family day out. We visited several years ago with three generations of our family – and a dog. The Chiltern Open Air Museum is home to a collection of over 30 buildings from the Chiltern region which have been rescued and rebuilt at the site. There is also a working historic farm.
COAM is education at its most fun and enjoyable. Highlights for our children included the Amersham Prefab – a post World War II bungalow which was constructed to meet the housing shortage after the war. The details of the building are impressive – children's toys and a wardrobe filled with clothes from the period. Outside, there's an Anderson shelter used as a garden shed and an allotment plot emphasising the need to grow your own food.
Near the prefab are two Nissen huts which were used during and after both the World Wars. Inside, visitors can dress up in military outfits and learn about the various uses of the huts – emergency housing, military needs and so forth.
Chiltern Open Air Museum also has a nature trail through woodlands and a decent wooden play area which our children enjoyed playing on. The museum is just 10 minutes from the M25 at junction 17 so it's a really great place to visit if you need a break from the motorway.
Find out more: Chiltern Open Air Museum
Mary Arden's Farm in Warwickshire
We had a really fun day out at Mary Arden's Farm, despite visiting on a particularly cold wet day in the Easter holidays. This is a great destination for children, it's not as big as some of the UK open air museums we've visited but it has some really interesting attractions to enjoy.
The farm is the Tudor childhood home of William Shakespeare's mother Mary. The farm includes two houses – one belonging to a neighbour (Adam Palmer) which was wrongly thought to be Mary's home and another which was her actual house. Both properties and the surrounding land are owned by the Shakespeare Birthplace Trust. Palmer's is the better preserved house and is an excellent example of a 16th century dwelling with timber frames and some exposed walls so that visitors can see how the property was constructed.
Outside, there are various displays of how farm life must have been in Tudor times with traditional rural crafts being produced by actors. There is also a bird of prey display and inside one of the houses visitors can witness a traditional Tudor dinner complete with enthusiastic diners – there is some entertaining audience participation which we all enjoyed!
The farm has a wooden outdoor play space and a good café serving dishes inspired by Tudor times.
Find out more: Mary Arden's Farm
Black Country Living Museum in the West Midlands
I've been meaning to take my family to this brilliant museum for years – hopefully we'll finally get there in 2021. It showcases a really important part British history which can be quite uninspiring when its just read about in a history book.
This extensive open air living museum near Dudley comprises over 50 shops, houses and industrial buildings on a former railway goods yard. History really is brought to life here with recreated streets to wander along. Local characters tell visitors about Britain's industrial heartland in the West Midlands and how it evolved over the last 300 years.
Visitors to the Black Country Living Museum can watch industrial demonstrations, ride on heritage vehicles and visit a Victorian era school. The museum has preserved mineshafts and limekilns and there are thousands of artefacts on display in the recreated buildings. There's even an old fashioned fairground and a playground where kids of today can play on equipment built in the style of that used by their great-grandparents.
Find out more: Black Country Living Museum
Avoncroft Museum of Historic Buildings in Worcestershire
Avoncroft, England's oldest open air museum, is located near Bromsgrove, south west of Birmingham. The museum is a collection of over 30 rescued and reconstructed local buildings covering a period of some 700 years.
The museum began with a 15th century timber framed townhouse and added to this over the decades with religious structures, industrial units and agricultural buildings. Highlights include a charming 19th century tollhouse, a post World War II pre-fab and a functioning windmill.
Find out more: Avoncroft Museum of Historic Buildings in Worcestershire
Blists Hill Victorian Town in Shropshire
Part of the Ironbridge Gorge Museum Trust which features numerous other regional museums, Blists Hill is a recreated Victorian town featuring homes, shops and factories complete with local people playing the roles of shopkeepers and industrial workers.
This open air living museum is extensive and reflects the region's rich industrial heritage. There is an ironworks and blasts furnace as well as a mine railway experience. Children will enjoy visiting the sweet shop, the bakery and the fish and chip shop where they can buy Victorian era products.
The museum has an excellent interactive area for children called Enginuity where kids can learn through play, exploring engineering ideas and projects.
Find out more: Blists Hill Victorian Town
Crich Tramway Village in Derbyshire
This open air museum is the home of the National Tramway Museum. As well as featuring over 60 trams – housed both indoors and outside – the museum features a charming recreated village complete with shops, a working pub and a cafe.
The museum has a special section dedicated to George Stephenson, the railway pioneer. Outside, there's also a woodland walk and a sculpture trail. One of the highlights of a visit to the village is riding on the open top trams which regularly ply the village streets.
Find out more: Crich Tramway Village
Eden Camp Yorkshire
Recommended by Shobha from Epic England Travel
Eden Camp Museum is an open air museum focusing on World War II, in Yorkshire near Malton and the North York Moors.
Eden Camp started life as a prisoner of war camp for captured Italian soldiers from the North African campaign during World War II. Eventually, the Italian prisoners left and the camp was used for German prisoners captured during the push towards Berlin after D-Day. The prisoners were held in 33 cabins that are still in use today for the museum's exhibits. There were German prisoners at the Camp until 1949 when the last POW was repatriated. The cabins remained disused until they were used to create the open air museum.
The Eden Camp Museum cabins each have a different theme related to the British War Effort during World War II. For example, different huts are dedicated to such diverse topics as bomb disposal units, the Blitz and victory gardens. Additionally, sprinkled around the site are examples of military vehicles, planes, bombs and other materials used in the war effort. Notices around the café, for example, have posters that encouraged the population to be careful to whom they spoke, or to recycle food waste for animal feed. The Museum also does themed events such as Christmas on the Home Front and Living History Day.
The prisoners at Eden Camp were treated fairly well and used as agricultural labor in nearby farms. The museum exhibits show tokens of appreciation given to locals that the soldiers either made in their free time (such as a doll's house) or had on their person when captured (such as German medals). There is also memorabilia from ex-prisoners who have returned later in their lives to visit the museum.
The information provided at Eden Camp Museum is extensive. The exhibits, though informative, may appear dull to kids though because many are not the high technology exhibits that other museums now have.
Find out more: Eden Camp Yorkshire
Ryedale Folk Museum in North Yorkshire
This open air museum, set in the pretty village of Hutton le Hole covers the history of the North Yorkshire region through its collection of structures from the Iron Age through to the 1950s.
The museum features domestic, agricultural and industrial buildings including an Iron Age roundhouse, a medieval crofter's cottage and a 1950s village shop and chemist.
Find out more: Ryedale Folk Museum
Beamish, the Living Museum of the North in County Durham
Recommended by Polly of Let's Travel UK
My first trip to Beamish was during my school days in 1980s North East England, and I fell in love with this open-air museum there and then. As a child, I associated the word 'museum' with somewhere silent, bland and dull. Beamish is refreshingly different. Its tagline describes it as a 'living museum', and it is indeed a place where you really can see the past brought to life in glorious technicolour.
At Beamish, curators have painstakingly recreated local life between the 1820s and 1940s. You can visit 1820s Pockerley, a 1900s town, mining village and colliery, or a 1940s farm. The reconstructions are authentic and faithful to the original. A row of six cottages rebuilt at Beamish, for example, came from nearby Hetton-le-Hole, a village that is still home to members of my family.
At the Pit Village you can sample fish and chips fried in beef dripping and discover the back lane's communal bread oven. On the 1940s farm, experience wartime life, including making meals from rations on the Aga or hearing news broadcasts. Pockerley Old Hall is surrounded by an authentic Georgian landscape and buildings, while the 1900s town has an Edwardian bakery, stationer, stables, sweet shop and even a pub. Don't miss the 1900s colliery or the tram, either.
I love Beamish, and am very much looking forward to taking my daughter there during our next visit to the North East.
Find out more: Beamish Living Museum
Open air museums in Wales
St Fagans National Museum of History in South Glamorgan
Recommended by Shandos from Travelnuity Dog Friendly Travel
A fun and enjoyable way for the whole family to explore the history of Wales is at the St Fagans National Museum of History, located just outside Cardiff. The museum is home to the historic St Fagans Castle and its pretty garden, dating back to the 16th century, but the highlight for me is its collection of historic buildings.
Over forty buildings have been transported to and re-erected at the open-air history museum from locations across Wales. These buildings are a great way to experience in three-dimensions what life was like in Wales over the years. I loved being able to step inside homes decorated in keeping with different decades, spotting what was different in each. There's also the chance to visit a traditional shop, plus there is a school, post office and farm.
On most days, there's the chance to check out demonstrations of traditional crafts and farming activities, plus multiple festivals are celebrated on-site throughout the year. Check in advance to see what is planned during your visit. A visit to St Fagan's is fun and easy for the whole family. Admission is free, although there's a fee for parking, and even dogs on a leash are welcome to join you.
Find out more: St Fagans National Museum of History
Castell Henllys Iron Age Village in Pembrokeshire
Recommended by Abigail from Inside the Travel Lab
High on the green hills of Pembrokeshire sits an Iron Age village called Castell Henllys. Smoke curls through thatch, wood carvings rest among shields and antlers loom over the gateway with more than a hint of menace.
In actual fact, this is a highly family friendly site. Reconstructed for the 21st century, Castell Henllys takes visitors back two thousand years or so to a time when life in Wales looked very different. Families and villagers lived together in huge, circular huts with thatched roofs. They shared food cooked in cauldrons on smoking fires and collected water from the stream.
A visitor centre fills in some blanks, showing films of actors washing clothes and painting their faces blue for war. But the real delight lies in the open air village on the hill. In the summer, actors bake bread and demonstrate basket weaving but even in the shoulder season, there's plenty to see and do.
A mix of stone slabs, animal hides and sackcloth separate the huts into living quarters. Woollen blankets and hay filled mattresses make up the beds. And painted shields and wild animals decorate the walls where we'd have photos and TV today.
Through a mix of education, exploration and fun, a visit to Castell Henllys is one of the best and most unusual things to do in Pembrokeshire in West Wales.
Find out more: Castell Henllys Iron Age Village
Open air museum on the Isle of Man
Cregneash, south west Isle of Man
The village of Cregneash on the Isle of Man is a living museum reflecting how life once was for Manx crofters in the 19th century. Cregneash was home to the last Manx speakers – the language (related to Gaelic) sadly is no longer used fluently on the island (UNESCO declared it extinct in 2009 – you can read more on plans to revive it in this interesting Guardian article).
There are various cottages in Cregneash where visitors can explore Manx life – with displays of traditional farming and craft. One of the cottages – lived in by the writer Edward Faragher (recognised as the last significant Manx speaker) is reserved for an exhibition on the history of the language. There are several indigenous animals farmed at the village including the four-horned Manx sheep – you'll also find some of the famous tail-less Manx cats sauntering around.
Not only is Cregneash an open air museum, it is also an excellent destination for star gazing. The village is one of 26 Dark Sky Discovery Sites on the Isle of Man due to the lack of light pollution at this remote corner of the island.
Thanks to my reader Tony Laverick for recommending this museum.
Find out more: Cregneash
Open air museums in Northern Ireland
Ulster American Folk Park near Omagh
I was hoping to visit this UK open air museum during our 2020 trip to Northern Ireland but we left the country on the day the museum reopened post-lockdown – a reason to return in the future.
The Ulster American Folk Park features over 30 recreated buildings set amid 40 acres of grounds where visitors can learn about the Irish emigration. This is a brilliant living history museum where characters from Ireland's past reflect on life in Ulster in the 18th and 19th centuries and the reasons for migrating to America.
There are recreated streets from both Northern Ireland and America. There are shops, farmhouses and workshops to explore along with indoor galleries giving more details into this significant chapter of Irish history.
Find out more: Ulster American Folk Park
Ulster Folk Museum
For such a small area, Ulster offers a good range of open air museums. The Ulster Folk Museum recreates rural Irish life as it would have been over 100 years ago. Set in hilly countryside, there's a whole town to explore – farms, shops, houses and workshops with characters employed in traditional crafts.
A whole range of historic buildings have been relocated from various places around Ireland and rebuilt at the museum. There are Catholic and Church of Ireland churches, schools and even a small theatre.
Find out more: Ulster Folk Museum
Titanic Quarter in Belfast
Recommended by Allen from It's Sometimes Sunny in Bangor
The Titanic Quarter is a tourist district in Belfast, Northern Ireland, that spans the length of the old shipyards of the Laganside which is where the world-renowned Titanic was originally built. And while the Titanic is the main focus of the shipyards, there were many famous liners birthed at the Harland and Wolff shipyards including the Titanic's sister ships in the Olympic, and Britannic, known collectively as the 'White Star's' trio. Not to forget the HMS Belfast warship which is now famously set in London's River Thames as a museum.
Some of the highlights in the Belfast Titanic Quarter include the main drawing rooms where these massive liners were originally imagined and shaped and these have been restored and renovated into a café and the Titanic Hotel but they are still free to roam.
On the banks of the river, known as the Maritime Mile, there are many tourist attractions to explore including the SS Nomadic which is often known as a "Mini Titanic" as it was used to shuttle the passengers to the Titanic before it set sail. Then there is Titanic Belfast (Titanic Museum) with contemporary galleries sharing the "sights, sounds, smells and stories" of the famous ship and Belfast's ship-building culture.
The Olympic slipway is the area of the shipyards where the Titanic and other ships were originally built and launched. There is a lot to explore with the final attractions in the old warship HMS Caroline which again shares naval history as the "lone survivor" of the Battle of Jutland in World War I.
Find out more: Titanic Quarter
Open air museums in Scotland
Auchindrain Township in Argyll
Auchindrain is a fascinating open air museum – a collection of restored buildings on a site which dates back to the 16th century. Most of the structures visible today are part of what was a small farming community – similar to thousands of others across Scotland.
Over the course of the 18th and 19th centuries, many of these townships were changed, or removed, as part of what was known as agricultural improvement. However, Auchindrain remained a farming community until the 1930s and it was inhabited right up until the 1960s. Today, it is an essential part of Scotland's history, shining a light on the harsh existence of rural families.
Visitors to Auchindrain can explore the simple houses and farm buildings which contain artefacts reflecting life in the township. There are small fields where crops were grown and animals were grazed.
Find out more: Auchindrain Township
Highland Folk Museum in Newtonmore, Inverness-shire
Opened by the historian and ethnographer Isabel Grant in 1935, the Highland Folk Museum has grown considerably since its inception, moving locations four times to accommodate its growing collection of buildings and artefacts.
Today the Highland Folk Museum, which is said to be the first UK open air museum, is divided into four main areas over a one mile-long site about 50 miles south of Inverness. Aultlarie Croft is a 1930s working farm; Balameanach (Gaelic for middle village) is a collection of relocated buildings; there is a Pinewoods area; and finally Baile Gean is a recreation of an early 18th century township.
This is a living museum so visitors will meet Highland characters in the various buildings – houses, shops, agricultural structures, a school and so forth. The museum is home to many thousands of Scottish Highlands artefacts, some on display and others housed in a purpose built storage area.
Find out more: Highland Folk Museum
Skye Museum of Island Life
The Skye Museum of Island Life is a collection of thatched cottages which reflect how life was on the Isle of Skye in the 19th and early 20th centuries.
With the dramatic backdrop of the Hebridean Sea, it's easy to imagine the challenging existence of islanders 100 years ago. The cottages are simple structures – thick stone walls and thatched roofs. Each unit is filled with artefacts from the period – a handloom in the weaver's cottage, an anvil in the blacksmith's cottage and agricultural equipment in the barn. There's also a ceilidh cottage where the community would meet together.
Find out more: Skye Museum of Island Life
Kirbuster Farm Museum, Orkney
Recommended by Suzanne from Meandering Wild
The Orkney Islands are situated 8km off the north coast of Scotland and are wild and exposed. The weather is chilly with gale force winds blowing for much of the winter. Kirbuster Farm Museum tells the story of family life in Orkney over four centuries. It provides a glimpse into traditional farming practices during the 19th and 20th centuries with displays of farming equipment and information on how many of the unusual looking items were used on the farm.
The farmhouse was occupied until the 1960's and is a traditional 'firehoose' with a hearth and fire pit at the centre of the building. The fire is lit whenever the museum is open and gives a real feeling of how the farmhouse would have felt. Around the hearth is a stone neuk bed built into the wall as well as items that would have been used by the families over the years.
Outside the farmhouse is a nature trail through the kitchen garden and there are geese roaming around. A small grass area with a stream is reached by passing under an arch made of two whale bones found on a local beach.
Find out more: Kirbuster Farm Museum
Looking for an UK open air art museum to explore? Check out my blog post about sculpture trails and sculpture parks in the UK.
For more outdoor days out ideas, have a read of my post about where to meet up outside.
Have you been to any open air museums in the UK? Let me know in the comments below.
Pin for later: